When it comes to introducing kids to new flavors and expanding their palates, it can sometimes be a bit of a challenge. But worry not, because I've got a secret weapon for you – Olive Tapenade! This delightful Mediterranean condiment is not only incredibly tasty but also a fun way to explore new tastes with your little ones.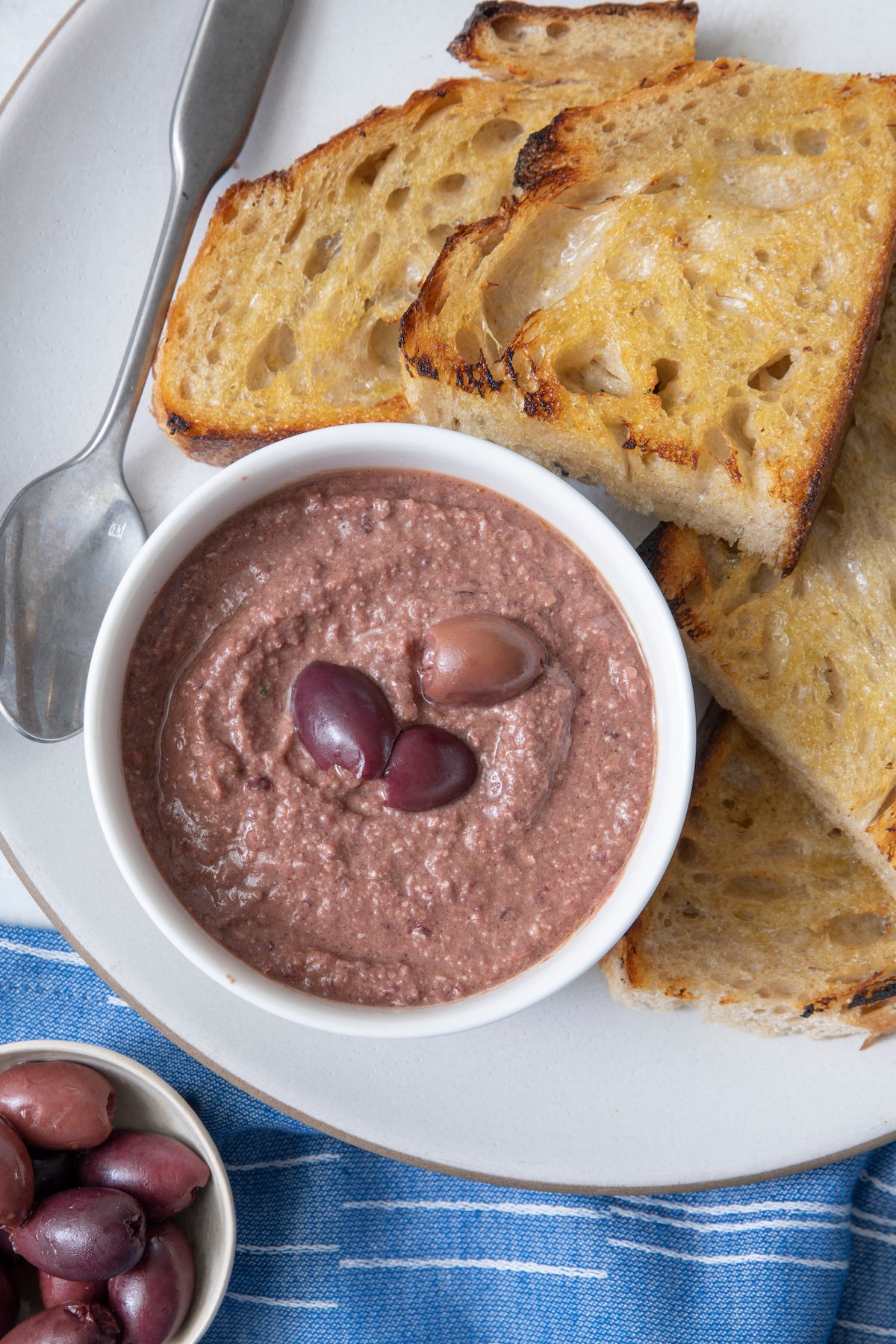 What Exactly Is Olive Tapenade?
Olive tapenade might sound fancy, but it's essentially a savory spread that originates from sunny Provence, France. It's made by blending olives with other delicious ingredients like garlic, olive oil and capers. There are tons of variations on tapenade that I've tried throughout the years, but I added some grated parmesan to this one knowing that the addition of cheese will sell almost anything, especially to kids!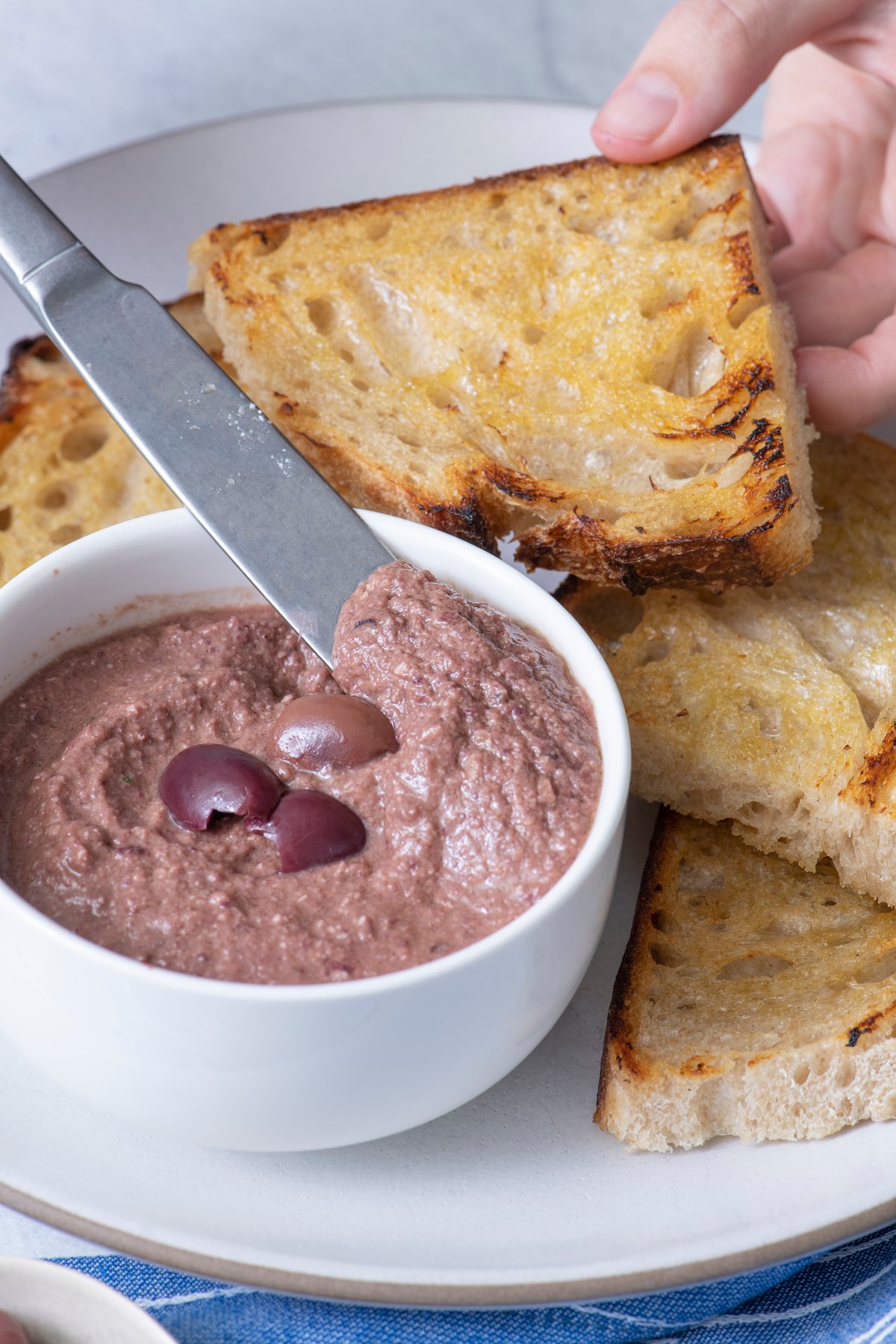 The Ingredients
Pitted Kalamata Olives
Parmesan Cheese
Olive Oil
Garlic Clove
Fresh Basil Leaves
Lemon Juice
Can You Use Any Type of Olives?
Absolutely! While traditional olive tapenade often features black olives, the beauty of this dish is that you can get creative with different olive varieties. Here are some kid-friendly options:
Kalamata Olives: These purplish olives from Greece have a fruity flavor with a little tang – perfect for adventurous young taste buds.
Green Olives: Green olives, like Castelvetrano or Picholine, have a milder, slightly briny taste that kids might find less intimidating.
Mixed Olives: Mix and match different olives to create a fun, colorful blend. Let your kids pick their favorites!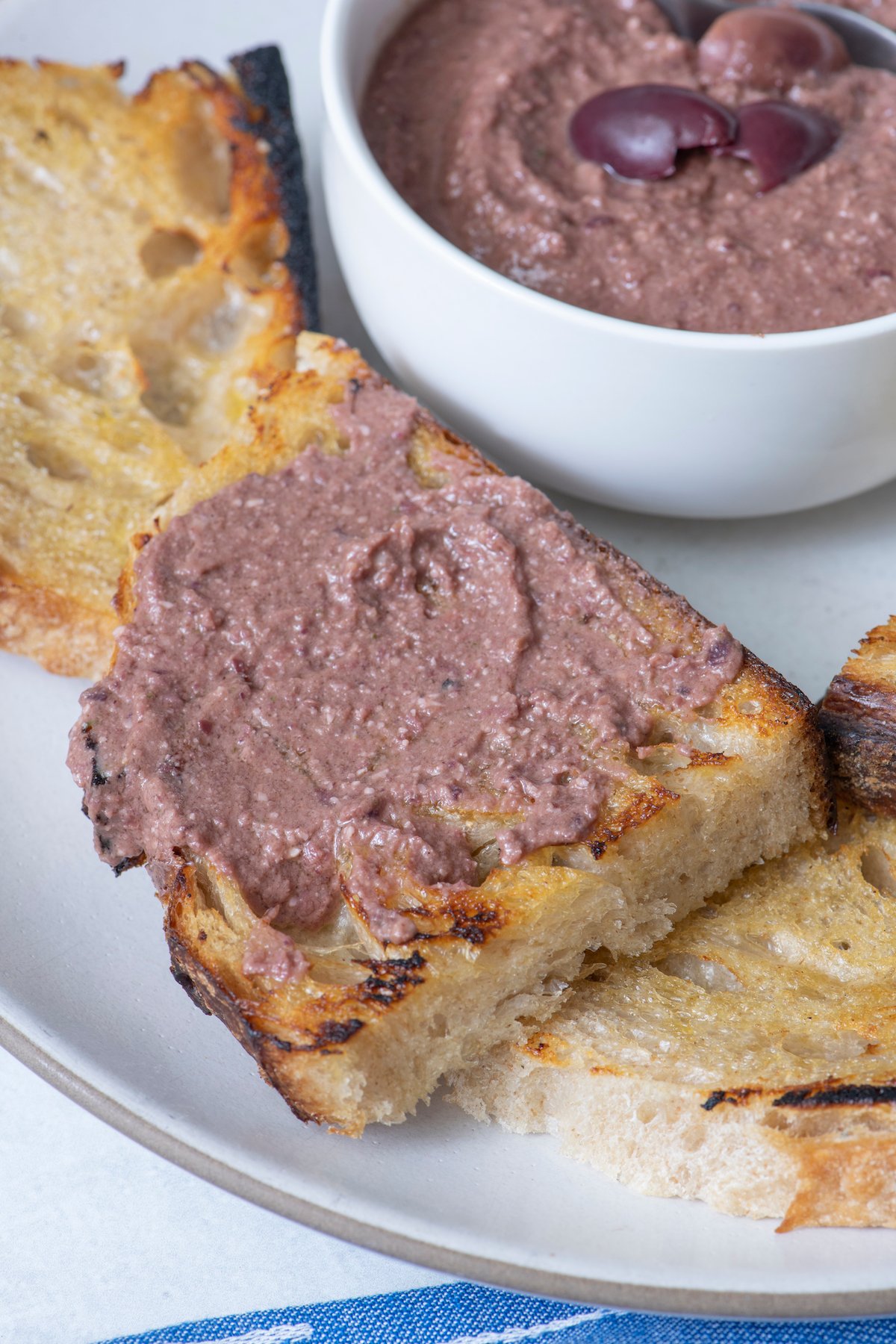 What Can You Use Olive Tapenade On?
Now, let's explore the exciting part: how to use olive tapenade to make mealtime more adventurous for your kids.
Mini Pizzas: Spread olive tapenade on mini pizza dough rounds as a unique pizza sauce. Top with cheese and kid-friendly toppings for a tasty twist on pizza night.
Veggie Dippers: Serve olive tapenade as a dip with an assortment of veggie sticks like carrot, cucumber, and bell pepper. The dipping fun can make veggies more enticing.
Sandwich Surprise: Make a simple sandwich using olive tapenade as a spread along with cream cheese or even turkey. Kids love surprises in their lunchbox!
Pasta Pizzazz: Mix olive tapenade into cooked pasta and add some grated cheese. It's a quick and flavorful pasta dish your kids will adore.
Super Snack: Spread it on whole-grain crackers or crispy bread for a delicious and nutritious after-school snack.
Grilled Meats and Fish: Olive tapenade makes an excellent accompaniment to grilled meats and fish for older kids. It adds a burst of flavor and moisture to the dish.
Tips for Making Kid-Friendly Olive Tapenade
I try to shy away from creating recipes for weelicious that may come across as being too gourmet or adult (for lack of a better word) for kids. Part of the reason for that is because a lot of parents I know don't think their kids will like foods that seem too "grown up" and so they don't even bother trying to see how their kids will like them. I'm not talking about having a go at getting your kids to eat buffalo for dinner, but the occasional recipe outside of their comfort zone can be really fun, refreshingly delicious, and, who knows, maybe a new family favorite. Here are some tips for making Olive Tapenade a little more kid-friendly:
Engage Your Kids: Get your children involved in the kitchen. Let them help you pit the olives or press the garlic. Cooking together can be a fantastic bonding experience and lead to trying new things!
Adjust the Recipe: Tweak the ingredients to suit your kids' taste. Use less garlic or lemon juice if they prefer milder flavors.
Presentation Matters: Make it fun! Serve olive tapenade with colorful veggies or use fun-shaped pasta for added appeal.
The Name Game: Sometimes, a catchy name can make a dish more enticing. Consider giving your homemade tapenade a fun, kid-friendly name.
Be Patient: Don't be discouraged if your kids are hesitant at first. It can take a few tries for them to develop a liking for new flavors.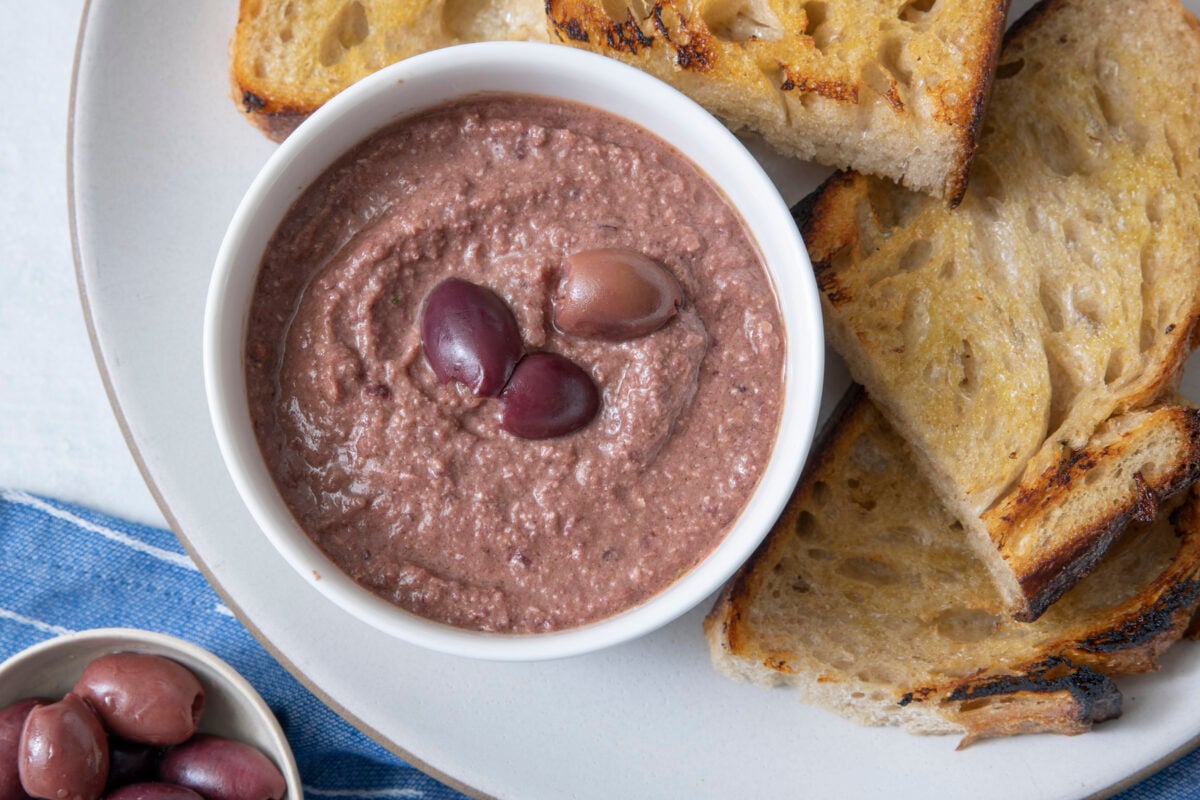 Storage Tips for This Dip
Homemade olive tapenade can last in the refrigerator for 7-10 days when stored properly. To maximize its shelf life and maintain its flavor and quality follow these steps:
1. Use an Airtight Container: When storing homemade olive tapenade, choose an airtight container. Whether it's a glass jar or a plastic container with a tightly-sealing lid, a proper container helps maintain freshness.
2. Drizzle Olive Oil on Top: To prevent oxidation and keep your tapenade tasting its best, add a thin layer of olive oil on the surface before sealing the container. This layer acts as a protective barrier, preserving the flavor and quality.
Can You Freeze Olive Tapenade?
Sure can! Simply portion into an airtight container or ice cube trays for smaller portions and freeze for up to 3 months. Thaw in the refrigerator when ready to use!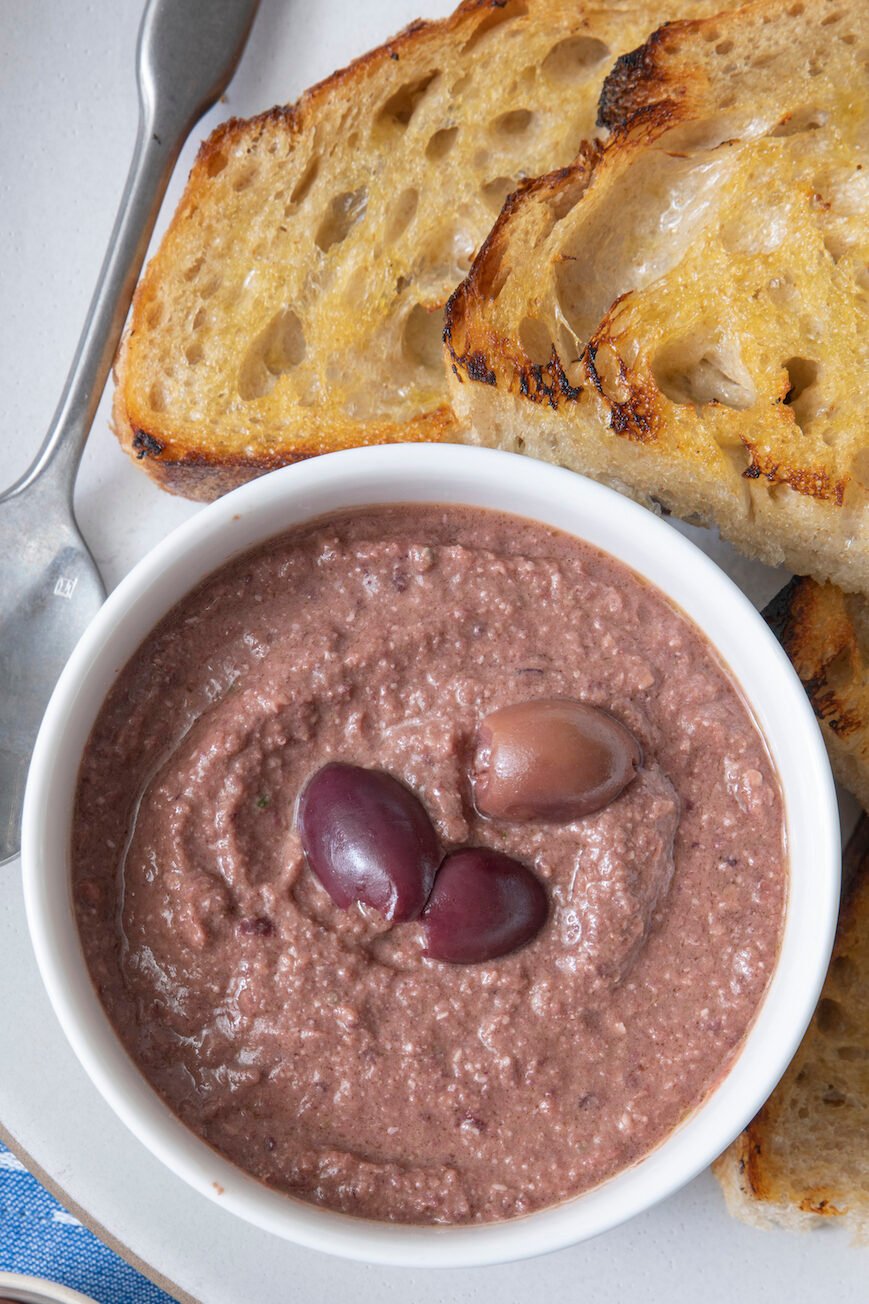 Whether you're serving this to adults on toast points for a get together, to your big kid as a spread on a sandwich or to your one year old as baby food, I find it's an uncommon treat that everyone will love! Let me know what you think of this recipe in the comments or tag me on social media if you make it!
Images by Ivan Solis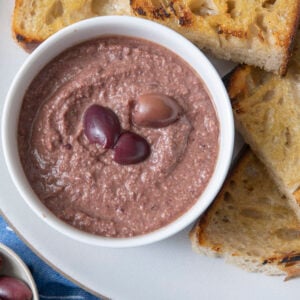 Olive Tapenade
This Mediterranean condiment is not only incredibly easy to make and delicious, but also a fun way to explore new tastes with your kids.
Instructions
Place all the ingredients in a food processor and puree until smooth.

Spread on toast points, crackers, or on a sandwich and serve.
Video
Notes
Storage: Store in an airtight container in the refrigerator for 7-10 days. Drizzle a thin layer of olive oil on top to help prevent oxidation.  Freeze: In an airtight container or ice cube trays (covered) for up to three months. 
Nutrition
Calories:
90
kcal
|
Carbohydrates:
2
g
|
Protein:
3
g
|
Fat:
8
g
|
Cholesterol:
5
mg
|
Sodium:
280
mg
|
Fiber:
1
g