Pin
How many of you end up making you and your spouse chicken, one of your children grilled cheese and the other one pasta with butter. As parents, naturally we feel the need to make sure our kids eat something at every meal. As a result, if they don't like what we make, many of us find ourselves scrambling at the last minute to make something else. Somewhere along the line, short order cook got added to our job description. Don't get me wrong, pasta with butter is delicious and easy to whip up, but night after night it can get old AND your little one is missing out on valuable nutrients.
When I'm exhausted and have zero energy to cook (um, everyday), but still have to come up with something for the family to eat, I make this recipe. Pasta with broccolini takes no time to prepare, is super delicious and perfect as pasta salad the next day.
Broccolini is similar in name and taste to broccoli, but it's actually from the cabbage family. Its high in vitamin C, but also contains vitamin A, calcium, folate and iron. It can be more delicate than broccoli, so make sure not too over cook it. Kenya has always loved it because its fun to hold and munch on like a tall tree.
Even for kids that turn their noses up at veggies, this should be a hit.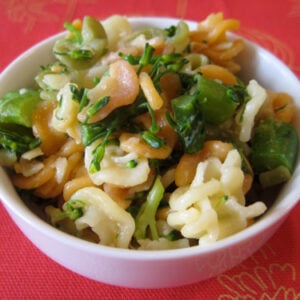 Pasta with Broccolini
Ingredients
1

Pound

Broccolini, chopped

12

Ounces

pasta

2

Tbsp

olive oil or butter

1/2

Cup

parmesan cheese

1

tsp

kosher salt
Instructions
Bring large pot of salted water to a boil.

Cook pasta according to package directions.

In the last 3 minutes of the pasta cooking time, add the broccolini.

Drain the pasta and broccolini and place in the bowl.

Add the remaining ingredients to the bowl and throughly combine.
Nutrition
Calories:
320
kcal
|
Carbohydrates:
48
g
|
Protein:
13
g
|
Fat:
8
g
|
Cholesterol:
5
mg
|
Sodium:
550
mg
|
Fiber:
3
g
|
Sugar:
3
g