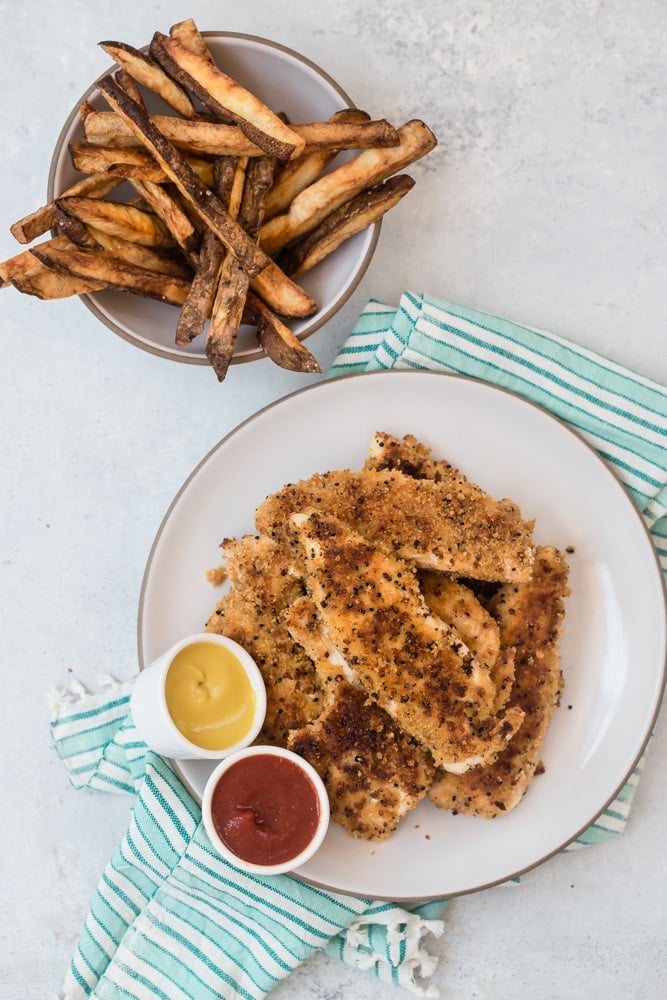 Quinoa is an ancient grain that also happens to be a super food because it contains all 9 essential amino acids. It is gluten-free, too, so it appeals to many food lifestyles. You can use it in place of rice or any other grain. I've even made it into a sweet banana pudding.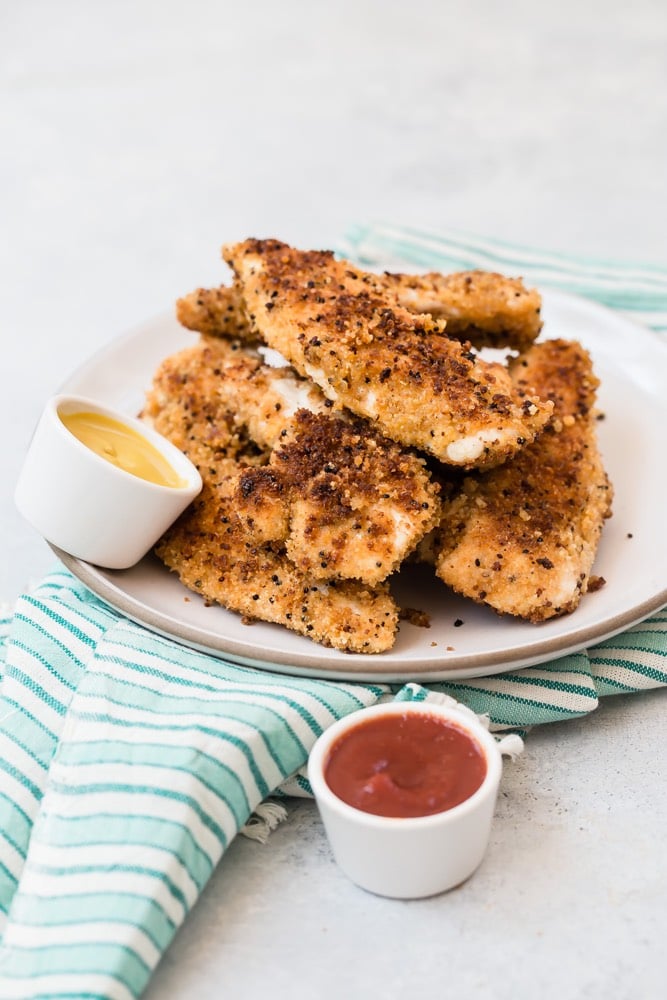 I love using it for these Crunchy Quinoa Crusted Chicken Tenders because I can serve them to so many people, and they come out with a beautiful crunchy crust that is totally satisfying. Here's a quick guide for how to cook quinoa before you get started with this recipe.
Serve Crunchy Quinoa Crusted Chicken Tenders with Air Fryer French Fries, Harvest Salad, and all your favorite dips. I love classic ketchup, but we also have to serve ranch and mustard in our house.
What is your preferred dip for chicken tenders?!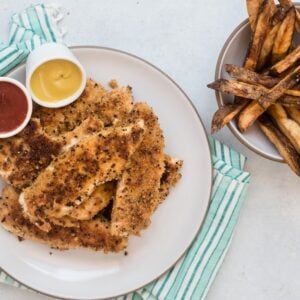 Crunchy Quinoa Crusted Chicken Tenders
Ingredients
1

1/2 cups

cooked quinoa

1/2

cup

breadcrumbs

1

teaspoon

kosher salt

1/2

teaspoon

garlic powder

1/4

teaspoon

paprika

2

pounds

chicken tenders, remove white stringy tendon

2

large eggs or egg whites

olive oil
Instructions
Pour the quinoa onto a towel and blot to remove any excess moisture. Place in a shallow bowl.


Add the breadcrumbs, salt, garlic powder, and paprika to the quinoa. Stir to combine well.

In a separate shallow bowl, whisk the eggs.

4. Dip the chicken into the egg and then into the quinoa mixture pressing evenly to coat.*

Heat a large skillet over medium high heat, add a thin coat of oil and pan sear the chicken for 4-5 minutes on each side or until quinoa is golden.

* To freeze the chicken fingers before cooking, place coated chicken fingers on parchment lined baking sheet and freeze for 1-2 hours. Place in labeled zipper bags and freeze until to 4 months. When ready to cook place a few fingers in the refrigerator for 4-12 hours to defrost and then cook as directed in step 5.