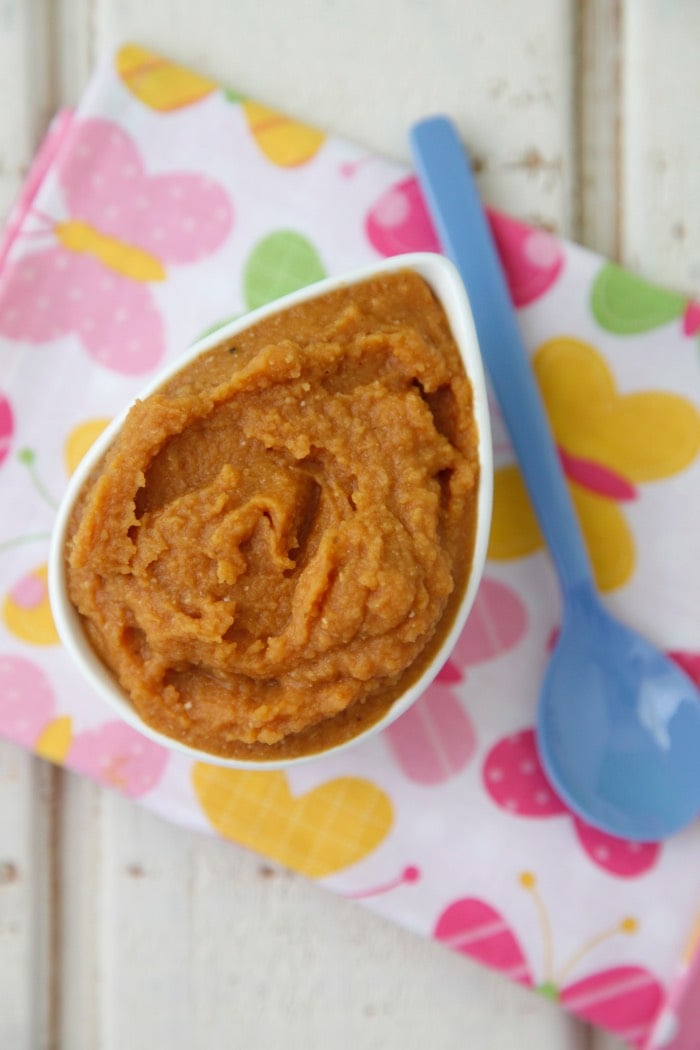 One of my favorite things about my son is that he will happily eat just about anything. But one of the challenges during meal time is that if there are trains, toys or anything else fun and exciting within his view (no matter what I hide before dinner there is always bound to be something in his line of site that are more exciting than eating!), he wants to be playing with them instead. For that reason, I usually have 5-10 minutes to get him to eat a nutritious, balanced dinner before he is focused on something else. I've also noticed that if he eats something pureed or soft and easy to chew, I can maximize the amount of food he gets down in that period of time. If I give him a dish that he loves, but takes a while for him to chew and break down, he gets tired of it and sometimes doesn't eat nearly as much. For that reason, I love making him this soft flavorful Red Lentil Puree dish.
Red lentils cook quickly and become really soft which is perfect for little mouths. By adding vegetables and spices to them, they become a vitamin-packed, delicious, Indian inspired meal. If you serve it with brown rice, it makes a complete protein which is perfect for times when you don't want to spend extra money on meat or fish, but you want your little one to be building muscles!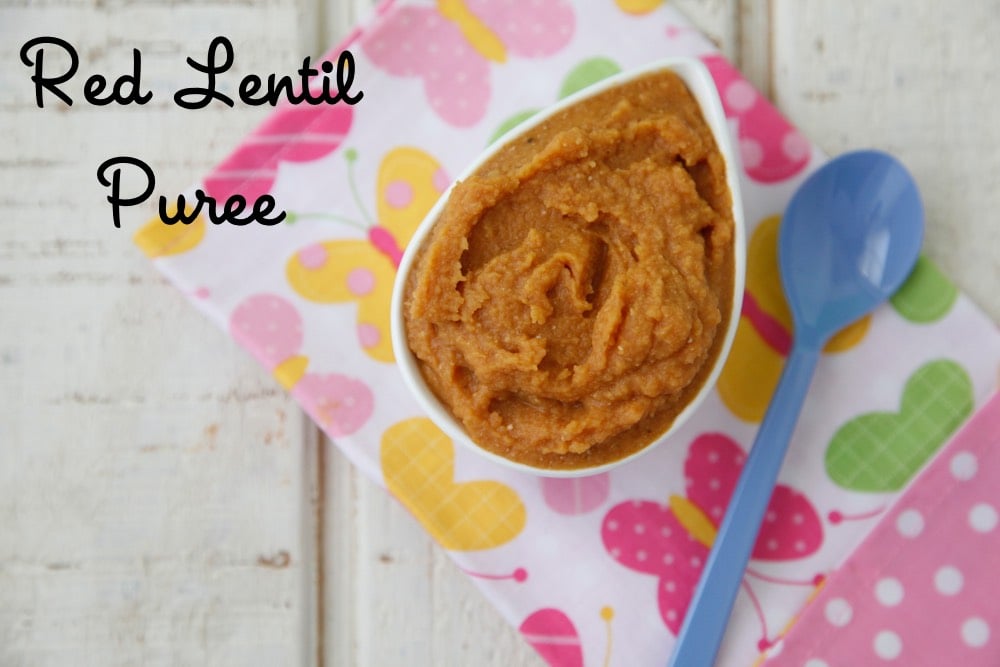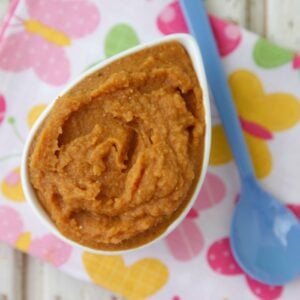 Red Lentil Puree
Ingredients
1

Tbsp

oil

1

small onion, diced

1

Large Carrot, peeled and cut into a small dice

1

Garlic

Clove

1

Tsp

fresh ginger, minced

2

Tsp

curry powder

1

Tsp

cumin

1

Tsp

turmeric

2

Cups

water

2

Tsp

kosher salt

1

14 oz Can Tomato Puree

1

Cups

Red Lentils, rinsed well

Brown or White Basmati RIce
Instructions
Heat the oil in a large saucepan over medium heat.

Saute the onions and carrots for 4 minutes.

Add the garlic, ginger, curry, cumin and turmeric and cook for 2 minutes.

Add the lentils, water, salt and tomato puree and bring to a boil.

Stir, cover, reduce heat to a simmer and cook for 35 minutes or until creamy and tender.

Serve with basmati rice.

*Allow to cool, store in appropriate container or ziploc bag, label and freeze up to 4 months. When ready, defrost in fridge for 24 hours or place in pot and bring to heat over low-medium heat.