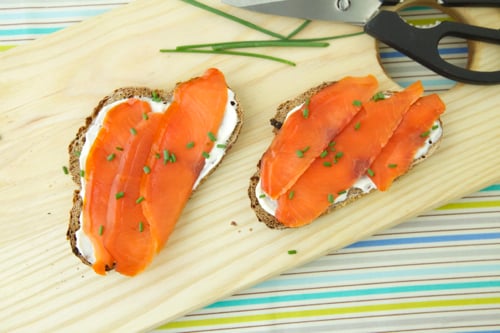 A few years ago I was introduced to the gorgeous and unbelievably talented Aida Mollenkamp. So intimidated was I by this lovely lady, that the gawky 11 year-old in me was immediately reawakened. Aida's endless knowledge about travel and anything food, to her effortless style and impeccable taste are awe-inspiring. In addition, this gal couldn't be sweeter. Aida has the uncanny ability to impress and charm the pants off of you while simultaneously putting you completely at ease.
If those weren't all reasons enough to write about Aida, I'm excited to tell you that she has just released her first cookbook, appropriately titled, Keys To The Kitchen. And it's brilliant. This book is like our generation's Joy To Cooking, covering fundamental kitchen techniques, offering incredible tips on how to become a better cook and featuring 305 recipes (yes, 305!), all presented in a simple and easy to understand way and jazzed up with Aida's flair for out-of-the-box ideas. It makes you want to run out to the market, come home, and become a much more adventurous cook.
While perused the pages, featuring delectable photographs by the talented Alex Farnum, I came very close to having to wipe drool off my chin. I couldn't help but fall in love with the chapters at the end of the book which contain recipe ideas that are perfect for someone who is busy, but still wants to prepare tasty dishes. We're all big smoked salmon lovers in our house, but until I read Aida's book I hadn't thought about preparing it the way she does (see recipe below). Just take the best bread you can find, top it with a smear of creme fraiche (or cream cheese or sour cream), layer on a piece of succulent smoked fish, and top it off with a snip of chives from the garden. We've literally made this recipe every Sunday since I got my hands on the book.
Over the past few years I've been fortunate enough to spend time with Aida, as well as with a great bunch of other talented and like-minded foodie bloggers. For the past week we've been celebrating the book release by partaking in a "virtual dinner party" on all of our websites_ sharing Aida's recipes, doing giveaways, and engaging in Aida-themed stuff (I had never heard of a virtual dinner party before, but given that I barely get out of the house, a virtual fun is right up my alley!).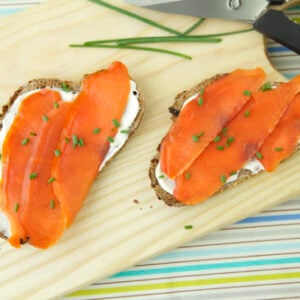 Simple Breakfast Flatbread
Ingredients
2

pieces

thinly slices and toasted bread or flatbread such as naan

2

tablespoons

creme fraiche, sour cream or ricotta

4

pieces

thinly sliced smoked salmon or cured meat

2

chives, chopped
Instructions
Spread the creme fraiche on the sliced bread.

Top with smoked salmon and chives.
Nutrition
Calories:
180
kcal
|
Carbohydrates:
20
g
|
Protein:
12
g
|
Fat:
6
g
|
Cholesterol:
15
mg
|
Sodium:
1050
mg
|
Fiber:
3
g
|
Sugar:
1
g