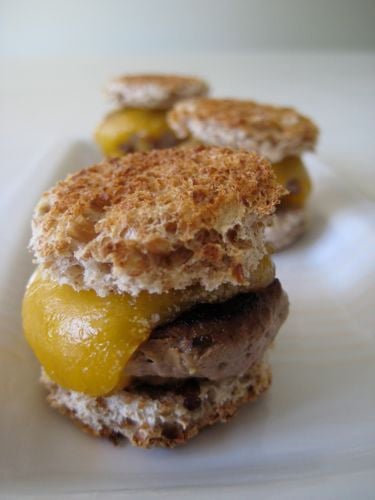 Pin
When you're raising kids it's funny how so many of your own personal tastes and culinary passions automatically get passed on to your little one(s. What you eat during your pregnancy will likely be what they crave. As a family we don't eat a lot of red meat, so neither does Kenya.
I do love myself a hamburger, but most of the time I prefer to make a good turkey burger for several reasons_ One, turkey meat is a lot less expensive then the high quality grass-fed beef that I would want to buy (most beef produced in this is corn-fed and since cattle do not naturally eat corn, producers must pump them full of antibiotics so the corn does not make them sick). I bought 1.5 pounds of 7% fat ground-turkey for $3.82 (Which makes the meat in this recipe come out to be a little over $1 (since I only needed less then a 1/3 of the package). While I was shopping I also checked out organic ground meat and it was over $13 for the same amount!
Turkey is packed with nutrients_ B vitamins, iron and more zinc then chicken. It's also known as a mood booster which we know every little one can use now and then.
Most of all, I love the flavor of turkey. It's mild and when served with a piece of cheddar cheese melted between two slices of bread, it's a perfect protein-packed meal.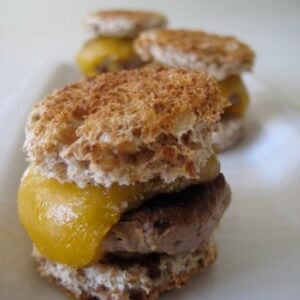 Turk-wee Burgers
Ingredients
1/2

Lb

7% Fat Ground Turkey Meat

1

Tbsp

Shallot, minced (you could also use onion)

1

Tsp

worcestershire sauce

1

Tsp

oil

12

1 Inch

Slice Cheddar Cheese

3

Slices

whole wheat bread
Nutrition
Calories:
100
kcal
|
Carbohydrates:
6
g
|
Protein:
8
g
|
Fat:
5
g
|
Cholesterol:
20
mg
|
Sodium:
330
mg
|
Sugar:
2
g