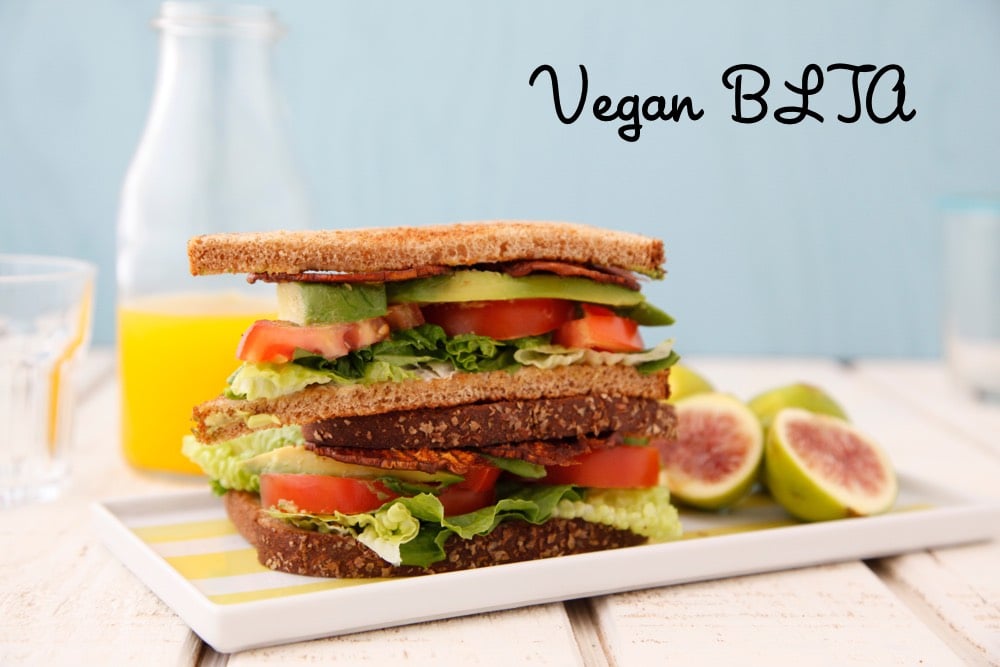 My husband is an avid cook and over the years has gotten progressively more creative. He gets on major food kicks where he'll discover a recipe, start making it repeatedly, and eventually employ a few modifications to make it his own.
Earlier this summer, hubby began following Mark Bittman's VB6 regime, which basically means he eats a vegan diet before 6pm — after 6pm he can more or less eat whatever he wants. Hubby looks great and professes to feel a lot better eating this way. While he rarely, if ever, eats bacon, he still totally craves its smoky sweet taste and crispy texture. So, out with the pig and in with the….eggplant? Hubby has become a bit obsessed about making vegan eggplant bacon every Sunday. He stumbled across a recipe for it on healthy eating website called The Vedge, and now has it bookmarked for easy reference. At first I was a little mean, turning my nose up at the whole idea of 'vegan' bacon. After all, I'm from Kentucky. Yet I wound up eating my words once I tried it. While it didn't taste exactly like bacon, it was pretty darn close and totally delicious to boot.
My husband made only minor modifications to The Vedge's recipe, but I gave it my own twist and then added it to a classic BLT with a few slices of avocado inside (the avocado is good for creaminess and giving flavor balance throughout). Vegan or not this flavorful, highly satisfying sandwich will leave you wanting more.
Vegan BLTA Sandwich
Ingredients
2

tablespoons

maple syrup

2

tablespoons

olive oil

2

tablespoons

apple cider vinegar

2

tablespoons

low sodium soy sauce or tamari

2

teaspoons

paprika

1/2

teaspoon

kosher salt

1

large

eggplant

4

slices

sandwich bread

4

teaspoons

veganaise

2

leaves

romaine lettuce

1

tomato, sliced

1

avocado, sliced
Instructions
Whisk together the first 6 ingredients in a bowl or dish large enough to hold the eggplant slices.

You can peel the eggplant if you like, I prefer to leave it on but it is a little chewy.

Thinly slice the eggplant using a sharp knife or mandolin into 1/4 inch slices.

As you are slicing the eggplant, add to the bowl with the sauce allowing the eggplant slices to marinate for a few minutes until they soften. Press down to make sure all of the slices are coated in the mixture.

Place the softened eggplant slice on dehydrator sheets (or oven tray). You want as much of the marinade on there as possible.

To cook in a dehydrator, cook at 115°F – 125°F for 12-24 hours, depending on how thick your eggplant slices are. Mine took about 16 hours.

To cook in the oven, preheat to the lowest setting (175-200 degrees). Place the eggplant on silpat or parchment lined baking sheets and cook for 2-3 hours or until eggplant is crispy.

Allow eggplant to cool for 30 minutes to crisp up a bit.

Spread the veganaise on 2 slices of bread.

Layer on top of veganaise the lettuce, tomatoes, avocados, and 2-3 slices of vegan bacon.

Top with remaining pieces of bread.
Nutrition
Calories:
530
kcal
|
Carbohydrates:
54
g
|
Protein:
12
g
|
Fat:
33
g
|
Sodium:
1470
mg
|
Fiber:
14
g
|
Sugar:
19
g