Isn't breakfast the best meal of the day? How about breakfast for lunch!? When I'm stumped and can't think of what to make, I know that these kid-approved waffle hearts school lunch will always be a winner.
This isn't the only breakfast for lunch idea here on Weelicious! Bacon in the school lunch box anyone? Chloe can't get enough.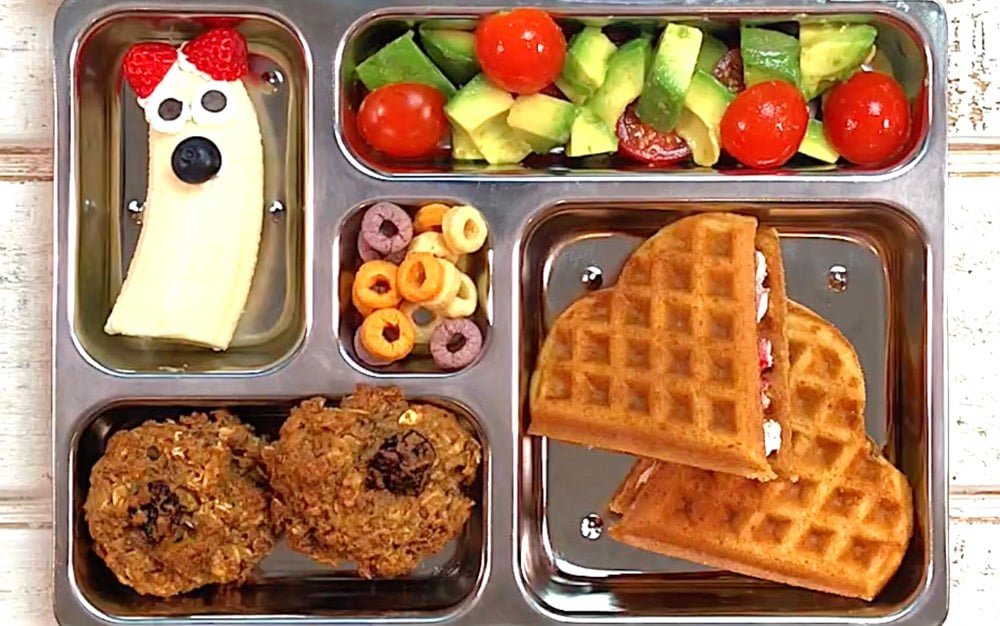 Here's what you see inside this lunch:
Waffle Heart Sandwiches filled with whipped cream cheese and raspberry jam. You can also use PB+J or whatever spreads you love! Whole Wheat Pancake and Waffle Mix is a must have pantry staple! Super easy to throw together, and way better than any store-bought mix!
P.S. If you don't already have a heart waffle maker, you should definitely add one to your kitchen.
Banana Bears. Whipped cream cheese, blueberries, raspberries, and chocolate chips make these adorable snacks.
Breakfast Cookies. Put those two words together and see how your children feel about the school morning breakfast rush!
Avocado with lime juice, kosher salt, and cherry tomatoes
Dye Free O's Cereal (from Trader Joe's)
What are your kids' favorite breakfast foods? Let's figure out how we can add them to school lunch!