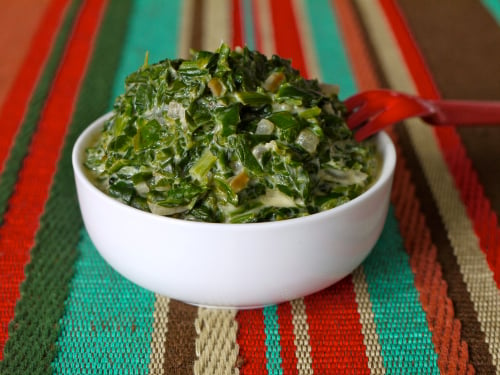 Even though the name creamed spinach has never sounded very appealing to me, I have been hooked on it since the first time I tried it at steak restaurant as a kid. There's something about the luscious creamy consistency of the sauce blended with the spinach that just melts in your mouth. Yet as good as creamed spinach is, it seems like a shame to take such a healthy veggie and then load it down with such a rich sauce. This lighter version is healthier, but just as yummy as the creamed spinach you're probably used to.
Just because I fell in love with creamed spinach immediately as a kid, does not mean that my little ones took to it as quickly. On try number one, Kenya and Chloe looked at it blankly and then back up at me with absolutely desire to try it. After talking about it a bit and telling them that I ate creamed spinach a lot as a kid, Kenya changed his mind and dug right in. Chloe was a different story. She was in full-on mouth lock down mode – – no way, no how was she even going to taste it. The next night I decided to repackage it by mixing it with rotini pasta. Chloe devoured it, no prodding required. It's funny how just by adding one of Chloe's favorite foods changed things completely for her. From that moment on, whenever make creamed spinach, it's enjoyed by all!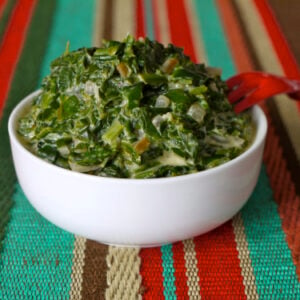 Healthier Creamed Spinach
Instructions
In a large saute pan over medium heat, melt the butter. Add the onions and saute for 3 minutes, add the garlic, and saute an additional 30 seconds. Sprinkle in the flour, stir, and cook 30 seconds more.

Add the remaining ingredients and stir to combine. Cook for 3-5 minutes, until the mixture thickens.
Nutrition
Calories:
80
kcal
|
Carbohydrates:
6
g
|
Protein:
5
g
|
Fat:
5
g
|
Cholesterol:
10
mg
|
Sodium:
480
mg
|
Fiber:
2
g
|
Sugar:
2
g