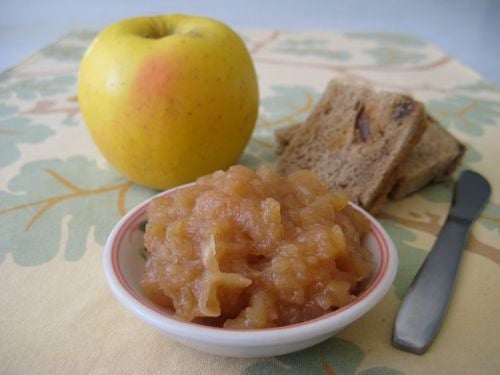 A few months ago, we got in the car and drove just outside of Palm Springs, CA to Los Rios Rancho's beautiful u-pick farm to go apple picking. Not only does Los Rios have rows and rows of apple trees that seem to go on for miles, but they also have live music, pony rides, a petting zoo, roast corn, BBQ and more. We had a blast and we picked bags filled with several varieties of apples to take back home.
Whenever we go apple picking, I always set out with an adventurous spirit thinking I'm going to get home and crank out batches apple pies, turnovers, bread ,etc….and then I get home. I'm so exhausted from a long day of running around after Kenya that I just want to rest on the couch. Still, what to do with all those apples? Apple butter!
For all of you that are like me, this recipe for is so easy and healthy that you can make it even if you have no energy. I went to the farmer's market the next day to ask several farmers what the difference between apple sauce and apple butter — I got many different answers. I came to the realization that it's made simply from half sweet apples and half tart apples. Luckily, we picked tons of Golden Delicious (sweet) and Wine Sap (tart) apples, packed with vitamin C and fiber, a perfect mix for this recipe. Adding just a bit of agave nectar for sweetness and a pinch of cinnamon for zip, this apple butter recipe is perfect spread on toast, sandwiches or even used as a dip for turkey as Kenya demonstrated for us at dinner the next night.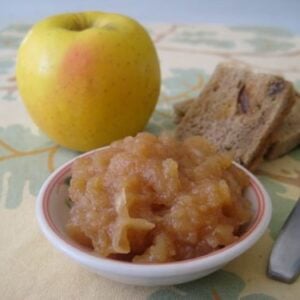 Apple Butter
Ingredients
2

apples, peeled, cored and chopped (I like to use Gala, Pink Lady, or Fuji)

1/2

Tsp

cinnamon

1

tbsp

apple juice, cider or water
Instructions
Place all the ingredients in a sauce pan over low heat.*

Cook for 15 minutes, covered or until apples are fork tender.

Smash apples with a potato masher or back of a spoon. You want the apple butter to be slightly chunky.

* multiply the recipe for larger batches of apple butter.

** if apples are tart, add honey, maple syrup or agave to sweeten.
Nutrition
Calories:
35
kcal
|
Carbohydrates:
10
g
|
Fiber:
1
g
|
Sugar:
8
g