Baked Avocado Eggs are the perfect addition to your breakfast or lunch lineup! They're easy to make, full of healthy fats and protein and best of all they are totally delicious!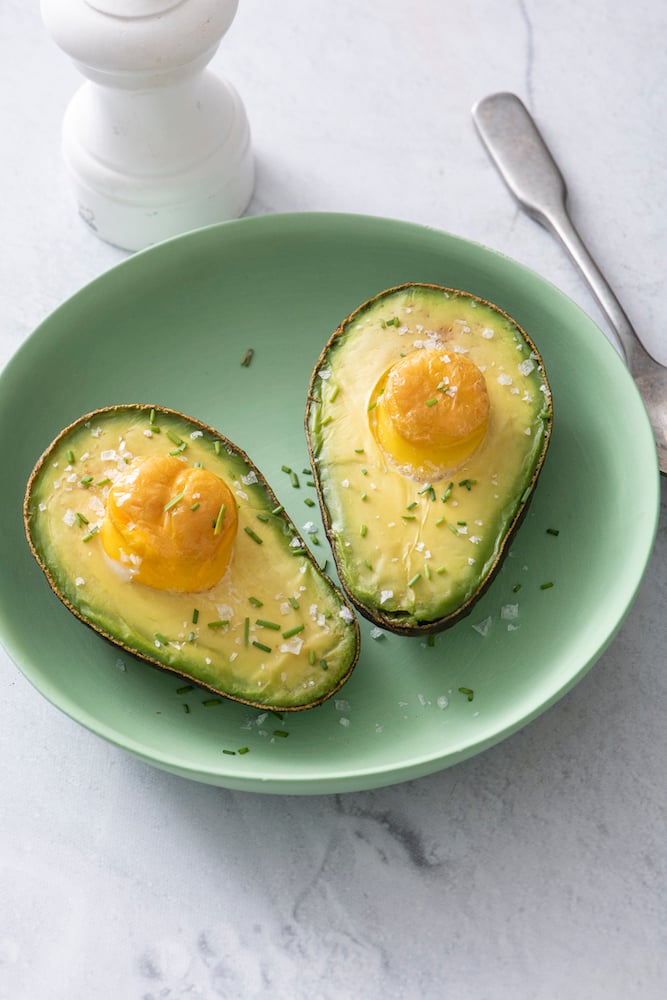 I crave these Baked Avocado Eggs for breakfast just as often as I want them for lunch. They're satisfying and filling, packed with healthy fats and protein and super tasty. Plus they're great if you're trying to eat less carbs. They're like little avocado toasts, minus the toast!
You could start your day with a sugary cereal or pastry, but starting your day off with a Baked Avocado Egg is a better option. It'll leave you with tons of energy to get your day going and not reach for another snack mid morning. They're so easy to prepare and are everything you need for a healthy breakfast.
We go through tons of avocados every week. We eat them pretty much every day whether it's smashed onto some Avocado Toast, in a creamy smoothie like this Avocado Shake or as a topping like this Cucumber Avocado Salsa and of course fresh Guacamole. They're a great heart healthy fat, have lots of fiber and are super versatile which is why they're one of our favorite foods.
A couple helpful tips for making these Baked Avocado Eggs:
If needed, scoop out some of the avocado flesh so that the eggs can fit better. Best part is you get to snack on the extra avocado!
Top these with any of your favorites. We do parmesan cheese, but you could definitely use cheddar. Diced red peppers, some chopped bacon. YUM!
I put these avocados on top of a muffin tin so that they stay stable while they bake, but you could also lean them against each other in a baking dish so they don't wiggle around and spill the egg.
Baked Avocado Eggs are a healthy breakfast, snack or lunch that you'll make all the time. Let me know what you think by tagging me on social media!
Baked Avocado Eggs
Ingredients
1

ripe

avocado, cut in half

2

large

eggs

1/4

teaspoon

garlic powder

1/4

teaspoon

kosher salt

2

teaspoons

grated parmesan cheese
Instructions
Preheat the oven to 375F degrees.

Crack 1 egg into each avocado half, sprinkle with garlic powder, salt, and parmesan cheese.

Place the avocados in muffin cups so they are stable. Bake until the egg is set, about 18-20 minutes.