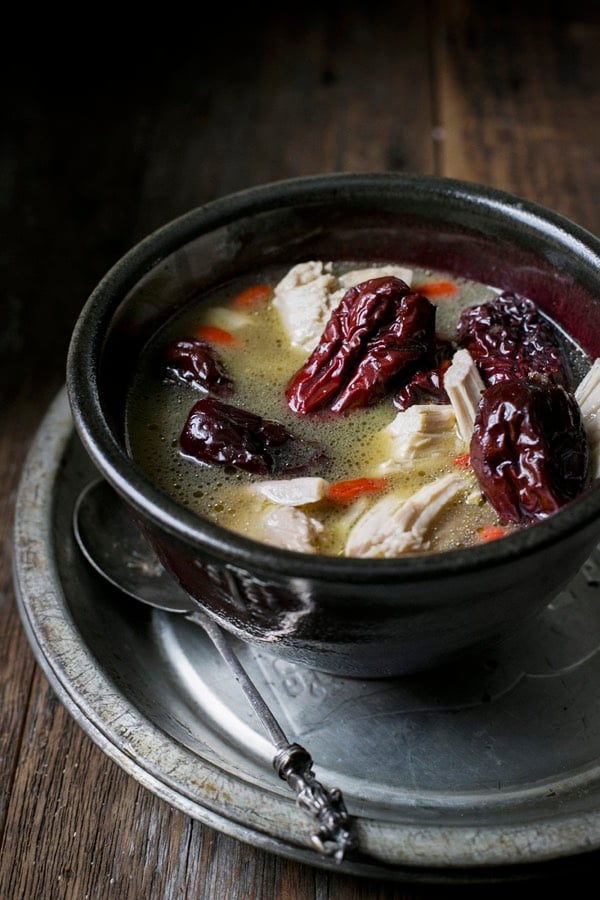 The morning of the day that I gave birth to Chloe at home, 7 years ago, I met up with a few moms including my friend, Heng Ou, at the park. She talked to me about her three births and how she was nurtured by others in the first 6 weeks after each birth. The theory of nurturing the mother after birth was foreign to me. I had always been focused on the idea that as new mothers our job was taking care of a baby and all of their needs in the first few months of their life, but what about the mother? Birth within itself is a powerful and exhausting experience. A mother needs nonstop nourishment to her own body and soul at this time while she's also giving herself fully to her sweet new baby.
Heng has been supporting women through this massive transition and adjustment with her incredible food and knowledge for years. As new mothers we read so many books to prepare ourselves for our new baby and their needs. Heng's new book, the The First Forty Days, is an essential read for filling a new mama's soul for her postpartum journey. It includes nourishing soups, to help with milk production as well as tons of restorative recipes to revitalize her body.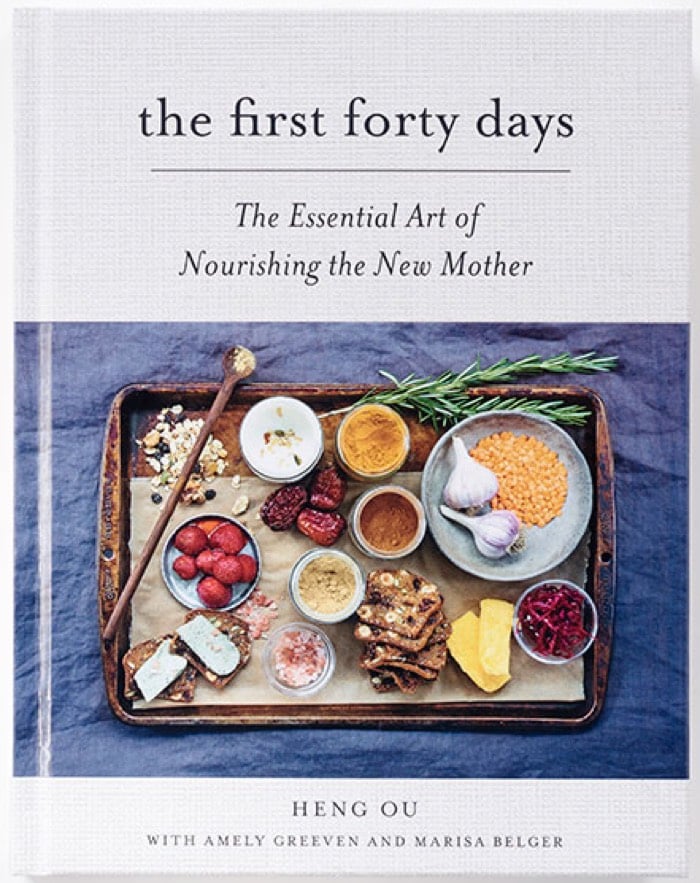 I first experienced the ancient Chinese tradition of zuo yuezi, or sitting the month, after the birth of my first daughter. Just days after little Khefri's arrival, my Auntie Ou, a long-time acupuncturist, showed up at my door bearing a satchel of strange looking ingredients (think: chicken feet and goji berries) and a list of clear commands_ I was to trade work, hosting, and any other kind of stimulation for rest, warmth, and quiet bonding with my new baby. I was also to eat nutrient-dense foods that support lactation and healing. This focused period of rest, recovery, and specialized eating after the birth of a baby is not unique to China. Cultures around the world believe that taking time to retreat and heal after your baby's arrival will lead to long term health and vitality, and a happier mother and baby. Whether you have forty days to dedicate to recovery from pregnancy and birth or a much shorter window, eating the right foods can help balance your hormones, boost your energy, and increase your milk supply.
Chicken, Red Dates and Ginger Soup is one of my favorite dishes to make for new mothers as it is deeply warming and makes for a hearty meal for the whole family.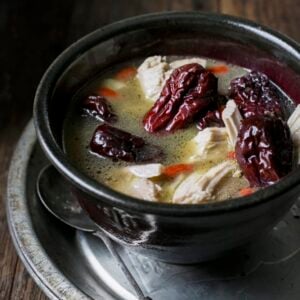 Chicken, Red Dates and Ginger Soup + Giveaway
Ingredients
2

to 2 1/2 pounds

whole chicken or parts

1/2

white or yellow onion, peeled

2

inches

fresh ginger, unpeeled and halved

3

medium

carrots, peeled and thinly sliced

5

Chinese red dates

3

tablespoons

dried goji berries

sea salt
Instructions
Place the chicken in a medium pot, and add enough cold water to just cover the chicken. Bring to a boil over medium-high heat, uncovered.

Once boiling, add the onion and ginger to the pot. Reduce the heat to medium, cover, and cook for 40 minutes. Remove the lid occasionally to skim any foam off the top and discard.

Remove from the heat. Move the chicken to a plate to cool. When cool enough to handle, shred the chicken. Return the chicken carcass and 1-2 cups of the shredded chicken back to the pot. (Save the remaining shredded chicken for another use.)

Add the carrots and dates to the pot, and simmer over low heat, uncovered, for 45 minutes. Add the gogi berries and cook an additional 15 minutes. Season with salt to taste.