These ice cream cookie sandwiches will make your summertime fun that much better!
When I think of foods I want to eat during the summer it's generally about cool and refreshing treats. I may start off wanting to fill up with something healthy, but dessert is always in the back of my mind and always top of mind for my kids.
It can be anything from Strawberry Popsicles, Strawberry Yogurt Ice Pops, Rainbow Nice Cream, Graham Cracker Dipped Ice Cream Sandwiches and basically anything cold and sweet from the freezer. I've even gotten to the place if I have leftover smoothies I pour the remainder in popsicle molds as a special treat.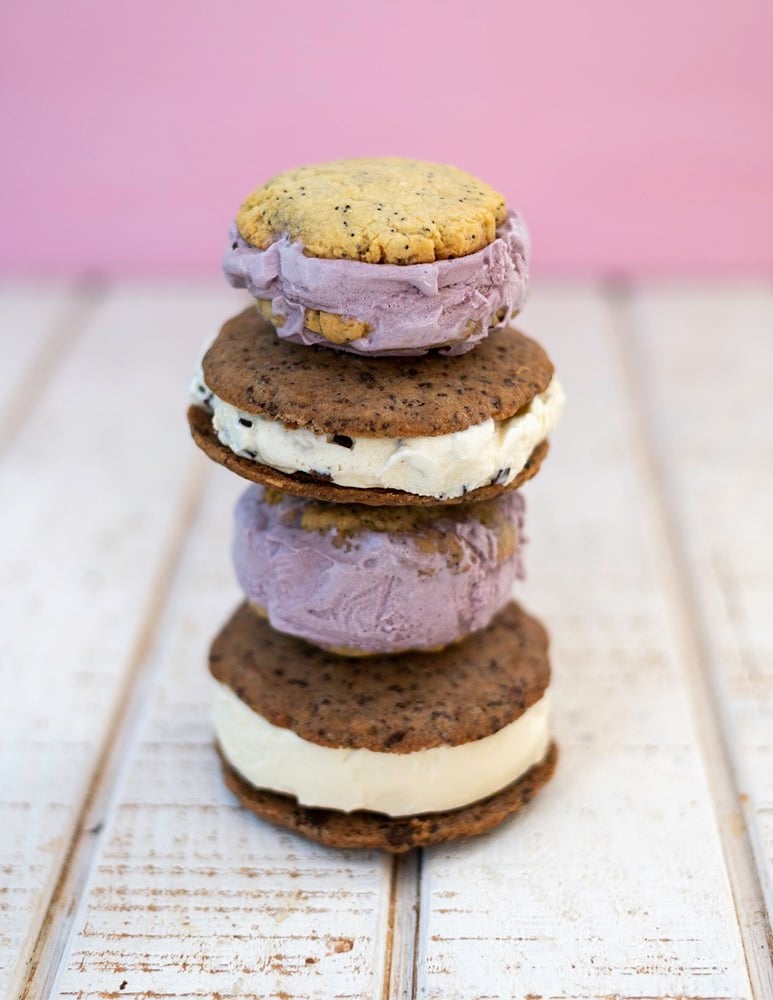 Tonight I'm having a gaggle of kids and their parents over for swimming and dinner and making a bunch of these Ice Cream Cookie Sandwiches. They're delectable and feel extra special when you're feeding a crowd.
You can use any kind of cookies you want to make these, but my favorites are Double Chocolate Hemp Heart Cookies, Vegan Cowgirl Cookies (so Gemma can have them as they're dairy free with coconut based ice cream) or Classic Chocolate Chip Cookies. If you're short on time you can even buy pre-baked cookies or dough and bake them up quick. I promise no one will pass on these beauties.
The real fun trick is how you make the ice cream into the same shape as the cookies. It's a game changer in making them fast and they look gorgeous. If you're looking to start your own ice cream cookie business this is the trick to doing it.
Make sure to use an ice cream scoop to make big cookies to be the same or a similar size as the ice cream you buy. I usually buy pints of ice cream, but you can also buy slightly larger containers if you want them to be giant. Just slice the wheels, slide out the ice cream or peel of the paper and voila! You have beautiful ice cream cookie sandwiches everyone will swoon after.
What kind of cookies and ice cream would you use?
Ice Cream Cookie Sandwiches
Ingredients
1

pint

ice cream

8

baked and cooled

cookies
Instructions
Using a sharp knife, cut the pint of ice cream with the paper still on into 4 (1 1/2 inch) slices.

Place the ice cream on a cookie and slide the paper off.

Top with another cookie and serve or wrap in parchment or plastic wrap and freeze for 30 minutes or up to 3 months.