Want to make a side dish that's a little bit out of the ordinary? Italian Asparagus Sticks are crunchy on the outside, tender inside and big and little hands will be grabbing for them!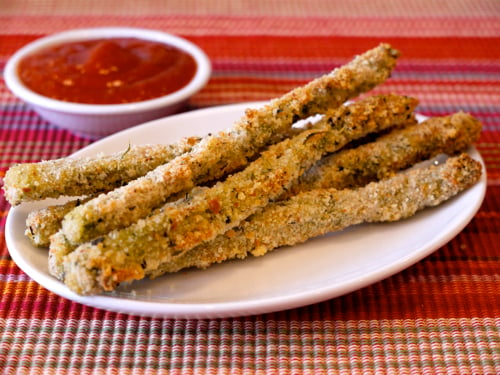 Pin
First and foremost, Weelicious is about recipes for kids — or at least that was the intention when I started this website for little ones almost four years ago. I dreamt of coming up with meal ideas that would appeal to kids and inspire them to eat foods that are not only good for them, but that taste delicious at the same time. Something has happen along the way, though. I've realized that we're all kids at heart and even adults love the idea of food that comes in interesting shapes, has bright colors, unique flavors or an engaging aspect to them.
So, did I make these Italian Asparagus Sticks for my kids or me and my hubby? The kids and I had these tasty asparagus stick creations for dinner one night and we loved every bite. I never know how the kids will react to certain vegetables, but the taste and presentation of these sticks are so appealing that it's hard for even the most finicky eater to resist them. Tender on the inside and crispy on the outside, Kenya and Chloe loved dipping the asparagus in the tomato sauce I served with it on the side and kept remarking, "there so crunchy, Mommy!" As I do with most recipes, I double what I make and freeze half in order to have plenty for another night, but my planning was all for naught. When my husband got home from work later that night, I sat with him while he ate our leftovers. He ate them all and wanted more so I popped the frozen ones in the oven to toast them up for him. The next thing I noticed, they were all gone! So much for being prepared for a future meal.
It's good to know that no matter what our age we can all enjoy the same foods and always remember it's great to be a kid at heart!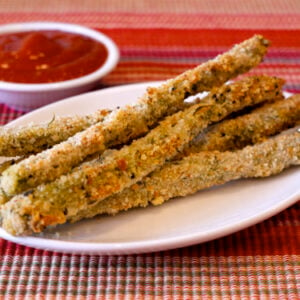 Italian Asparagus Sticks
Ingredients
1

Cup

whole wheat panko or bread crumbs

1

Tbsp

Italian Herbs (you can find them in any grocery's spice section)

1/2

Tsp

kosher salt

1/2

Tsp

garlic powder

2

large eggs

1/4

Cup

flour

1

Bunch

Asparagus, cleaned and stems removed (if you snap the asparagus down towards the bottom, they will naturally break at the woody part at the bottom)
Instructions
Preheat oven to 450 degrees and coat a large baking sheet with cooking spray.

Mix the first 4 ingredients in a bowl.

Whisk the egg in a separate bowl.

Place the flour in another bowl.

Make an assembly line with the bowls. Dip the asparagus first into the flour, then the egg and finally into the bread crumb mixture, coating evenly and repeating with all the sticks.

Place all of the coated sticks on the baking sheet/rack. Arrange so they're not touching, spray lightly with oil and bake for 30-35 minutes or until the bread crumbs are golden.

Serve with marinara sauce for dipping.

*IF FREEZING: after step 5, place sticks on a baking sheet and freeze for 30 minutes. Remove from freezer and place in a Ziploc bag. Label and freeze. When ready to eat – remove from freezer and put sticks in the oven, adding at least another 3-5 minutes baking time.
Nutrition
Calories:
170
kcal
|
Carbohydrates:
31
g
|
Protein:
9
g
|
Fat:
1
g
|
Sodium:
520
mg
|
Fiber:
4
g
|
Sugar:
4
g