Making homemade pasta might be one of my favorite things to do. This Fresh Herb Pasta with Lemon Garlic Sauce is the perfect recipe for both carnivores and vegetarians alike so everyone wins.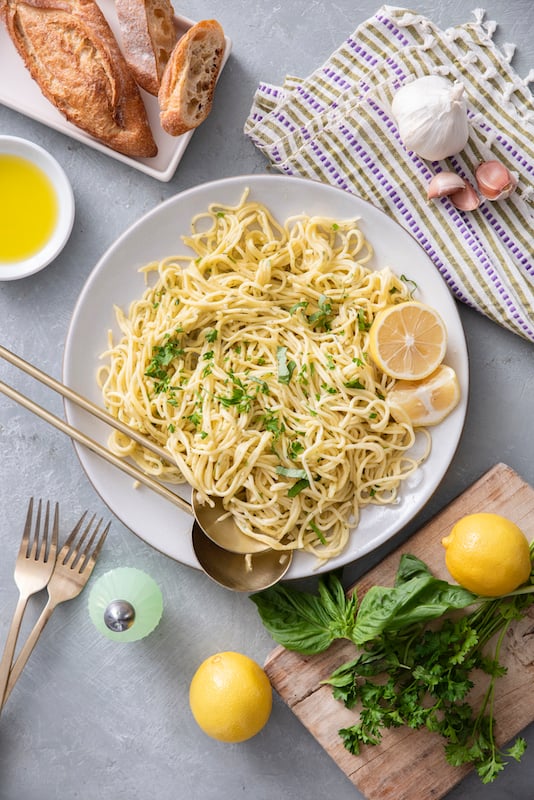 Everyone needs a good go-to pasta dish that satisfies that savory itch. Sometimes the heavy sauces that come with a pasta can be too heavy and overwhelming to the noodle, it's beautiful canvas. I love this recipe because the Lemon Garlic Sauce doesn't call for any butter or heavy cream so it's super light. The little tang from the lemon is to die for and the garlic, I mean, who doesn't love garlic? I use three cloves in this recipe, but I won't judge you if you use 5, 6, 7 or even the hole clove. My father in law who's a total garlic lover will be your bestie forever.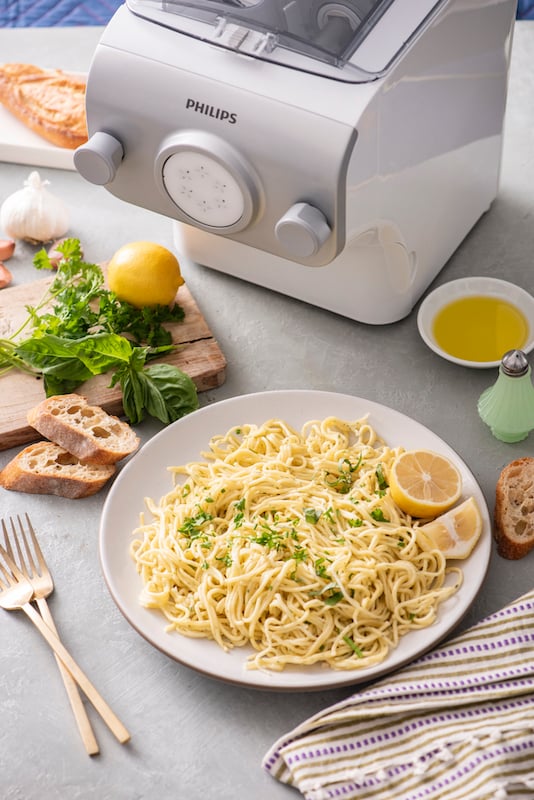 This recipe is a great homemade pasta dish to get the kids involved with too. Making fresh pasta is so much fun, especially with my Philips Pasta Maker. Years ago I might have been intimidated to make fresh pasta, but now our family wants it every night. Gemma has a blast watching the dough get turned into fresh, delicious strands of pasta and honestly, I have almost just as much fun as she does! I made fettuccine noodles for this dish, but the pasta makers also comes with a variety of settings to make different shaped noodles including ziti and spaghetti. The best part? Fresh Pasta with Lemon Garlic Sauce is great for my family since we have a mix of vegetarians and meat eaters. Everyone loves it!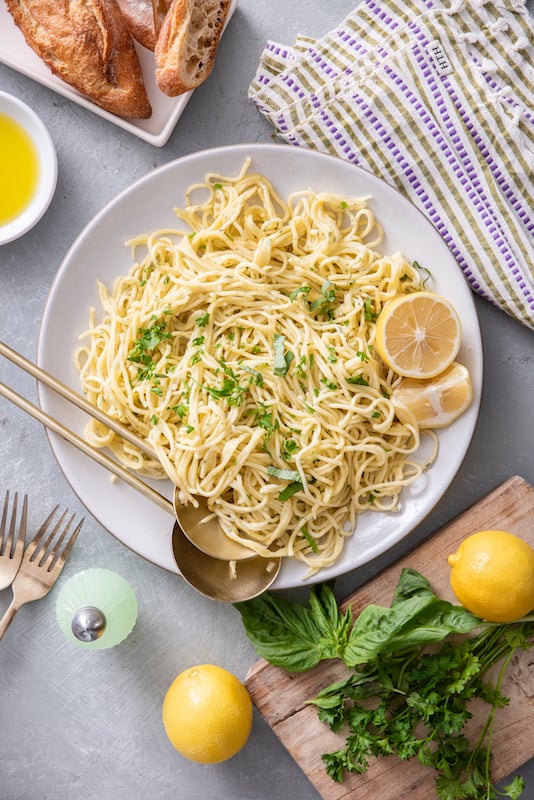 While this pasta is delicious on its own, it can be paired with fish or chicken if you're looking for something to go with it.
Fresh Herb Pasta with Garlic Lemon Sauce
Ingredients
For Pasta:
250

grams (about1 1/4 cup)

all purpose flour

1

plus water to make 95 grams

large egg, whisked
Instructions
*Prepare pasta according to pasta maker instructions

Bring a large pot of salted water to a boil.

2. Heat oil in a large sauce pan over medium heat.

Add the garlic and sauce for 2 minutes.

Add the lemon juice, zest if desired, salt and fresh herbs and stir to combine.

Set the sauce aside and boil the pasta for 2-3 minutes or until noodles and cooked through.

Add noodles to the sauce over medium heat for 1 minute and serve.