Pineapple Carrot Cake is one of the most decadent, yet easy cakes to prepare. This cake is perfect for birthdays, an Easter brunch or really whenever you'd like!
Pin
At this time of year we have a lot of birthdays the celebrate. Hubby, Kenya and Chloe's are sandwiched into a very busy five week span, so I feel like I'm baking or buying cakes non stop. When I was a kid I feel like we had one birthday cake and that was it, but between the kids school parties, a cake at their birthday parties and at dinner to celebrate their birthday night, we're talking a lot of cakes!
Pin
Last year Chloe decided she had to have a carrot cake because the horses at her parties love carrots, so she should make something similar. We went round and round about what she wanted in it and how she wanted it to look for her horse theme birthday and we settled on this delicious creation. The biggest mistake I made for her party was making only one cake. I should have made two cakes as it disappeared in seconds. I never feel like adults eat a lot of cake at parties, but the parents were asking for seconds which I sadly couldn't offer. This year I'm not going to make the same blunder and make two of these beauties.
Pin
Chloe was very clear that she wanted pineapple in her cake, but no walnuts or raisins instead preferring chopped pecans. You can absolutely add another type of nuts or raisins if you prepare that style of carrot cake. What I love about this recipe is that it's made in a 13 x 9 inch pan instead of two 9 inch cake pans, so it's perfect for a birthday party or Easter celebration to quickly slice and feed 15-20 people. Chloe also wanted vanilla icing, but I was able to convince her that Pineapple Carrot Cake is all about the cream cheese frosting, so we compromised and gave it a really rich vanilla flavor. I topped it with dye free candy coated sunflower seeds for a party last spring and with tons of little ponies for her party.
The next time you need a sheet cake (or two) to feed a crowd you can rely on this Pineapple Carrot Cake to satisfy everyone's dessert cravings!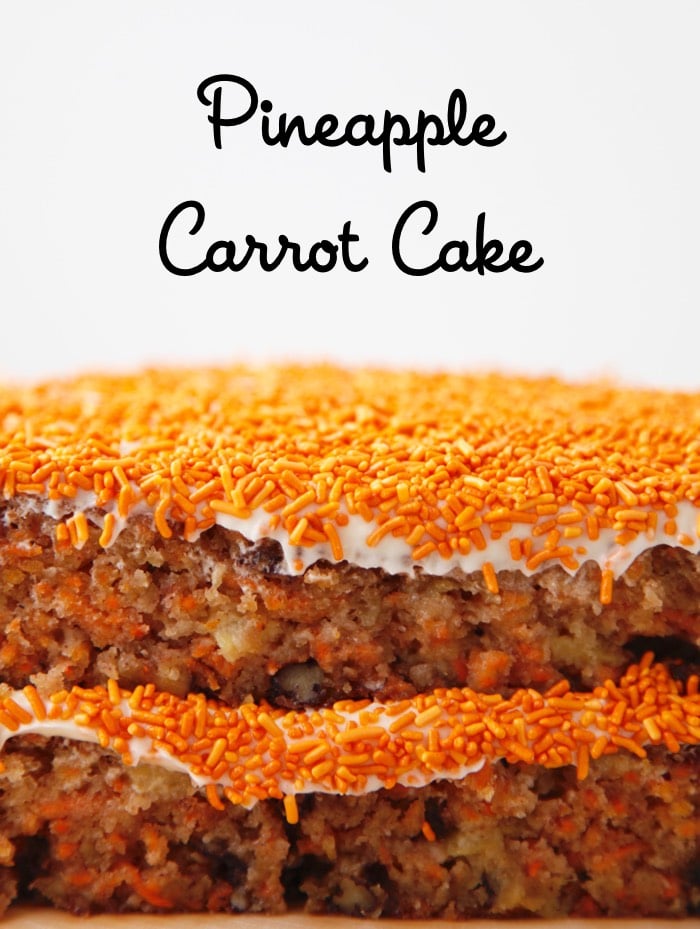 Pin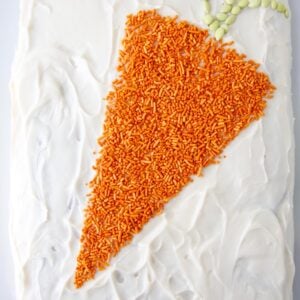 Pineapple Carrot Cake with Cream Cheese Frosting
Ingredients
cake:

3

cups grated

carrot

2

cups

all purpose flour

2

cups

sugar

2

teaspoons

baking soda

1/2

teaspoon

kosher salt

1

teaspoon

ground cinnamon

4

large

eggs

1

1/2 cups

vegetable oil

1

1/2 teaspoons

vanilla extract

1

(8-ounce) can

crushed pineapples with juice

3/4

cup

chopped pecans

Frosting:

1

(8 ounce) package

cream cheese, at room temperature or softened

1/2

cup

unsalted butter, at room temperature or softened

1

1/2 teaspoons

vanilla extract

3

1/2 cups

powdered sugar
Instructions
Make the cake:
Preheat the oven to 350ºF. Grease and flour a 9x13-inch cake pan.

In a large bowl, toss to combine the grated carrots, flour, sugar, baking soda, salt and cinnamon.

Add the eggs, oil, vanilla extract, crushed pineapple and chopped pecans to the bowl, and stir until combined.

Pour the batter into the prepared cake pan and bake for 35 to 40 minutes, until a toothpick inserted comes out clean.

Transfer the cake, still in the pan, to a cooling rack to cool completely and then invert it onto a large cutting board.
Make the frosting:
In the bowl of a stand mixer fitted with the paddle attachment, or with a handheld electric mixer, beat the cream cheese until smooth, scraping down the sides as needed. Add the butter and vanilla extract, beating until combined.

Add the powdered sugar and beat on low until combined. Once the cake is completely cool, frost and serve.