Instead of making really greasy Fried Rice I love making this Shrimp Un-Fried Rice for dinner. It's a great use of leftover brown rice with tons of flavor and most importantly a quick weeknight family recipe to prepare!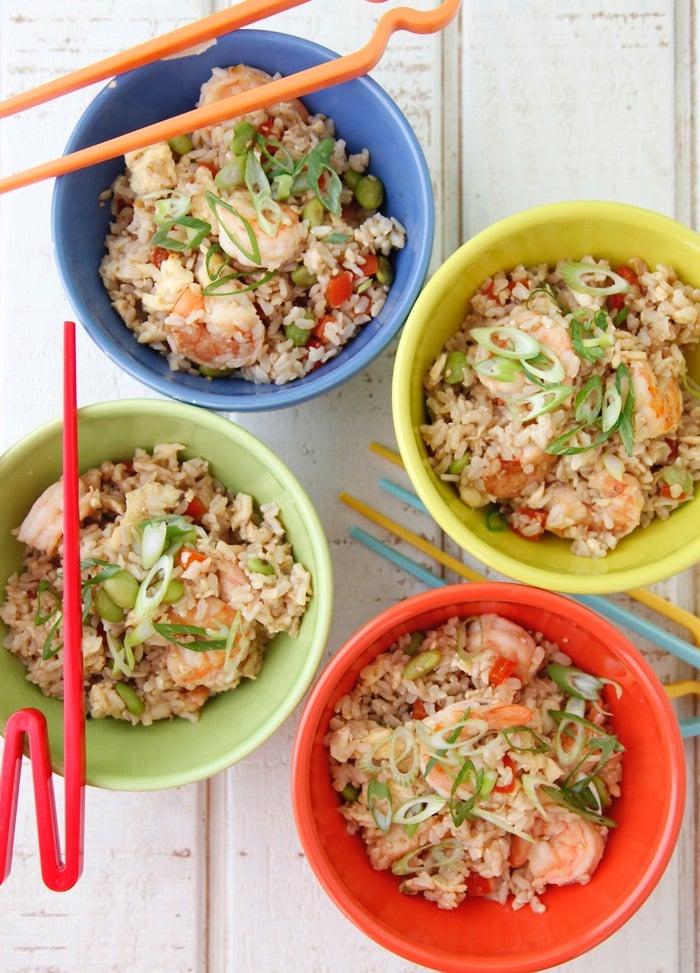 Pin
We're just a few weeks into the beginning of the year and I've got healthy meals on top of my mind (not a surprise, since that's generally where my culinary thought process revolves). I've been trying to focus on lean proteins, nutritious carbohydrates and of course tons of veggies when feeding our family.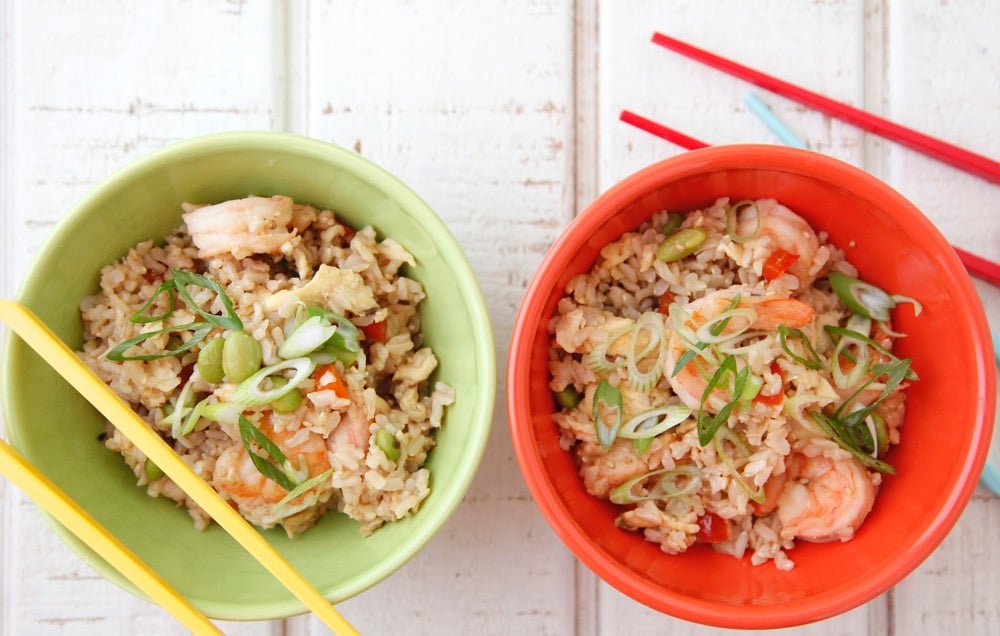 Pin
Kenya is a big time brown rice lover, so we keep a bowl of it in the fridge at all times. I figure that if I keep a few cooked foods on hand at all times then I've got a meal minutes away on those busy nights. One of my favorite convenience foods are frozen wile shrimp from Trader Joe's. I just run water over them to defrost and voila, within minutes I can sauté up this delectable dish of Shrimp Un-Fried Rice. With just a few other staple ingredients on hand like eggs, soy sauce, frozen edamame and sesame seeds I can transform Kenya's beloved brown rice into a dish that has more than just a little pizzaz.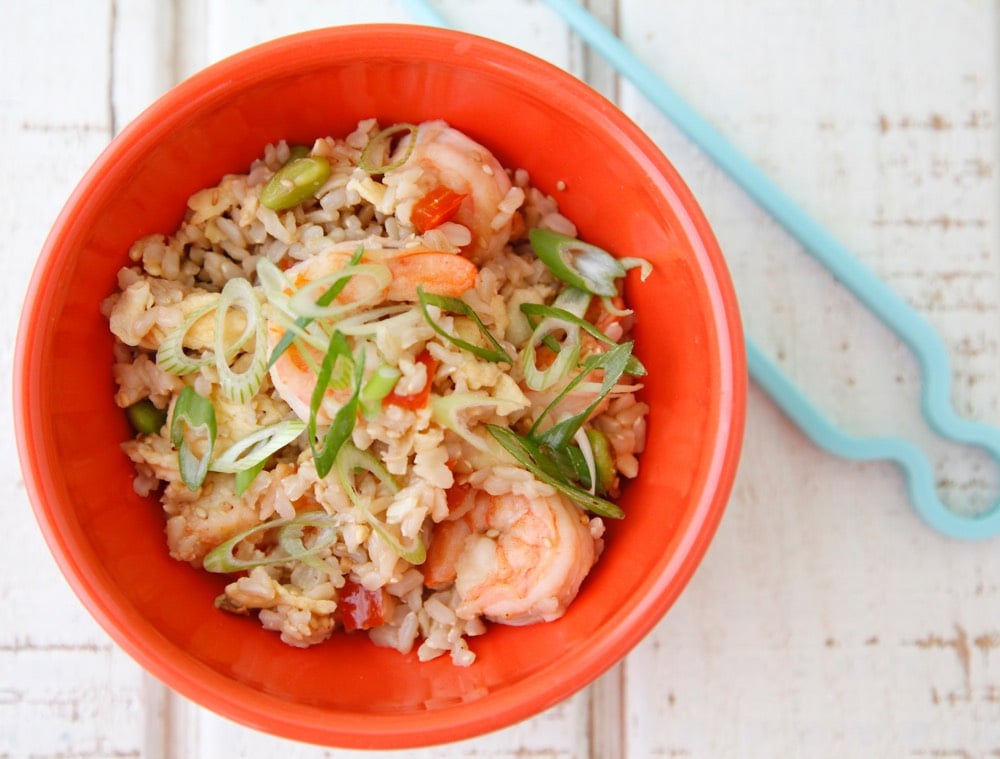 Pin
I loved going out for Chinese food when I was a kid, but for some reason it feels like there are fewer and fewer really delicious Chinese restaurants these days with our favorites like Chinese Chicken Dumplings, Pan Seared Dumplings, Orange Chicken and Mu Shu Chicken. My father in law and I were just having this conversation when he pointed out there used to be tons of authentic Chinese restaurants making high quality, clean Chinese food and it feels like they have all but disappeared.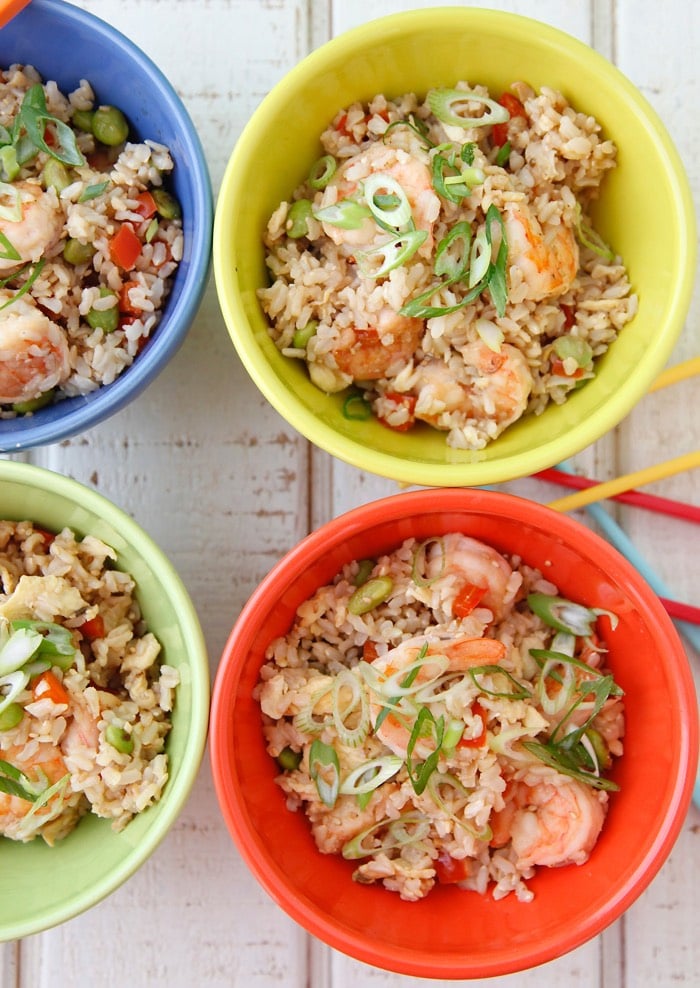 Pin
I call this totally simple and delicious dish "Un-Fried Rice" because while it is still technically fried, unlike most Chinese food restaurants which cook their fried rice in tons of oil, this recipe uses the bare minimum to add plenty of flavor while keeping the dish lean and mean.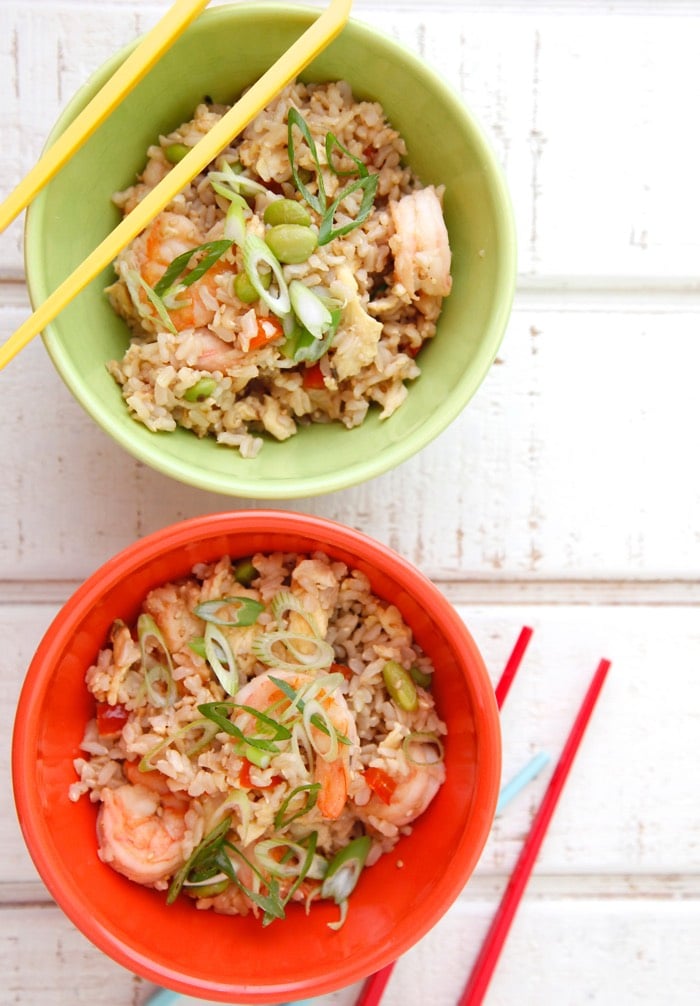 Pin
Let me know in the comments what you think of this recipe and tag me on social media!
Shrimp Un-Fried Rice
Ingredients
1

tablespoon

oil

4

large

eggs, whisked

1

red bell pepper, diced

1/2

cup

shelled edamame

1

garlic clove, minced

1/2

pound

shrimp, peeled and deveined

1/2

teaspoon

kosher salt

4

cups

cooked brown rice

2

tablespoons

low sodium soy sauce

1

tablespoon

sesame seeds

1

tablespoon

diced scallions
Instructions
Heat 1 teaspoon of the oil in a skillet over medium heat. Add the whisked eggs and cook for 1 minute stirring to make scrambled eggs, then remove to a plate.

Heat the remaining 2 teaspoons oil, add the red bell peppers and cook 3-4 minutes, until soft. Add the edamame and garlic and cook 1 more minute.

Add the shrimp and salt and cook 3 minutes, until they are bright pink.

Add the cooked eggs, rice, soy sauce and sesame seeds and cook 2 minutes, just until heated through.

Top with the scallions and serve.