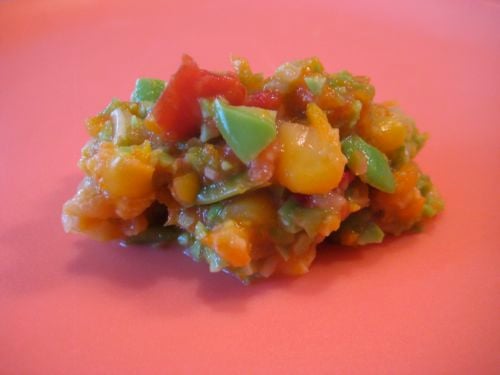 Pin
When I was growing up in Kentucky, going every summer to the "U-Pick" farm with my grandfather was a ritual. He would take me, my little brother and cousins to Stumblers Orchard and we would pick whatever was fresh and in season. There was nothing like picking watermelons, strawberries and corn, all so sweet and delicious. I can still remember looking for the perfect fruits and vegetables to put in our baskets and then bring our bounty home to my parents. My grandfather would pick bushels of fruits and vegetables and freeze them so we could have plenty all through the winter.
Succotash is one of those southern dishes that evokes wonderful memories of summer. 
Corn, lima beans, carrots, red peppers and more fill this dish. This recipe is simple to prepare and packed with vitamins and minerals. Your little one will love the bright colors that comprise the dish and you'll know they're getting plenty of nutritious vegetables in this sweet treat.
We used these to make this recipe_
Succotash
Ingredients
8

Baby

carrots

1/3

Cup

Red Pepper, chopped

1/2

Cup

corn

1/2

Cup

Lima Beans

1/3

Cup

Tomato, peeled and chopped (or canned organic)

2

Tbsp

whole milk
Instructions
Place the baby carrots and red pepper In a steamer pot over boiling

Add the corn and lima beans and steam another 3 minutes or until

all the vegetables are fork tender.

Place all the ingredients in a food processor and pulse (DO NOT PUREE!) until little pieces of vegetable remain.

*Place in Baby Cubes and freeze.

*If you have a baby under the age of one, and you want to make this

dishes, just replace the milk with the water in the steamer pot and

puree it a little longer.