When you're pregnant or even just trying to focus on your body performing at its optimal health, this Superfood Salad is a great way to give your body a boost and fulfill a bunch of cravings.
We all know we're supposed to eat a balanced diet. Most likely you can remember your mother telling you "you have to eat your vegetables" and "you are what you eat". Hopefully at some point in our lives those words of wisdom take hold.
Did you know that some healthy foods are considered more superior than others? Superfoods, usually extremely high in vitamins, antioxidants, or other beneficial properties, can help promote all over good health. Some examples of superfoods are nuts, seeds, dried fruits, dark green vegetables like leafy greens and Brussels sprouts, fatty fish (like salmon and trout), citrus, and vegetables or fruits with bright, dark intense colors and legumes such as lentils.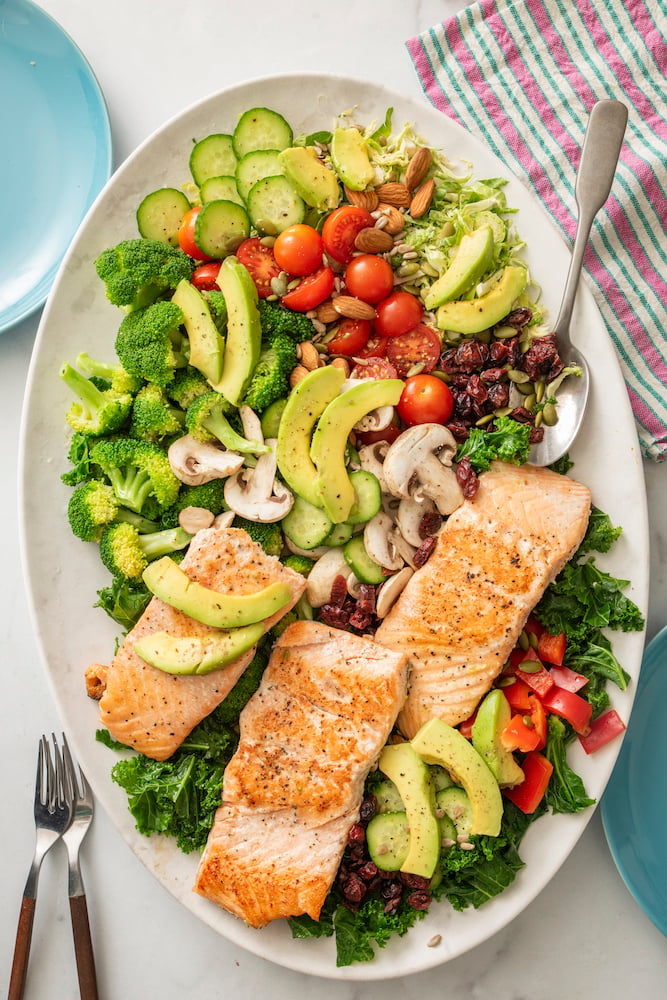 A few years ago, I was invited to visit City of Hope Hospital and Research Center in Duarte, CA, one of the only not for profit institutions in the US to offer comprehensive support and care for patients and families with cancer. I feel like I am constantly reading about and hearing what foods are good for me and my family, but that afternoon I got to hear first hand from some of the country's top doctors and researchers about their thoughtful research and practices we all can implement into our diets in order to prevent diabetes and cancer. We were lavished with incredible information throughout the day about the correlation between the foods we eat and certain diseases, prevention, and studies supporting the facts.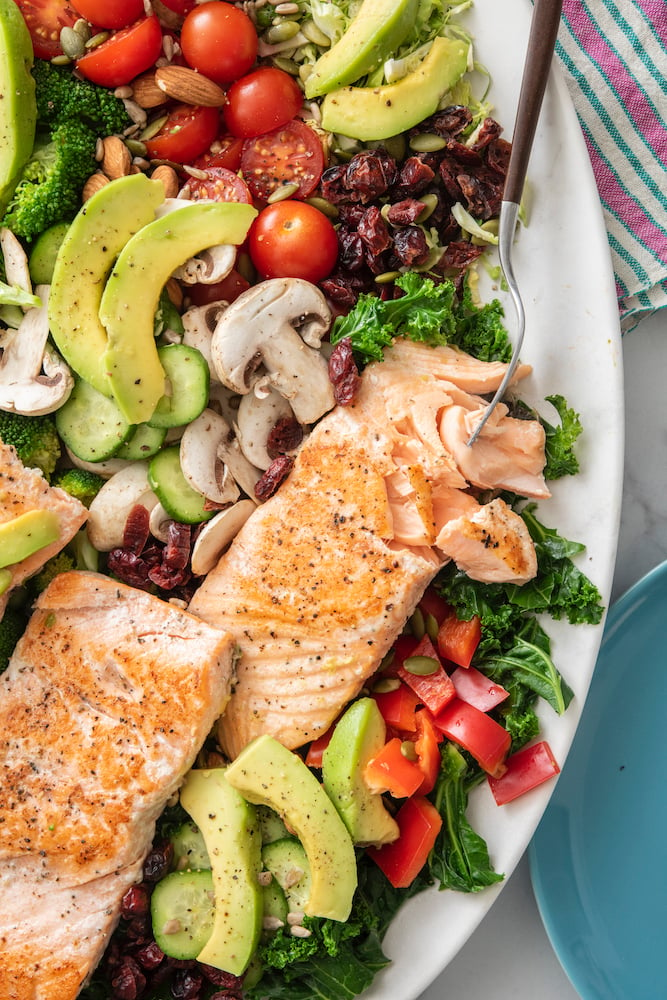 Below are a some of the recommendations from the day that really resonated with me. I feel like my family already tries to adhere to most of them, but there is always room for improvement.
* Eat a rainbow! That means regularly consuming an array of different color fruits and vegetables. Experts recommend eating five or more servings a day, and the more variety the better.
* Eat seafood in place of meat two times a week. Fatty fish like salmon and trout are high in beneficial omega 3 fatty acids.
* Even a few hours of exercise a week can lower your risk of cancer.
* Less than 10 minutes of exercise per day can extend your life by 2 years.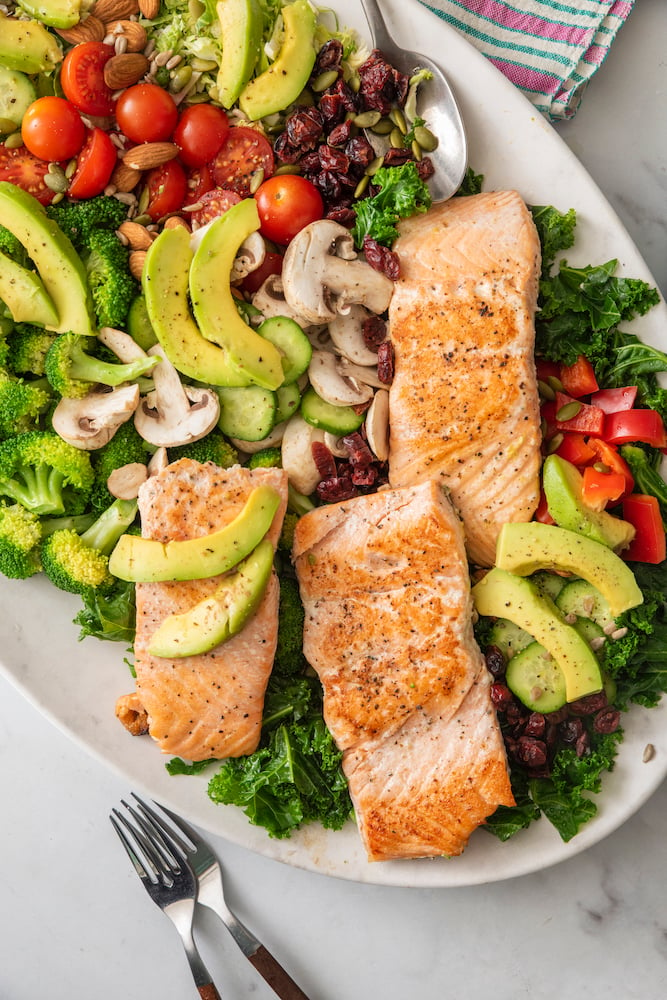 For people with diabetes or a family history in certain diseases:
* Eat plenty of fruits, vegetables and proteins
* Avoid refined sugars
* Be mindful of your consumption of carbohydrates (including corn, beans and grains)
* Don't drink your calories
* Adding cinnamon into your diet is showing promising results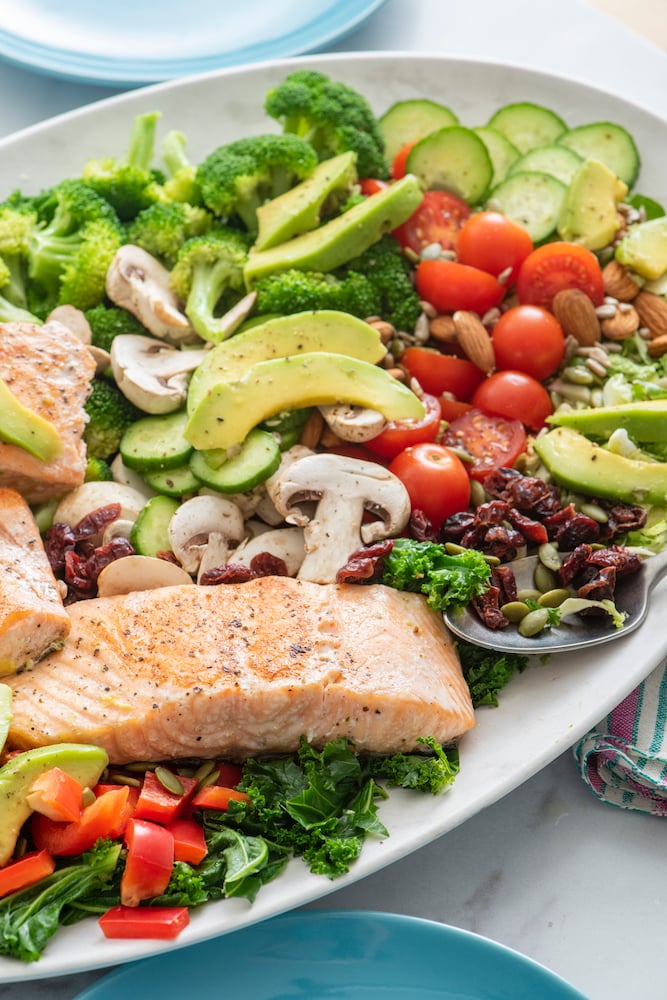 For cancer patients:
* Some superfoods contain compounds that suppress aromatase, needed by 70% of breast cancers to grow.
* Research is showing that grape seed extract and mushrooms (any variety) have an ability to block aromatase
* There is promising cancer fighting potential in pomegranate, blueberries and cinnamon
At the end of our day, we all sat down for a late lunch. Having had my share of hospital food, I didn't have high hopes for our meal, but when we were all presented with Superfood Salads (inspired by much of what we learned during the day about the correlation between superfoods reducing the risks of disease and improving over all physical health) with our choice of grilled chicken, salmon or a gluten-free/vegan quinoa cake, I was thrilled.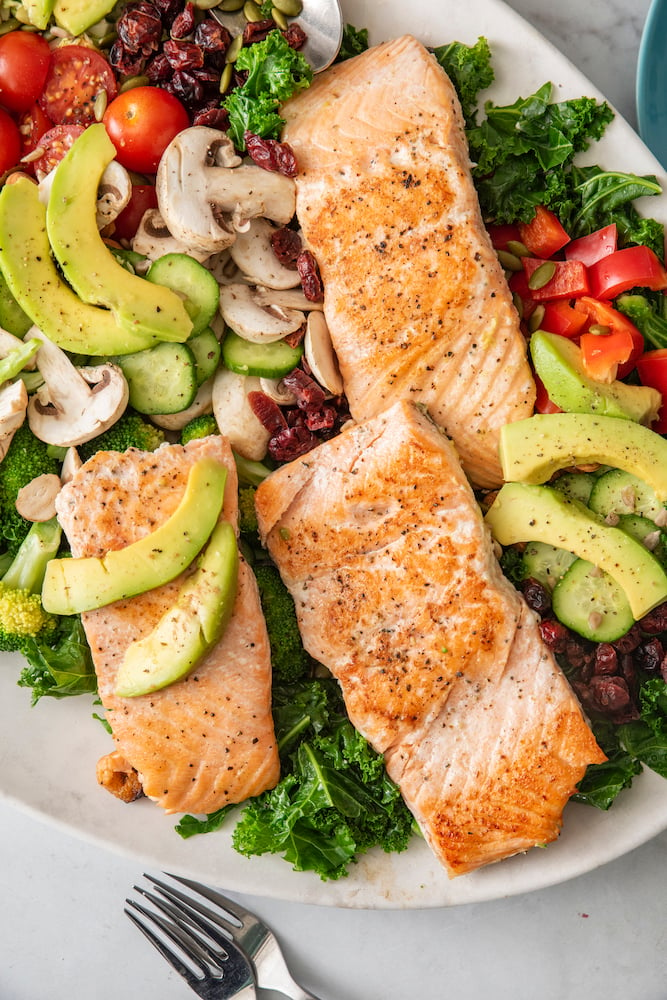 The food was bright and featured multiple textures from the vegetables, nuts, seeds and greens. After eating that nutrient packed midday meal I felt as good as I had in a long time. Having been so inspired by those amazing doctors and researchers I could have totally been imagining the effects of lunch, but I actually felt like I left with a little spring in my step and believed my body was moving and working at it's peak. I guess that's really why they're called superfoods!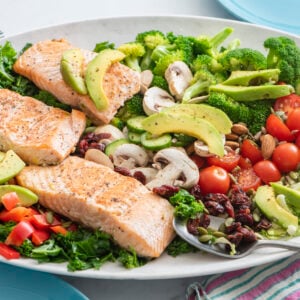 Superfood Salad
Ingredients
2

cups

grated brussels sprouts

2

cups

shredded kale

1/4

cup

almonds

1/4

cup

pumpkin seeds

1/4

cup

sunflower seeds

1/4

cup

dried cranberries

1/2

cup

halved cherry tomatoes

1/2

cup

sliced mushrooms

1

avocado, sliced

1

bell pepper, chopped

2

small

cucumbers, chopped

2

cups

broccoli florets, lightly steamed

4

salmon filets, broiled
Nutrition
Calories:
770
kcal
|
Carbohydrates:
31
g
|
Protein:
71
g
|
Fat:
42
g
|
Cholesterol:
160
mg
|
Sodium:
180
mg
|
Fiber:
11
g
|
Sugar:
10
g