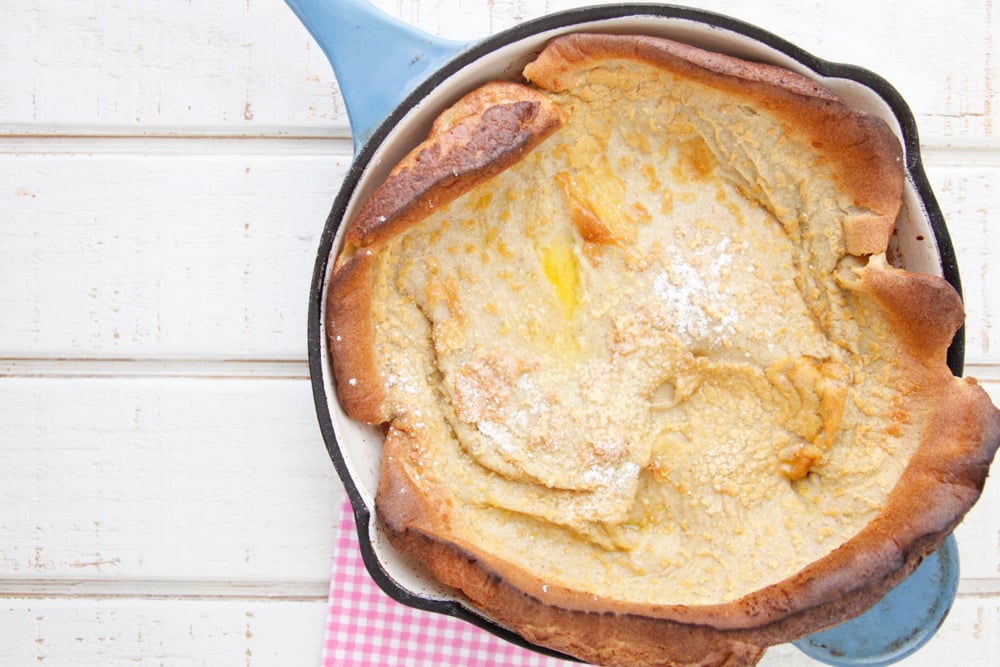 Dutch Baby. The name alone is enough to make this pancake-related breakfast treat something alluring, cute and unique.
If you've never tried a Dutch Baby, this long holiday weekend is the perfect time to give it a whirl. I've been making Whole Wheat Dutch Babies since my kids were, well….babies. They're easy for little kids to hold, or cut and eat with a fork. And since they're so soft, they're great for new eaters as well. This is the kind of recipe that's especially fun to make with your kids and let them practice their egg cracking skills.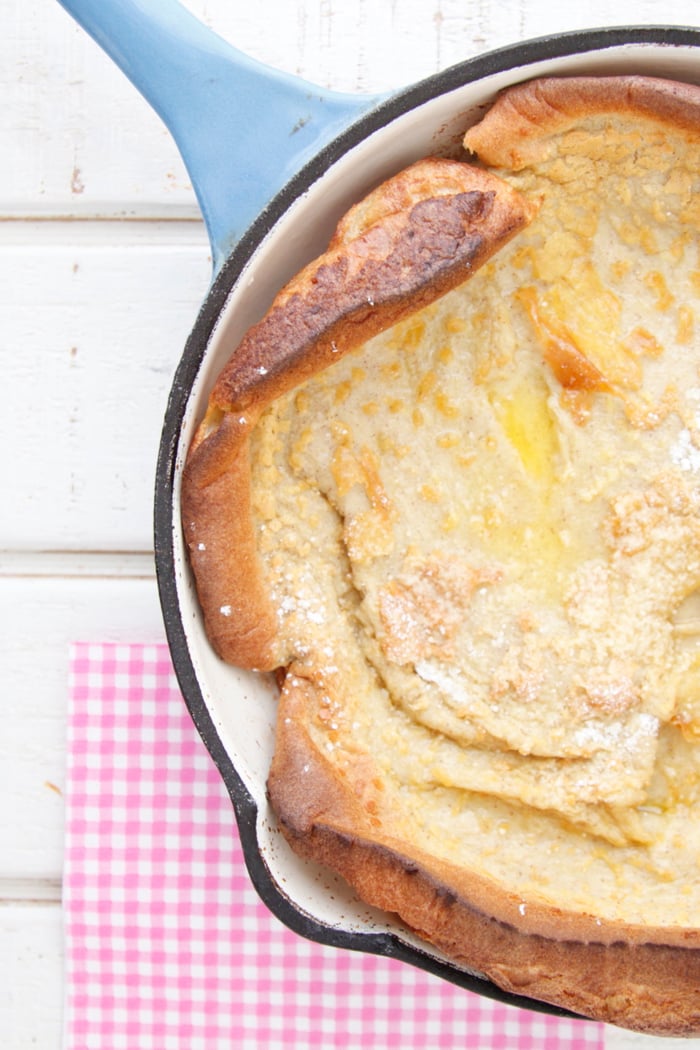 This Cinnamon Dutch Baby is lighter than my Whole Wheat version and is made with enough cinnamon to make your kitchen smell insanely delicious as it bakes. The recipe calls for four eggs, making it a great source of protein first thing in the morning. You'll want to turn on the oven light and get your kids to watch for this one since the Dutch Baby puffs way up when it cooks. If you have any little doubters before you make this recipe, I defy any kid not to beg for some once she sees it rise. Make sure to serve it though as soon as it comes out of the oven since it deflates naturally (which is just as fun to watch).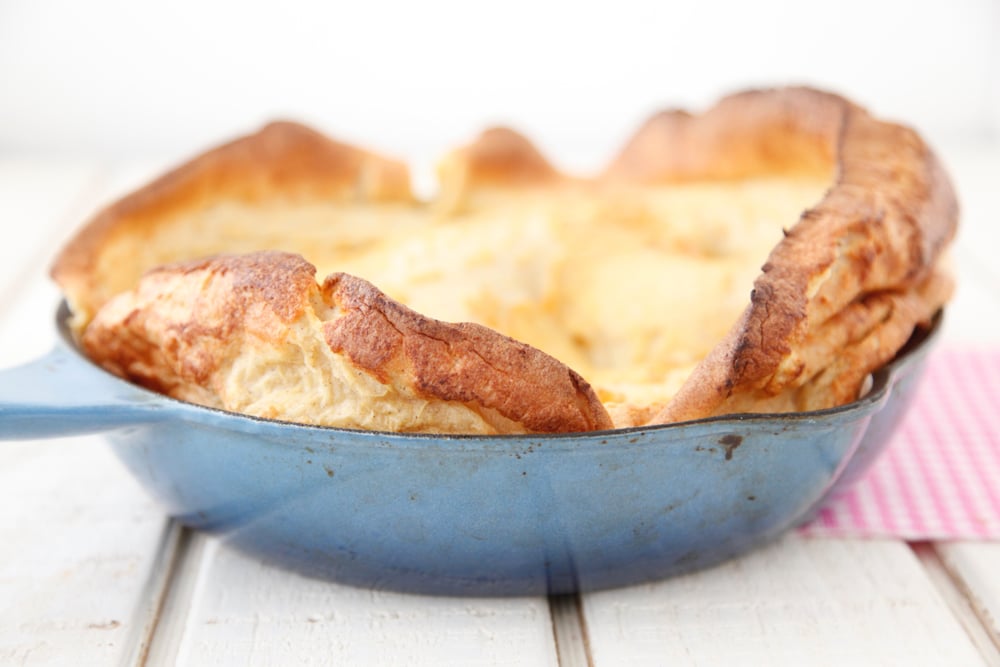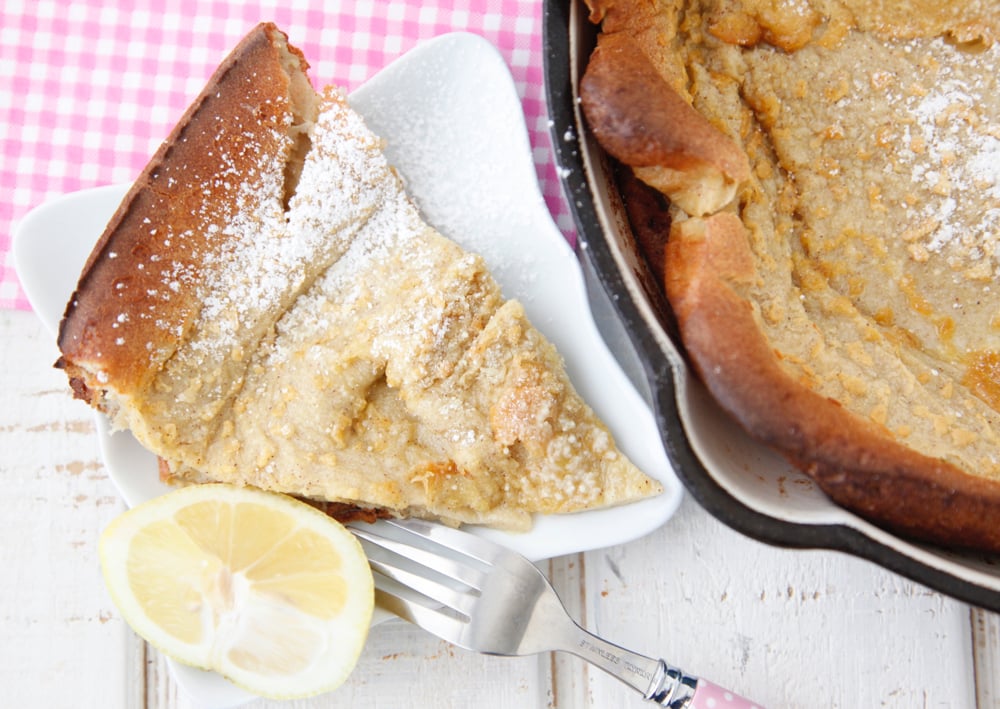 Cut or pull piece off the Cinnamon Dutch Baby and dip in honey, maple syrup, a touch of powdered sugar or even serve it on it's own. This is a dish to get majorly excited about!
Cinnamon Dutch Baby
Instructions
Preheat oven to 425 degrees.

Place the first 4 ingredients in a blender or bowl and mix till smooth.

Add the flour, salt and cinnamon to the egg mixture.

Place the butter in a 9 inch oven proof skillet and melt, about 2-3 minutes.

Pour the batter into the saute pan and bake for 25 minutes.

Remove from the oven and serve immediately in wedges.

NOTE: The batter will puff up in the oven and deflate when cooled.