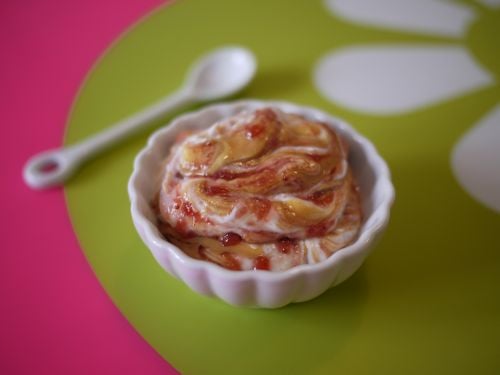 It's Day Two for weelicious' new, out-of-the-box and exciting PB&J school lunch recipes. Yesterday's recipe was PB&J Pancake Sandwiches, something I think your little ones are going to love. But it got me to thinking_ do you really need bread to make PB&J? That led me to the idea of mixing it with yogurt.
Plain yogurt is packed with calcium, protein and is easier to digest than milk, but it can also be just that to kids_ plain. In order to get most kids to eat yogurt, you have to entice them with those flavored yogurts that are sold at the grocery. But many of those are packed with sugar and preservatives. So I thought it would be fun to see how healthy plain yogurt tasted with a swirl of low sugar preserves and nutritious peanut butter mixed in. I'm happy to report that not only is it mind-blowingly delicious, it's beautiful to look at too!
PB&J Yogurt Swirl
Ingredients
2

Cups

Plain Yogurt (I like using greek yogurt)

1/4

cup

jelly, jam or preserves

1/4

cup

peanut butter (I use natural peanut butter)
Instructions
Divide the yogurt between 4 bowls.

In a saucepan heat the jelly or preserves over low heat for one minute or until liquefied (this can also be done in the microwave for 30 seconds) and allow to cool.

Drizzle the jelly and peanut butter equally between the bowls of yogurt and swirl the contents together.

Serve.

* If using store bought peanut butter such as Jif or Skippy, melt in the microwave for about 15 seconds to soften. I use organic peanut butter which tends to already be a bit more liquified than most name brands.
Nutrition
Calories:
220
kcal
|
Carbohydrates:
26
g
|
Protein:
11
g
|
Fat:
8
g
|
Cholesterol:
5
mg
|
Sodium:
170
mg
|
Fiber:
1
g
|
Sugar:
21
g