In our house, everything is more fun when it's a holiday. The entire time we were making these Sweet Potato Pancakes, I couldn't help but get excited for Hanukkah. Potato pancakes or latkes as they are also known, 
are most commonly eaten in the fall during the Jewish holiday of Hanukkah, and it's one of our favorite traditions that we make every year.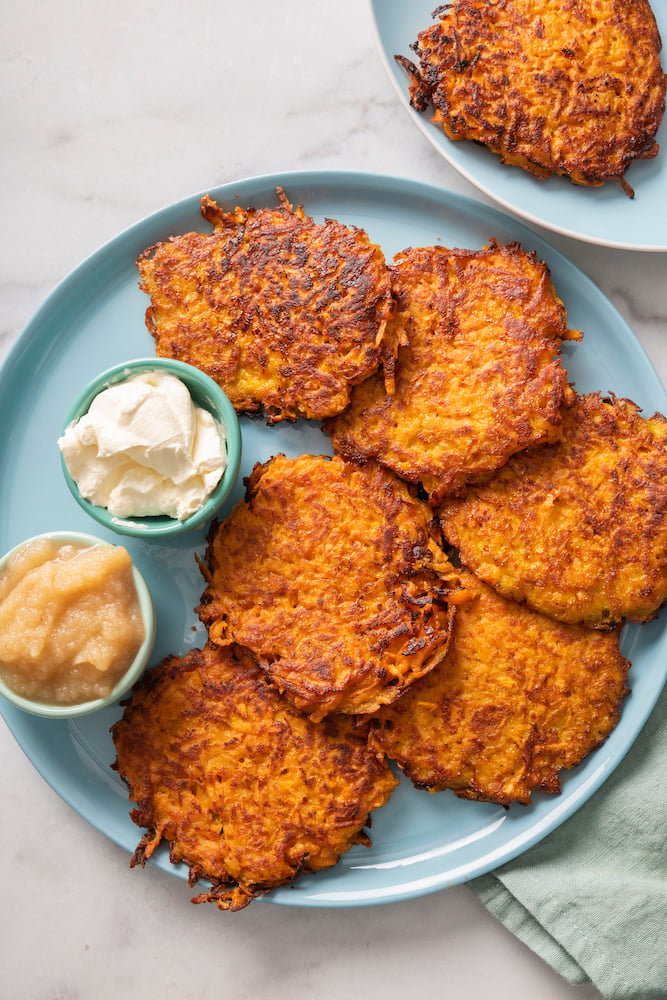 Every holiday season, I try to come up with some new twists on classic holiday treats. Traditionally, latkes are made with your everyday potatoes like russet or yukon. But if you know me, you know about my infinite love for sweet potatoes. This week at the farmer's market, I stumbled across the most incredible and delicious looking sweet potatoes. Instantly it gave me the bright idea of trying them in this recipe. And whoa boy am I glad that I did!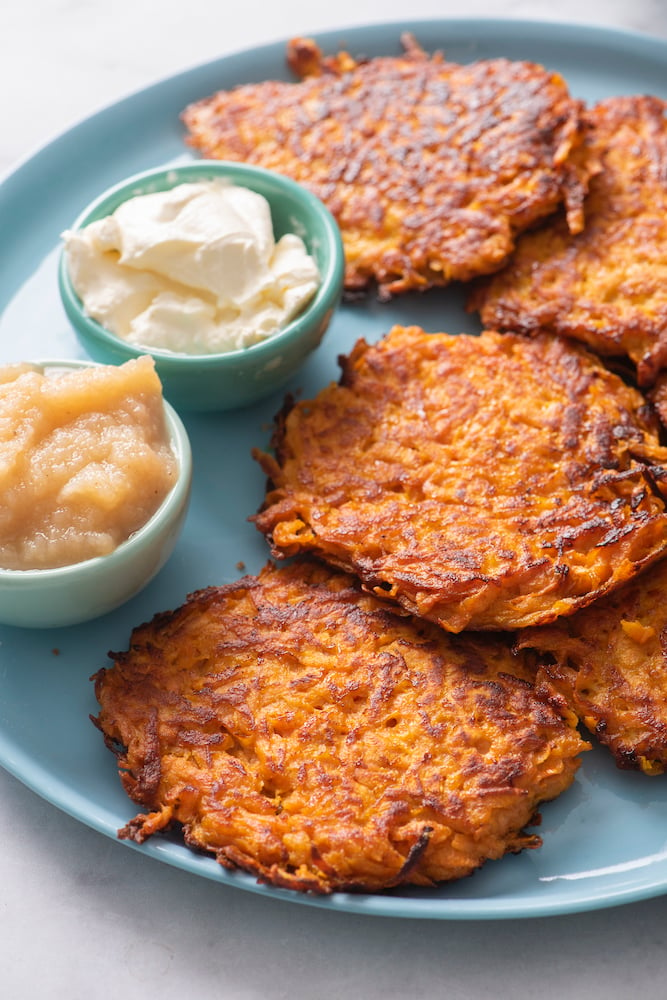 Not only do the sweet potatoes pump up the nutritional value, we couldn't believe how amazingly delicious these turned out. The natural sweetness from the potato amps this recipe up to an entirely different level. 
Not to mention, the savory flavors from the onion and garlic marry into such a delectable 
treat. My kiddos were digging them in a big and bad way. But I'm not complaining!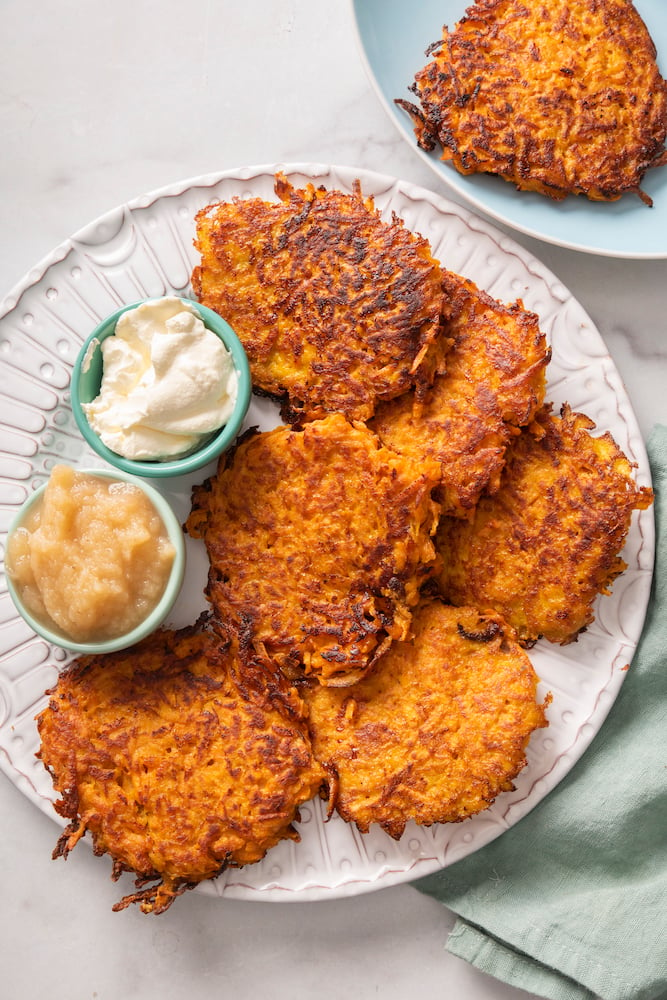 For your little ones who are getting into dipping, I added apple sauce 
which no latke should ever go without! Chloe is my sour cream girl and I actually think she could go through an entire tub with these. It's the perfect way to enjoy these latkes as a savory treat. Best of both worlds!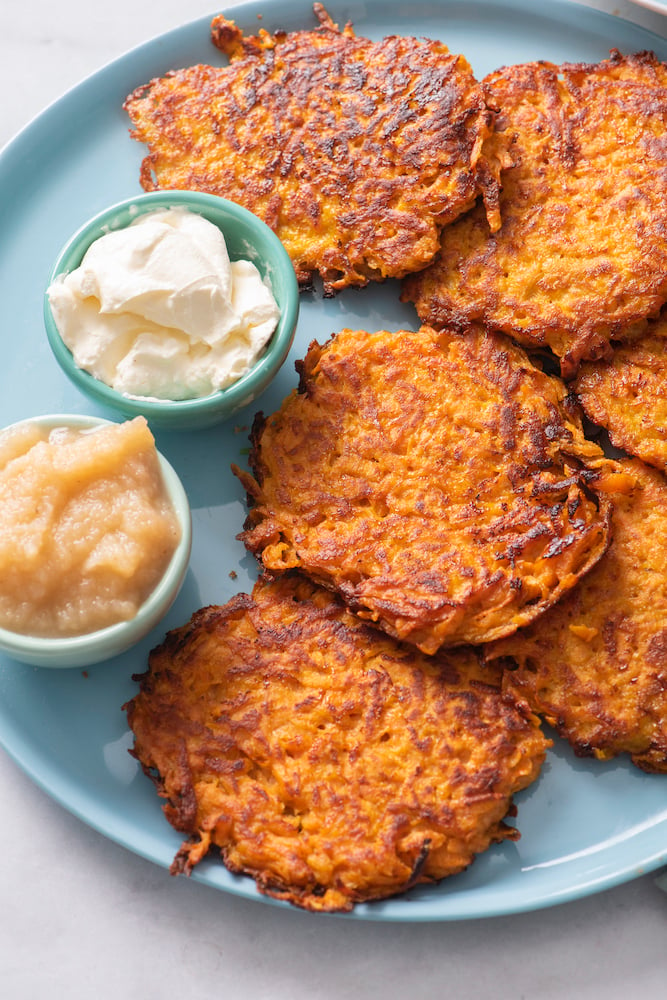 Pin
If you're looking for more recipes to make for or with your family for Hanukkah, check out my Holiday Challah French Toast, Poppy Seed Sugar Cookies or Rugelach recipe. Any of these treats are sure to put you in the holiday spirit! What are you making for Hanukkah?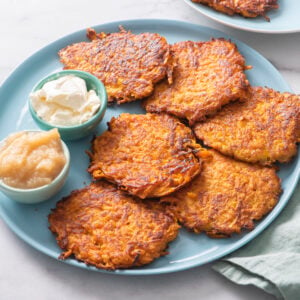 Sweet Potato Latkes
Ingredients
2

large

sweet potato, peeled and grated

1/4

cup

all purpose flour

1/4

teaspoon

cinnamon

1

teaspoon

kosher salt

2

eggs, beaten

canola or vegetable oil, for pan searing

apple sauce
Instructions
Place the first 5 ingredients in a bowl and throughly combine.

Place a large saute pan or griddle over medium heat.

Heat a thin layer of oil to coat the bottom of a large sauté pan and 2 heaping tablespoons of the sweet potato mixture to the pan. Pat down the mixture with the back of a fork and form into a thin, circular patty (you don't want them to be thick or they won't cook through).

Cook for 5 minutes on each side or until they begin to turn golden.

Place the patties on a paper towel lined plate and repeat with remaining sweet potato mixture.

*Allow to cool, then place in ziploc bag, label and freeze. When ready, pop them into a oven at 300 for 10 minutes or until warmed through or defrost in fridge for 24 hours then heat in a dry pan.
Nutrition
Calories:
15
kcal
|
Carbohydrates:
2
g
|
Protein:
1
g
|
Cholesterol:
20
mg
|
Sodium:
10
mg