Pin
Vegetables. My kids adore them and my husband….well, my husband lives a 100% vegetarian life (most of the time) which has the unintended effect of limiting the amount of meat I eat. Being the southern girl I am, I crave animal protein at every meal, and while I'd like to be a vegetarian (knowing how good it is for our bodies, not to mention the planet), I still need something meaty to bite into even if meat is not on the menu. If you're like me, these Vegetarian Lettuce Wraps are a no brainer.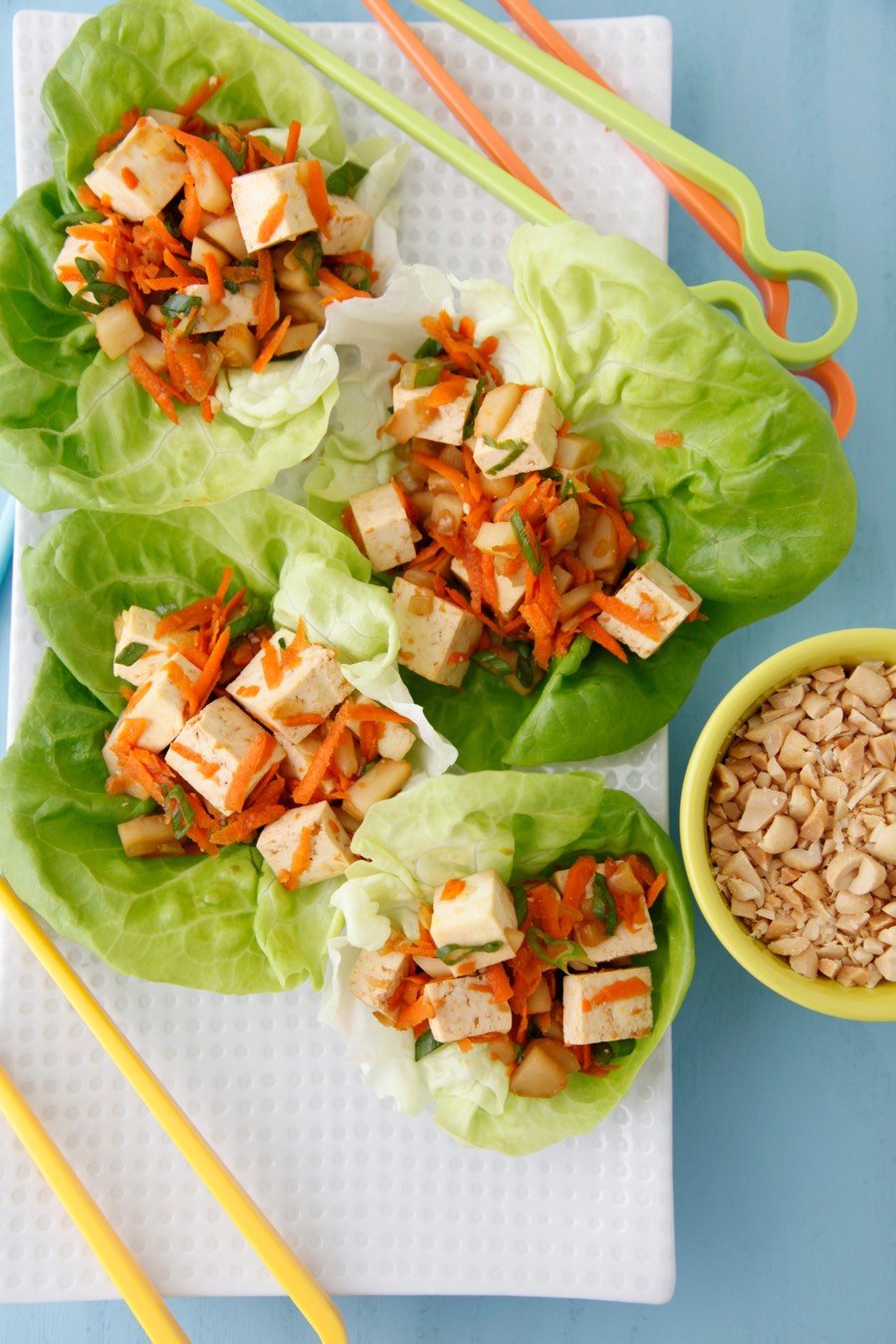 Pin
Despite having a husband and son who primarily eat vegetarian, we don't eat much tofu in our house. However, when I do buy tofu I always make sure it's organic and then either marinated before cooking it, like in this Sweet Gingery Tofu, or coated liberally with the flavorful sauce in these Cold Soba Noodles. It's firm texture makes it a good stand-in for meat and it's neutral flavor means you can do almost anything with it to suit your tastes. As a meatless alternative to my Stir Fried Chicken in Lettuce Cups, I've been making these Vegetarian Lettuce Cups.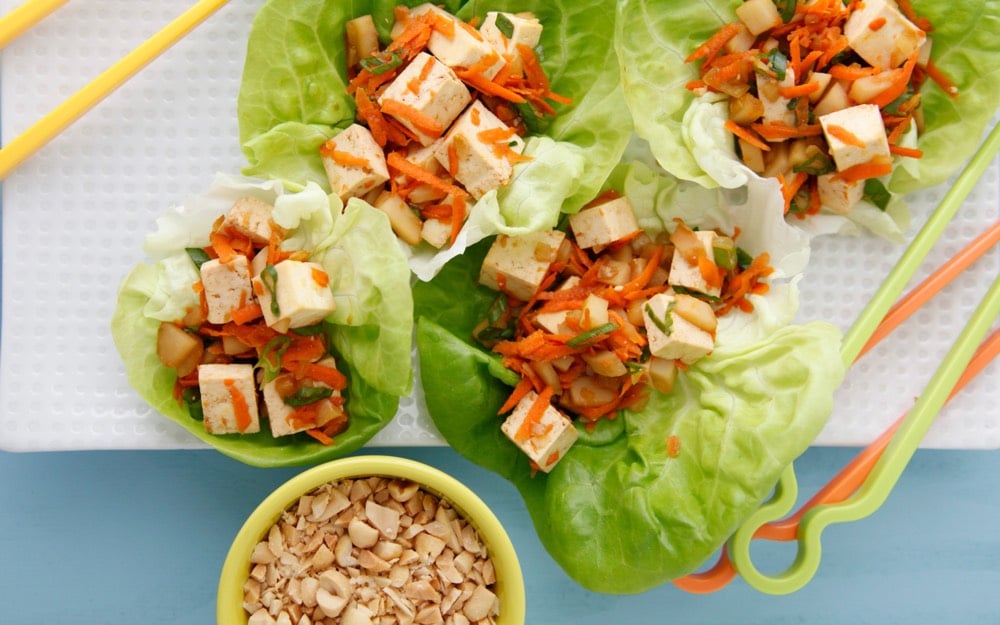 Pin
They're a delicious mix of crunchy, smooth, sweet and salty, but most important they're quick and simple to make, and equally easy to pick up and enjoy. You won't miss the meat at all or, for that matter, the tortillas or lavash found in most wrap recipes since they use leaves of crisp lettuce to hold all the tasty bites together — making them a great choice if your looking for a gluten-free vegetarian recipe.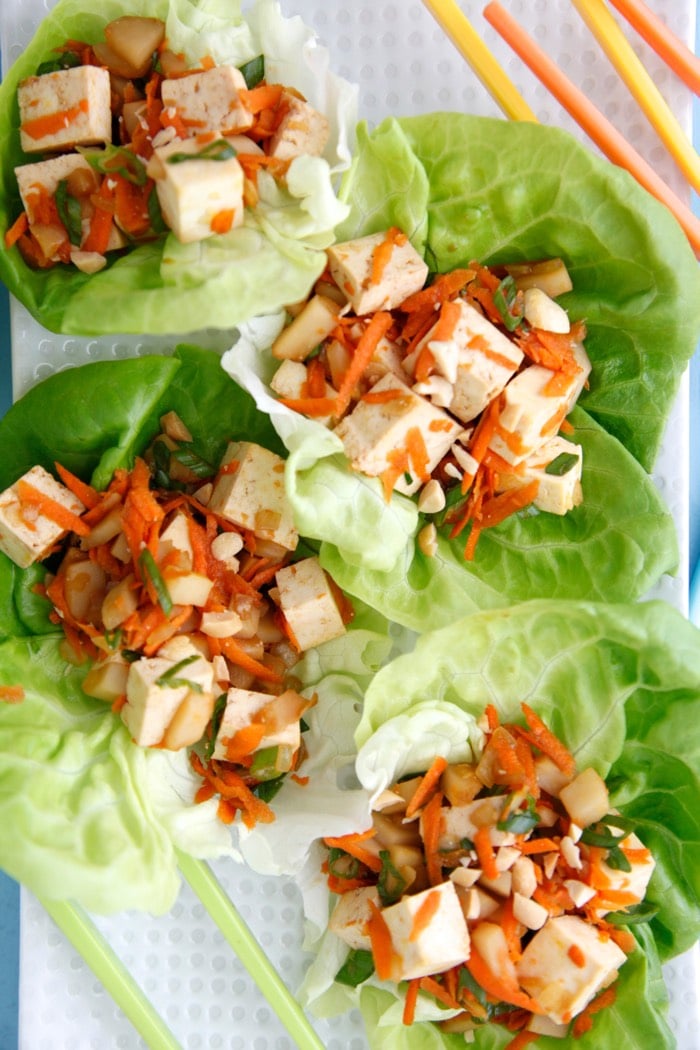 Pin
Start your Meatless Monday off right with this Asian inspired dish!
Vegetarian Lettuce Wraps
Ingredients
1

teaspoon

oil

1

small

onion, diced

1

tablespoon

minced fresh ginger

1

garlic clove, minced

1

pound extra firm

tofu, chopped into bite sized pieces

1

8-ounce can

water chestnuts, drained and chopped

1/4

cup low sodium

soy sauce or Bragg\'s Liquid Aminos

1

large

carrot, peeled and grated

1/2

cup chopped

green onions

bibb or iceberg lettuce cups

1/2

cup finely chopped

peanuts
Instructions
Heat the oil in a large skillet over medium heat.

Add the onion, ginger and garlic and saute for 5 minutes, until the onions are soft.

Add the tofu and water chestnuts and cook 4 minutes, until heated through.

Stir in the soy sauce, carrots and green onions.

Serve in lettuce cups and top with chopped peanuts.