This past October, January and February we shot tons of episodes of Guys Grocery Games up in Santa Rosa, CA. It's always a ton of fun eating what the chefs make for us (some recipes being a lot better than others), but after a long day of shooting all I generally want is something simple and heartwarming. There's a Whole Foods near our hotel, so it's always easy to find something reasonably healthy and tasty, but one night I zeroed in on their burrito bowls and since then I can't get enough of them.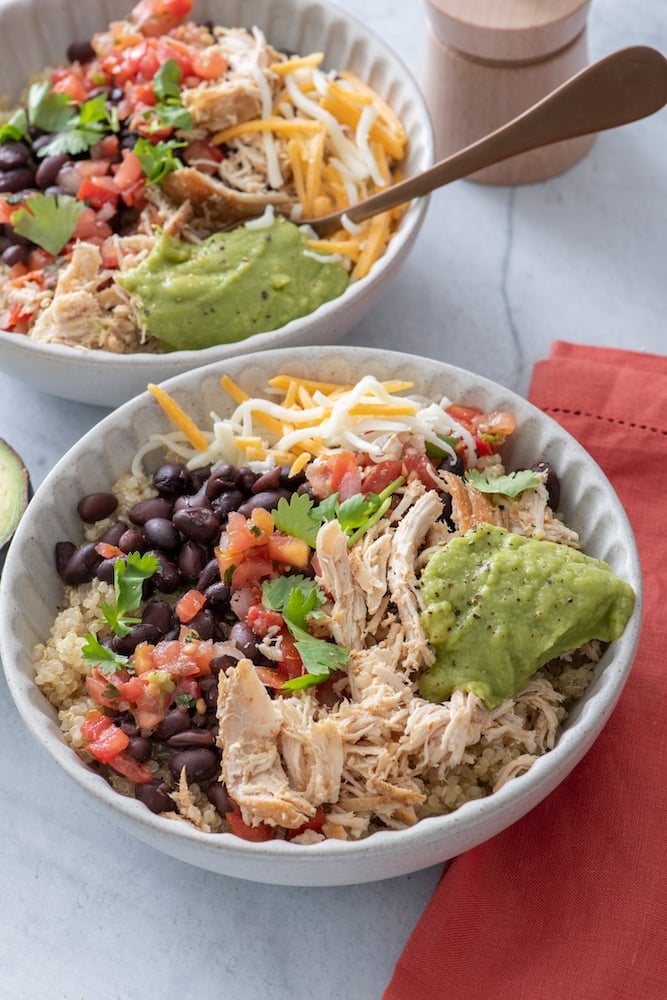 For New Years night this year we invited some good friends over to celebrate the first day of 2015. I wanted to make something special, but their son has specific food restrictions, so the idea of a DIY build your own burrito bowl sounded like the perfect solution. Start with a big bowl for yourself with quinoa (you could also start with a base of brown rice) and top it with tender, juicy chicken, guacamole, salsa, black beans, a good handful of chopped cilantro or whatever else you enjoy.
The best part to me, though, is the chicken itself. All I do it place tons of chicken breasts (you could also use boneless, skinless thighs) in a slow cooker with tons of spices and in just a few hours you'll have chicken you can pull into pieces that soak up the delicious juice from the crock pot. The best part is this can and should be doubled so you have tons of leftovers for days to come to turn into burritos, tostada salad, nachos and more.
My beloved Slow Cooker Chicken Burrito Bowls have become a bi-weekly rotation that we can't get enough of!