Have you ever found yourself with overripe bananas that you can't finish in time? Don't toss them away! Obviously making banana bread out of them is an easy fix, but if you don't have time for that, freezing bananas is a simple and practical solution to avoid food waste and still create delicious treats.
Keep reading and I'll walk you through the step-by-step process how to freeze bananas. Plus, I'll share the numerous benefits of frozen bananas and recipes for your ripe bananas that are maybe on their last leg!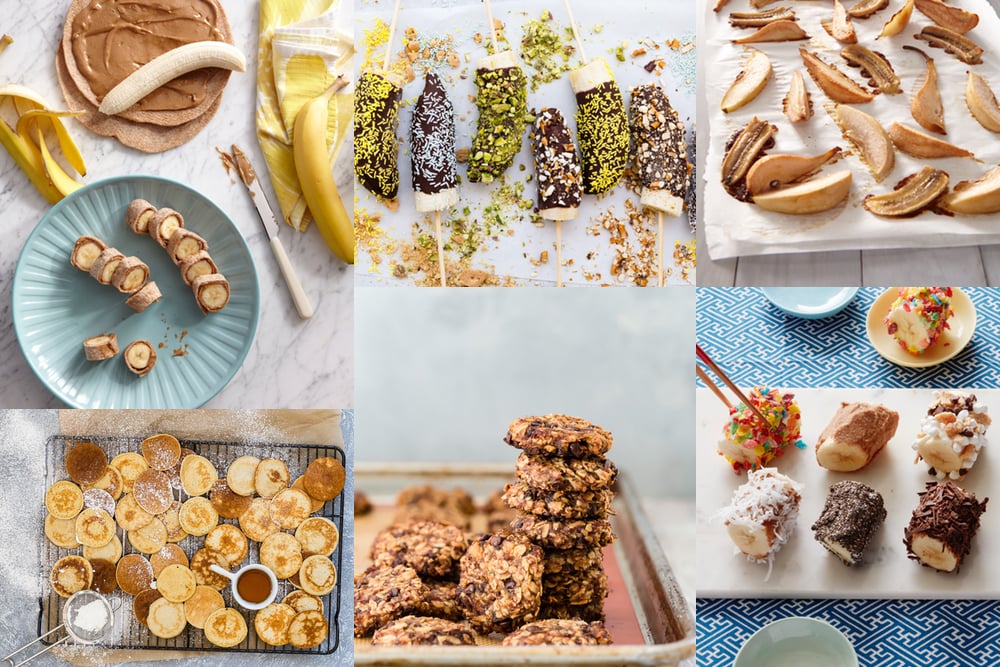 Bananas are a staple in our home. We buy several bunches every week and usually always go through them, but every now and then we have some extra bananas that are ripe or on the verge of going bad and needing to be frozen.
The Benefits of Freezing Bananas
Freezing bananas offers several advantages, making it a worthwhile practice in any kitchen:
Reduced Food Waste: Freezing overripe bananas prevents them from going to waste, contributing to a more sustainable lifestyle.
Preserve Freshness and Nutrition: Freezing locks in the natural sweetness and nutrients of bananas, ensuring you always have a stash of ripe fruit available.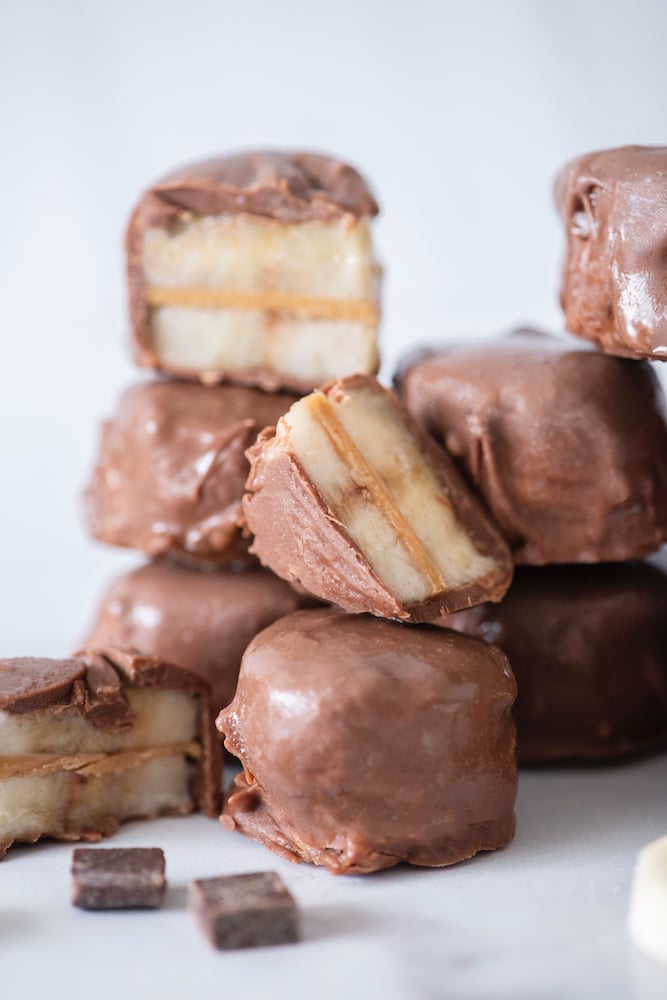 How to Freeze Bananas – Step-by-Step Tutorial:
Step 1: Select Ripe Bananas: Choose bananas with brown spots on the skin, showing they are perfectly ripe for freezing. Overripe bananas will be sweeter and yield better results.
Step 2: Peel and Slice: Peel the bananas. Then, I find it faster to run your finger straight down the middle, starting at the tip, which separates the bananas into spears, which you can then break up into smaller pieces that freeze easily. Breaking them into pieces makes for easier blending or use in recipes later.
Step 3: Arrange on a Baking Sheet: Lay the banana slices or chunks in a single layer on a parchment-lined baking sheet. This prevents them from sticking together during freezing.
Step 4: Flash Freeze: Place the baking sheet in the freezer and allow the banana pieces to freeze for about 2-3 hours or until solid.
Step 5: Transfer to Containers: Once frozen, transfer the banana slices to airtight freezer-safe containers or resealable bags. Label them with the date for future reference.
Recipes To Use Ripe Bananas
We must go through 3-5 bananas daily, so it's tough not to grab a big bunch or two every time I'm at the grocery. After all, bananas are inexpensive, super kid friendly, high in potassium and easy to digest. These recipes for ripe bananas will save you any time you've got a few lying around and need a little extra inspiration. All of the recipes below are super duper simple and let the natural sweetness and texture of the bananas do much of the work. Plus, they work fine using thawed frozen bananas as well!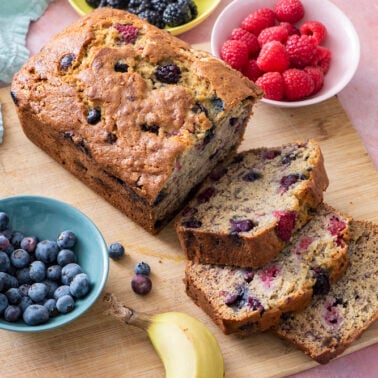 Banana Berry Bread
Of course, banana bread is one of the first recipes everyone thinks about when trying to use spotty bananas. This recipe adds mixed berries for a delicious tart zip!
Banana Waffles
We love making a big batch of these waffles when we have ripe bananas ready to go. They're naturally sweetened and oh so tasty!
Banana Oatmeal Chocolate Chip Cookies
These cookies are one of our favorite recipes to make and super simple. Plus they're vegan and dairy free (if you use dark chocolate chips).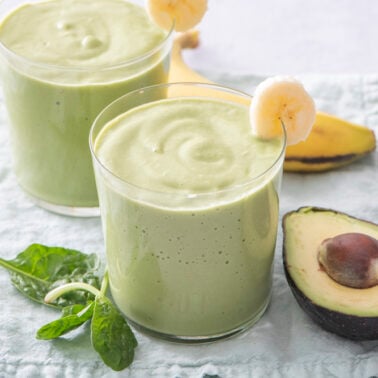 Green Breakfast Smoothie
Frozen bananas are the dream in a smoothie. They make them super creamy and add a touch of sweetness. This is one of our favorites!
Frozen Chocolate Peanut Butter Banana Bites
These are a great little treat to have on deck in the freezer. They're a mouthwatering dessert that's actually healthy!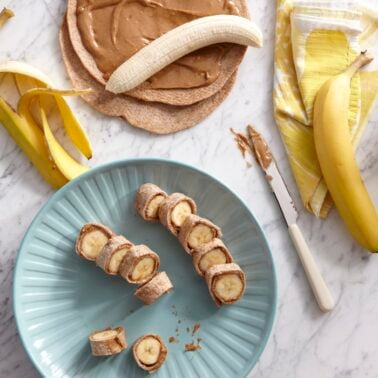 Banana Peanut Butter Roll Ups
These are, dare I say, the perfect snack. Is there a more classic combination than bananas and peanut butter?
Banana Chocolate Chip Muffins
These muffins take ripe bananas and make them into something out of this world delicious! Chocolate chips and bananas are the perfect combo.
Frozen Bananas on a Stick
Bananas on a stick are a delicious, inexpensive snack that will knock the socks off of your crew. 
Banana Quinoa Rice Pudding
This recipe is so easy to make and bursting with flavor. It's a perfect way to use a couple ripe bananas and start your day off right.
Banana Yogurt Cake
This delicious cake is made with vanilla yogurt which adds a rich vanilla flavor (and some extra protein). It couldn't be easier to make and is a great use for spotty bananas.
Banana Pancake Bites
Caramelized bananas enveloped in a fluffy pancake batter is probably the best way to start your day. Top these with maple syrup and be the best parent ever!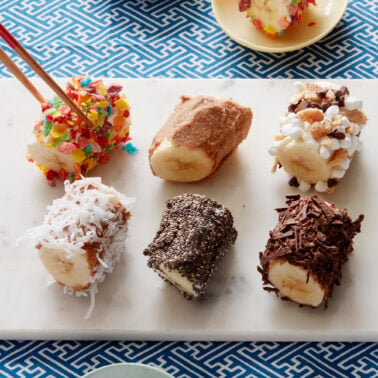 Banana Sushi
This snack is super fun to make with kids and is always a crowd pleaser. Everyone will have a blast coming up with their own banana sushi creation.
Chocolate Banana Bites
These treats are so addictive. The mix of the slightly frozen sweet banana, coated with crunchy chocolate and salty peanuts truly makes for one of the easiest desserts.
Gluten-Free Banana Pancakes
These pancakes only have 4 ingredients and are absolutely delicious! They're a perfect breakfast packed with fruit, fiber and protein.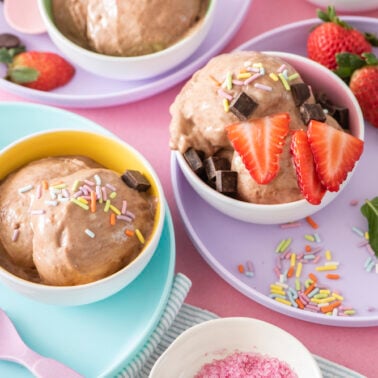 Chocolate Banana Nice Cream
Chocolate Banana Nice Cream is just as tasty as the real thing and actually good for you! Made with naturally sweet ripe bananas!
So, next time you think the bananas on your counter need to be tossed out, resist the urge and freeze them! You can make tons of treats in the future and reduce food waste.
Let me know if you make any of these recipes and tag me on social media so I can see them!