This Double Chocolate Smoothie Bowl is a chocolate lovers dream! Would you believe me if I told you it was actually good for you too?
When the weather gets really warm, there's nothing better than dipping your spoon into a cool smoothie bowl with all of your favorite toppings. It's refreshing and a perfect breakfast, snack, lunch or even dessert! I would say that 9 times out of 10, when my kids ask for dessert they're requesting a smoothie bowl and this Double Chocolate Smoothie Bowl is gangbusters delectable!
We've been making these Double Chocolate Smoothie Bowls with Earth Echo's Cacao Bliss Superfood Elixer Blend and it is next level chocolatey deliciousness. Earth Echo starts with 100% Organic Cacao Beans and then blends them with turmeric, MCT oil, coconut, Himalayan sea salt, cinnamon and black pepper for the perfect blend to make you feel the best you ever have. This is what I call a super, magic blend!
Nothing feels better than being able to enjoy rich, smooth, creamy chocolate and knowing you are doing something good for your body. Cacao Bliss is a truly decadent, healthy, guilt-free chocolate that boosts your energy and reduces inflammation with one simple drink. Even better it's paleo, gluten free, keto, vegan and vegetarian!
I love these smoothie bowls too because I'm able to get a full serving of fruits and vegetables in one recipe which makes life way easy for me and my family. We have smoothies or smoothie bowls almost every morning and mix it up as much as possible. If you're looking to start making smoothies more often try my Cotton Candy Smoothie, Blueberry Chia Smoothie or Mango Spiced Smoothie.
Want to double down on healthy decadence? Top with anything you love including homemade granola, dried coconut flakes, fresh fruit like berries, bananas or something seasonal, more chocolate chips or anything else you love all over the top!
And just for you, you can use code WEELICIOUS for 15% off your purchase at https://earthechofoods.com/weelicious so you can enjoy this superfood blend too!
What would you put on top of your smoothie bowl? Tell me in the comment below.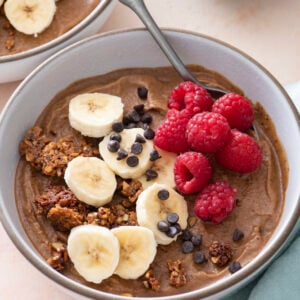 Double Chocolate Smoothie Bowl
This Double Chocolate Smoothie Bowl is a chocolate lovers dream! Would you believe me if I told you it was actually good for you too?
Ingredients
3

frozen bananas

1

cup

frozen cauliflower, riced or florets

2

scoops

Earth Echo Cacao Bliss Superfood Elixir Blend

2

tablespoons

dairy free chocolate or carob chips or cocoa nibs, divided

1/3

to 1/2 cup

milk of choice

Optional toppings: dairy free chocolate, carob chips, cocoa nibs, dried coconut, banana slices, raspberries, granola or anything you enjoy
Instructions
Place ingredients in a blender. Use the tamper to force the mixture to puree.


Spread the mixture into bowls and place desired toppings on top.