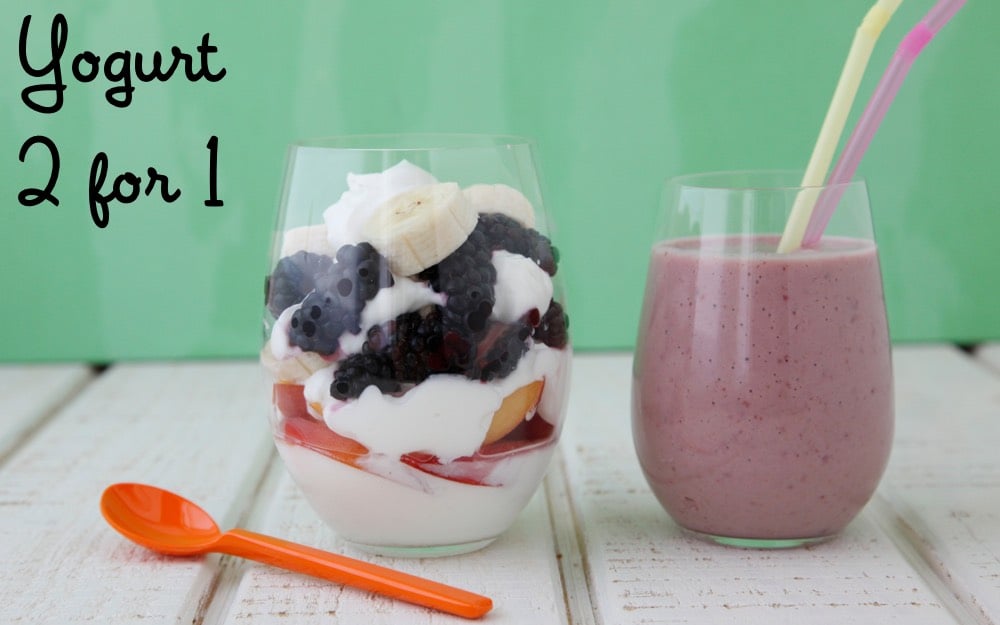 Pin
For some parents making breakfast for you and your toddler can be challenging. You don't want to feel like a short order cook in the kitchen preparing two totally separate meals, but the fact is, sometimes you want something a bit different, but without having to pull out a ton of other ingredients.
On weekday mornings, especially when Kenya and Chloe were really little I wasn't always able to sit and have breakfast with the kids. I was there, but trying to get them fed, finish up lunches and start thinking about dinner left little time for actually gluing myself to the chair, leaving me with breakfast on the run. Seriously, a mom's job in the kitchen should be some sort of Olympic sport!
The kids still love layering fruit and yogurt while they enjoy their breakfast and then I'll toss all the leftovers with a bit of milk in the blender for my on-the-go smoothie. It's not always the ideal situation in the morning, but a mom's work is never done and staying energized is a necessity! When Parents magazine asked me to come up with a few easy Mommy and Me breakfast ideas, I knew this family staple would be perfect. You can now read my monthly column in every issue of the magazine!
Pin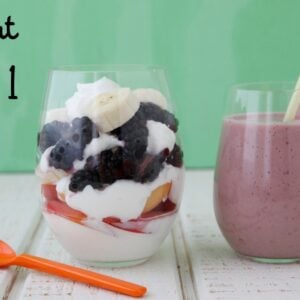 Yogurt for 2
Ingredients
1

cup

greek yogurt

2

peaches, sliced

2

small

bananas

1

cup

blackberries

2

tablespoons

low fat milk
Instructions
In a glass, layer 1/2 cup greek yogurt, 1 sliced peach, 1 sliced banana and 1/2 cup blackberries.

Place the remaining ingredients in a blender and puree until smooth.
Nutrition
Calories:
230
kcal
|
Carbohydrates:
50
g
|
Protein:
11
g
|
Fat:
1
g
|
Cholesterol:
5
mg
|
Sodium:
105
mg
|
Fiber:
8
g
|
Sugar:
34
g