This luscious Pink Pound Cake is packed with fresh raspberry swirls not to mention all the extra love you put in it making it with your own two hands!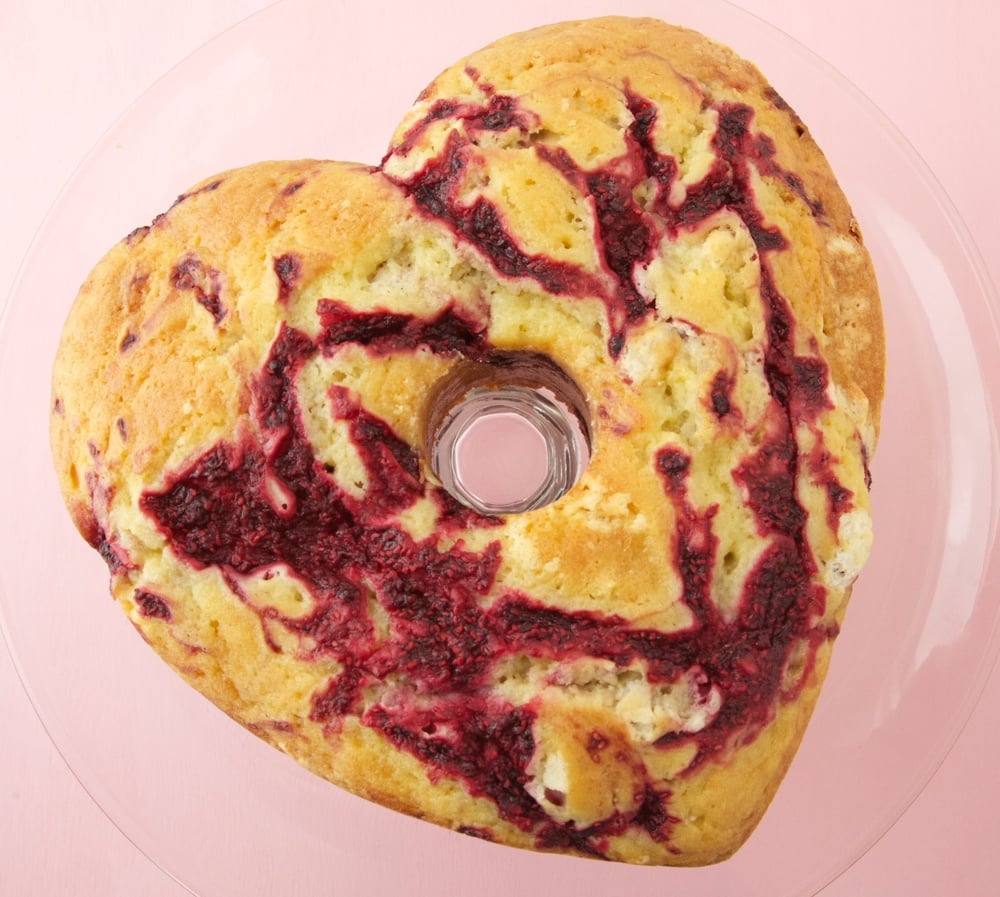 Pin
When I was around 5 or 6 years old I had my first taste of pound cake. I remember the entire experience vividly as it revolved around my next door neighbor, Kate's, grandmother from Pawley's Islands, SC and her legendary recipe. Whenever I went over to visit and her grandmother was in town, I knew a slice of that pound cake was in my future. At that point most of the desserts I had tried were quite sweet and in the form of a cake, cupcake, cookie or bar. This was nothing like them. Light, tender and the perfect amount of sweetness in every bite in a big dome shape.
When I was trying to think of my dream dessert for Mother's Day this year using my favorite standing mixer, pound cake immediately came to mind. I really wanted to make a cake in the shape of a heart with swirls of fresh raspberry throughout and it turned out even better than I could have imagined. So yummy that I think I've made six or seven in the past two weeks alone.
This year for Mother's Day I've teamed up with KitchenAid and their Cook For The Cure program which has raised more than $9 million benefiting the Susan G. Komen Foundation. To read more about the amazing work they're doing you can read here!
Pin
Pink Pound Cake
Ingredients
2

cups

granulated sugar

2

sticks (1 cup)

unsalted butter, softened

6

large

eggs

1

teaspoon

vanilla extract

3

cups

all purpose flour

1/2

teaspoon

baking soda

1/2

teaspoon

kosher salt

1

cup

sour cream

2

cups

frozen raspberries
Instructions
Preheat oven to 325 degrees and grease a bundt pan with butter and flour. Defrost the raspberries.

Cream the butter and sugar until light and fluffy in a Kitchen Aid standing mixer, about 5 minutes.

Add the eggs one at a time, making sure to incorporate each one. Add the vanilla.

In a separate bowl, whisk together the flour, baking soda and salt.

Add the flour and sour cream alternately, 1/3 at a time, until combined.

In a bowl, mash the defrosted raspberries with a fork (you can use fresh, but frozen works better) until it is mostly smooth. Some chunks will remain, that's okay.

Pour 1/2 the batter into the prepared bundt pan and dot with 1/2 of the pureed raspberries. Pour in the remaining batter and dot with the remaining pureed raspberries.

Using a long skewer or a butter knife, swirl the puree dots into the batter to form red swirls throughout.

Place the cake in the oven and bake for 90 minutes, until a toothpick inserted in the center comes out clean.