In the mood for a big juicy burger? Try something a little different this time and make Salmon Burgers!
Here's a recipe I meant to put up all summer long, because summertime is burger time. But when you think about it, any time can be burger time! I like a hamburger or turkey burger as much as the next person, but I also love a salmon burger. They're so easy to prepare and everyone in our family adores them.
Salmon is a very important food for kids because it's so high in protein! Plus, salmon has good fats and omega 3 fatty acids which aids in brain development. And did you know that a 4oz piece of salmon has a full day's requirement of vitamin D, one of the few foods that can make that claim. It's so good for you!
I made 8 medium sized burgers for a barbecue using this recipe thinking I'd have leftovers. Nice try, before I knew it, every bite was gone. Everyone was building their salmon burger with lettuce, tomato and avocado plus this delicious Lemon Yogurt Sauce which really takes these burgers to the next level. Trust me!
The capers and dill in the salmon burgers make such a huge difference. They add tons of flavor without being too overpowering. I like to make a batch of these salmon burgers to freeze and have on hand when we need a quick dinner. Then throw some fries (or sweet potato fries) in the air fryer and you're good to go!
Next time you and your family are looking to have a burger night, throw these salmon burgers in the mix! They might end up being your new go-to alternative to a traditional beef burger! As always, let me know what you think and tag me @weelicious if you make this one!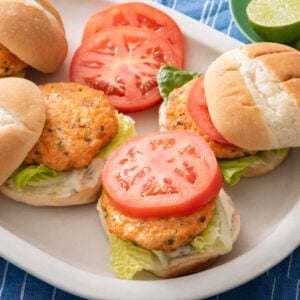 Salmon Burgers
Ingredients
1

pound

fresh salmon, skinned

1

large egg

1

tablespoon

capers

1

tablespoon

fresh dill or 1 tsp dried dill

1/2

teaspoon

kosher salt

1

tablespoon

oil
Instructions
Place the first 5 ingredients in a food processor and pulse until just combined (you should still see tiny pieces of salmon).

Form into patties and place on a sheet tray lined with foil or plastic wrap (mixture will be sticky. Using wet hands will make forming the patties much easier).

Cover and refrigerate the salmon patties for 1 hour.

Heat oil over medium/high heat in a large skillet.

Cook the patties for 3 minutes on each side.

Place on a bun and top with desired accompaniments.

*After step 2, freeze for 30 minutes in the freezer then place them in a ziploc bag, label and freeze up to 4 months. When ready, defrost in fridge for 24 hours and follow steps 4-7.
Nutrition
Calories:
210
kcal
|
Protein:
24
g
|
Fat:
12
g
|
Cholesterol:
110
mg
|
Sodium:
430
mg