Cauliflower Steaks are a great, super affordable vegetarian side or entree. They are beyond easy to make and taste incredible on their own or with a sauce on top.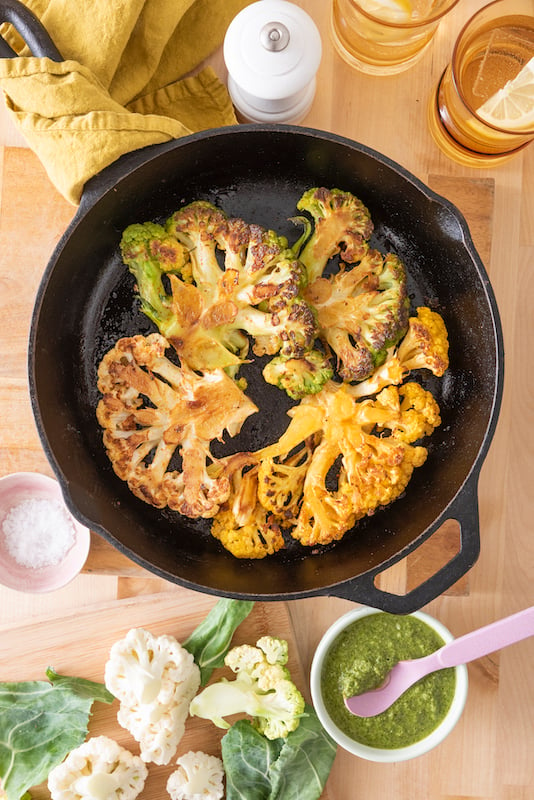 I've made these Cauliflower Steaks multiple times in the past few weeks, and my kids are obsessed! I use the exclamation because as soon as they see the cast iron skillet coming out of the oven they're asking if it's cauliflower steaks inside. They can't get enough, and neither can hubby and I! We always get a head of cauliflower at the farmers market every week, but I've had to up the amount we buy because everyone always wants these for dinner. I'm not complaining! Anytime we all agree on a healthy vegetarian dish we love, it's a win for me.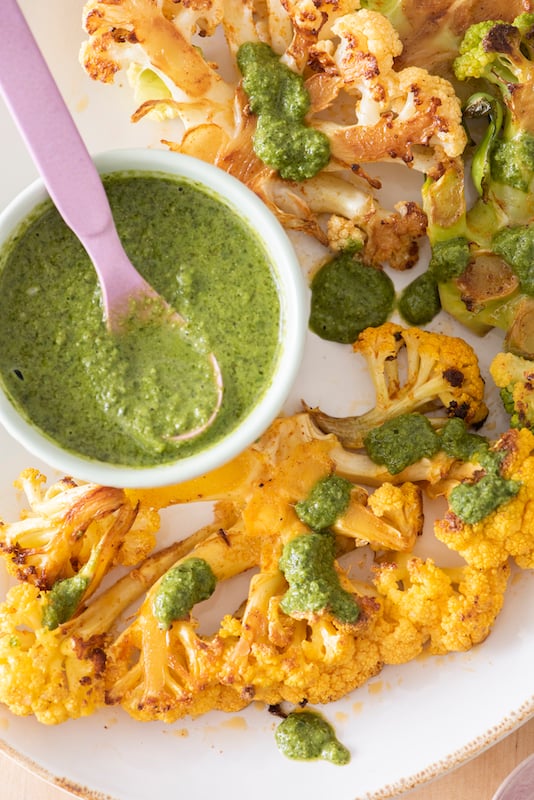 My son Kenya has been vegetarian for quite some time so I'm always working on delicious and filling vegetarian dishes for him. Plus the rest of our family has slowly been eating vegetarian meals more often than not, so I'm happy to have these Cauliflower Steaks in the mix. They're so tender and delicious! They're great on their own, but also pair perfectly with a chimichurri or pesto for dipping.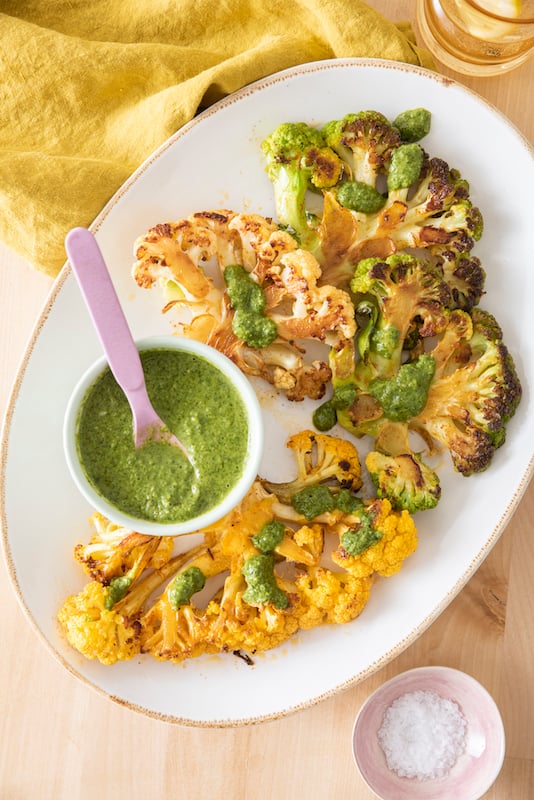 Like I said, these Cauliflower Steaks are a really great plant based entree, but they also would be perfect as a side to pair with another main dish like Moroccan Chicken, Southern Style Pork Tenderloin or Simple Broiled Salmon if that's what you're looking for. This recipe uses super simple spices but is still super flavorful. Cooking them in a cast iron skillet in a super hot oven gets the steaks nice a tender but also beautifully browned. Also, if you don't have a cast iron skillet I highly recommend getting one, but if not, any oven safe pan will work.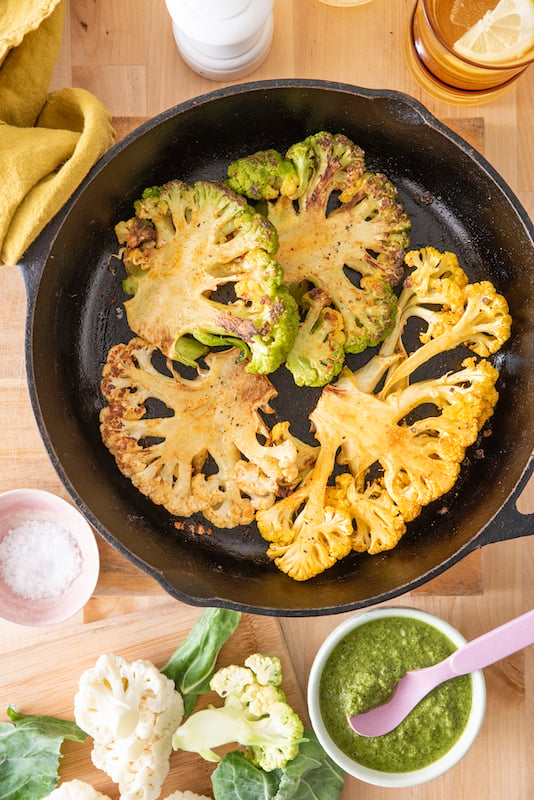 Here are a few tips for preparing the cauliflower:
Cut off the inedible leaves first, then the bottom of the cauliflower head making sure to keep the core intact.
Cut through the middle first so that the florets stay together.
I cut mine about 1 to 1 1/2 inches thick.
If any florets fall off as you're cutting, throw them in the pan and they can roast on their own.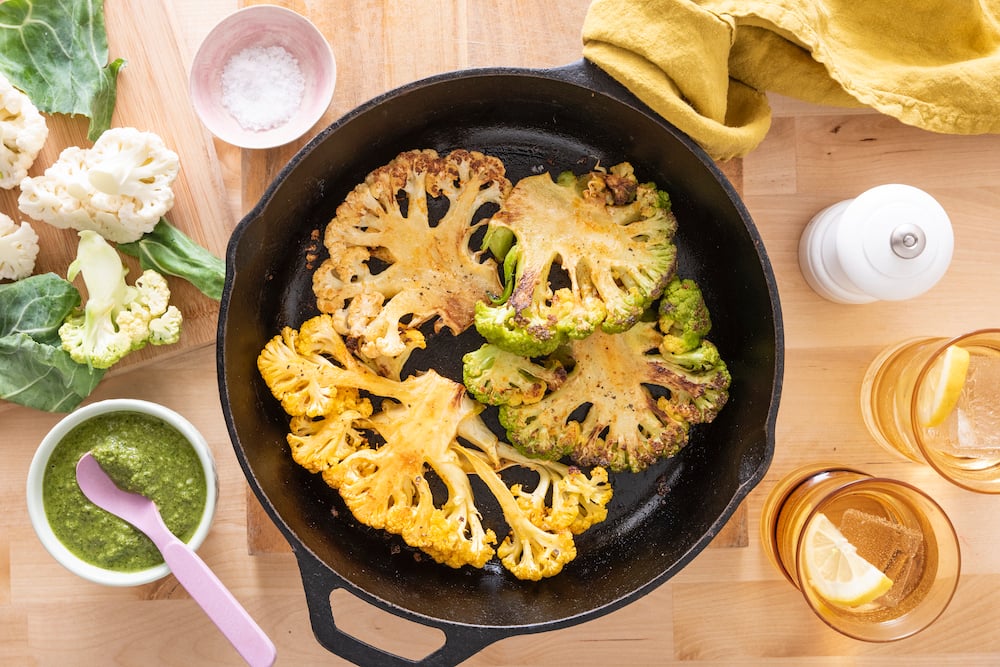 Let me know if you make these Cauliflower Steaks! They've been a huge hit with my family and I think they will be with yours too.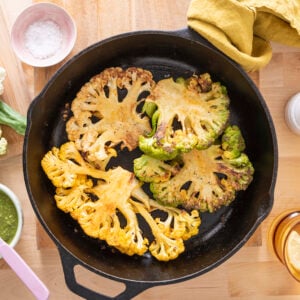 Cauliflower Steaks
Ingredients
1

head of cauliflower

3

tablespoons

olive oil, for brushing

1/2

teaspoon

paprika

1/2

teaspoon

cumin

1/2

teaspoon

garlic powder

1/2

teaspoon

salt
Instructions
Preheat oven to 400 degrees.

Slice the cauliflower into 1 inch thick flats or "steaks".

Brush each flat with 1 tbsp olive oil and sprinkle both sides with the seasonings.

Heat a cast iron or oven proof skillet over medium/high heat, add 1 tbsp olive oil and cook cauliflower steaks for 4 minutes or until golden.

Turn steaks over and place in the oven for 12-14 minutes or until fork tender.