A Fruit and Veggie Party Platter is your ultimate, go-to, new favorite way to feed a crowd.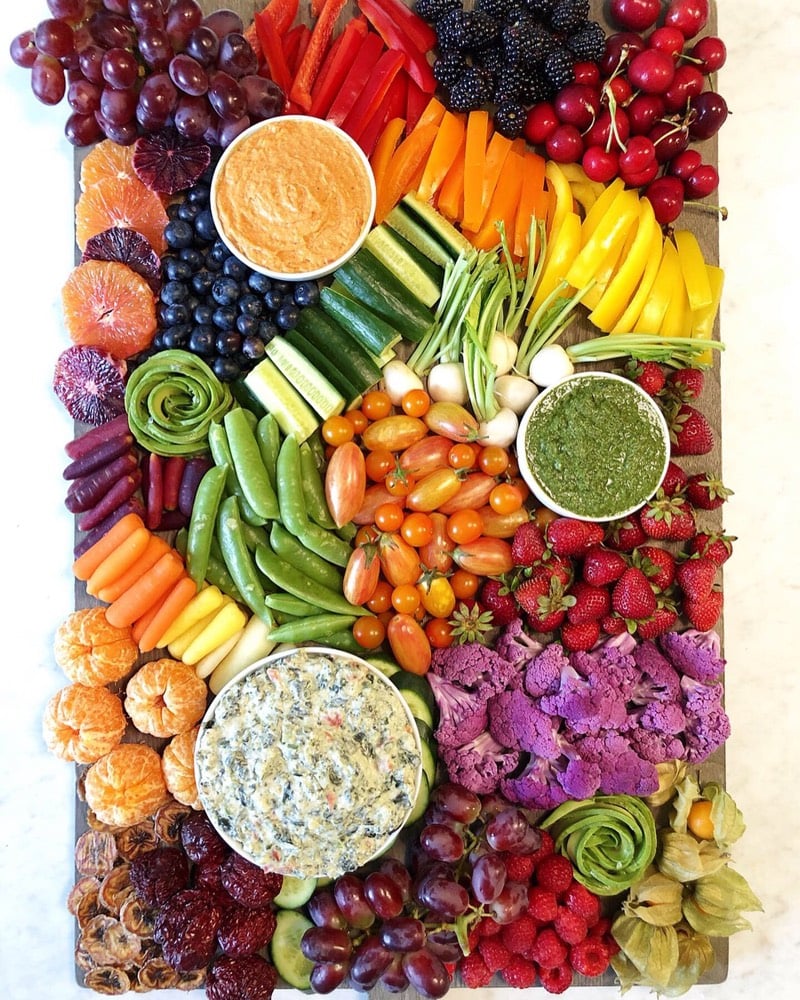 Just look at that beauty! Keep reading to learn how to make a fruit and veggie party platter. I promise these babies will make you the talk of the party. Down at the end of this guide I link to a bunch of differently themed party platters, and for even more inspiration, scroll through my Instagram!
First things first: get the biggest wooden board you can find! You can use different sizes and shapes depending on how many people you need to feed.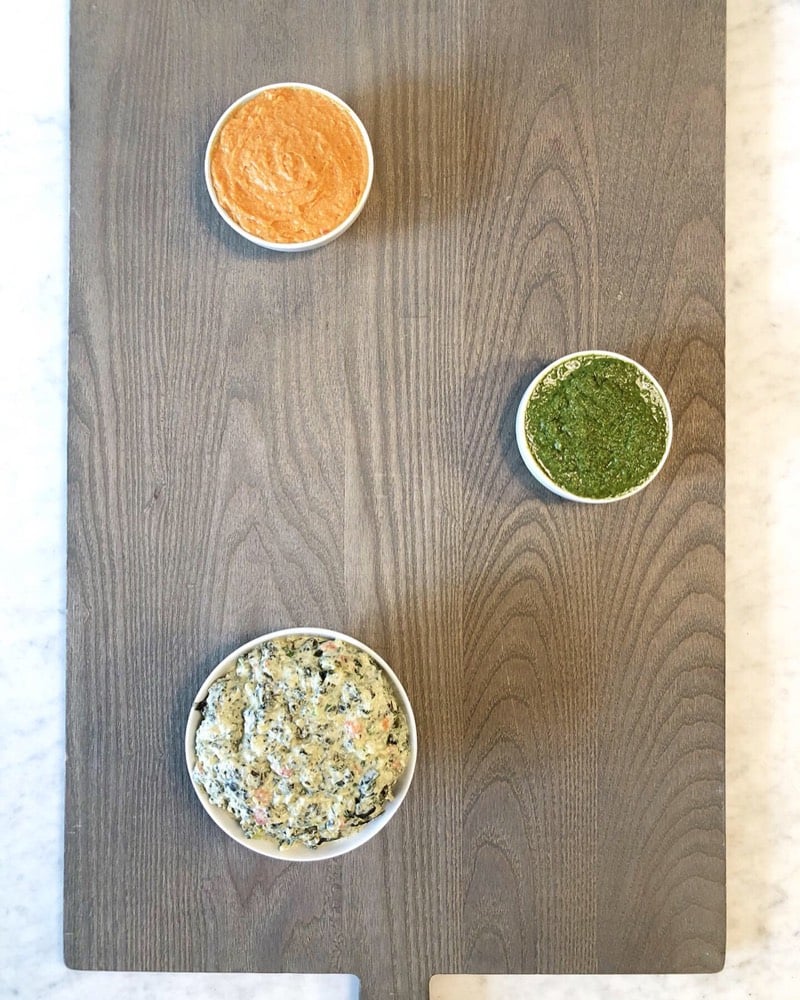 Next: Decide on your anchor items. What are anchor items? They are the larger items like dips and avocado roses that will draw the eye in and become the central points for all the rest of the foods to gather around.
Pictured here are Red Bell Pepper Hummus, Veggie Dip, Kale Pesto, and two Avocado Roses.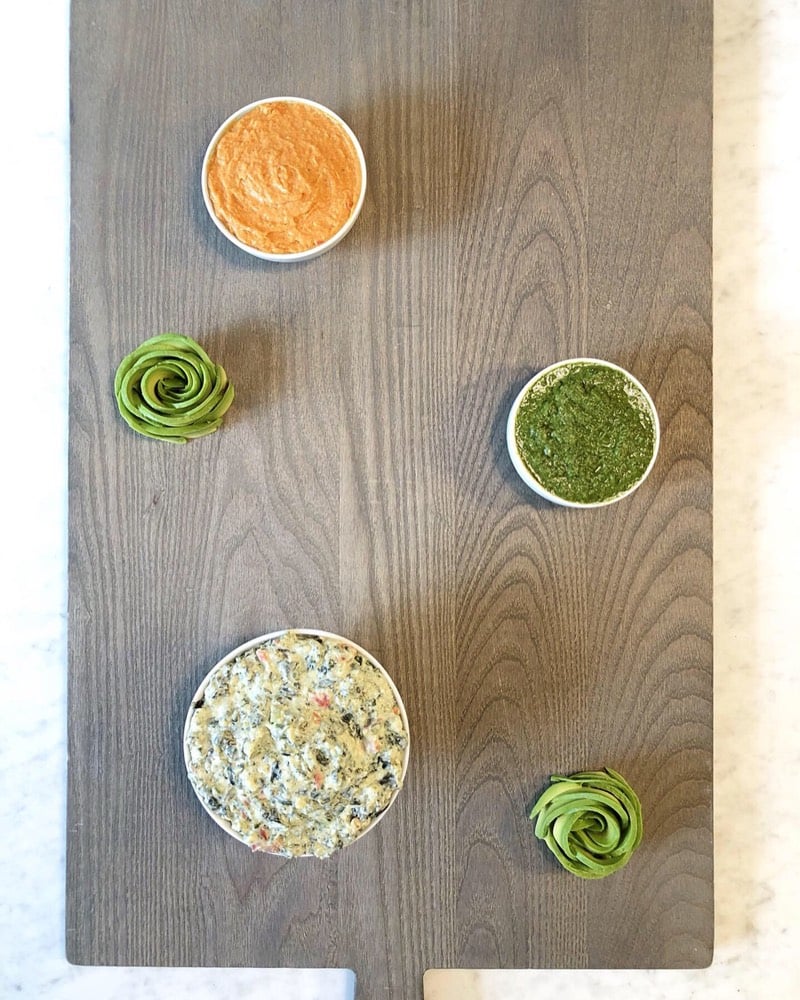 Now for the veggies: I like to keep the same veggies together, and I put these down surrounding the dips (since you probably won't be dipping your fruits in pesto!) This is where you'll create some movement. I like to make a sort of "S" or "Z" shape with the veggies.
Bell peppers, carrots, and tomatoes all come in a variety of colors. So even though there are a bunch of bell peppers all lined up, you're still getting that beautiful rainbow. The bell peppers are in sticks, so those are on the opposite sides of the dips from the carrots which are also in sticks. Cucumber sticks and sugar snap peas (sticks) join together to create that "Z" shape. Then tomatoes, radishes, and cauliflower are placed in small piles in between.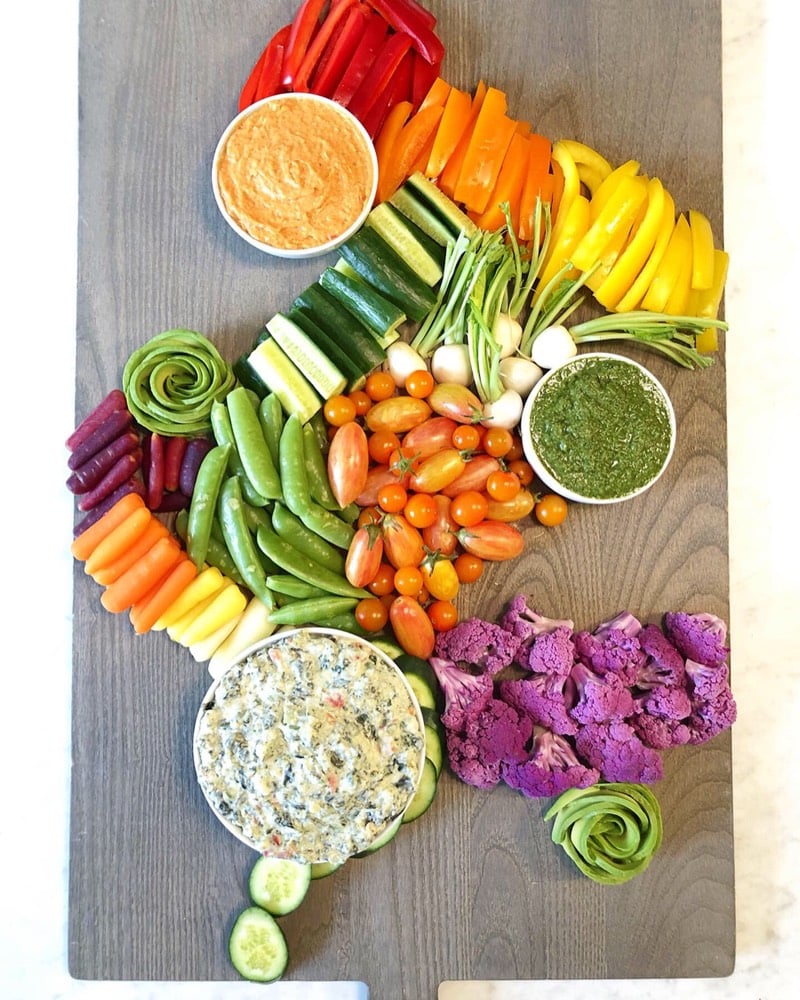 Finally let's add some fruit! The fruit will work to round out the board. Cut grape stems into small bundles of 3-5 grapes. Slice oranges and remove the rind so they're easier to eat. Add some texture by using banana chips and dried fruits.
Contrast is key! Place light and dark items together so that you have a colorfully balanced board. Put red items in opposite corners separated by blues and greens.
You can make a fruit and veggie party platter at home, wrap it well, and transport to your party. Or you can wash and slice everything at home, pack it up, and assemble the platter at the party location. The best is when the party is at your own home. You can assemble the platter right on your own kitchen counter or dining table so you don't have to move it later!
Here are some more party platters to give you some extra motivation. You can stick with all fruits and veggies like you see here, or you can add nuts, candies, crackers, cheese, and sliced meats! The sky is the limit with these impressive and fun fruit and veggie platters!