Now's a great time to bring all those fall flavors you love into your kitchen. These Cinnamon Sweet Potato Fries are the perfect way to start.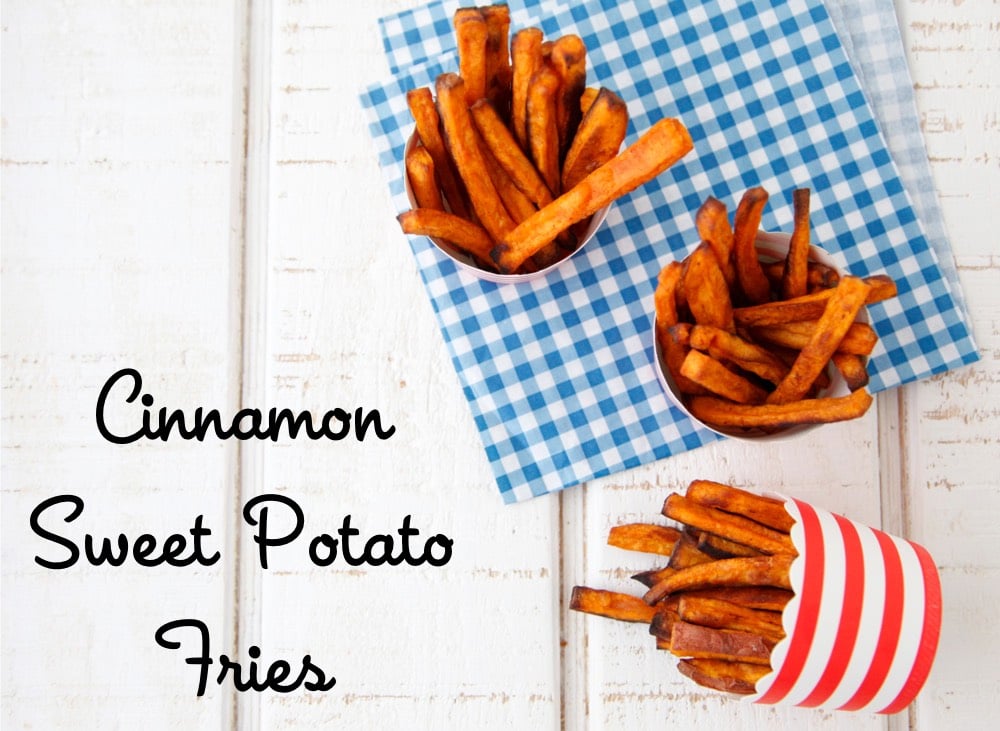 Pin
In the fall when you start changing the way you cook and eat based on all of the vegetables available in the season you'll most likely be reaching for sweet potatoes.
I wish I could tell you that I feel autumn in the air, but here in Southern California it can feel like summer until well into the fall. After talking to my cousin on the phone today, I got homesick for my old Kentucky home. She told me how crisp the weather is there and how she was already starting to see pumpkins on doorsteps and in the market. Having just talked to Kenya and Chloe about their Halloween costumes the other day (in 80 degree weather mind you), I'm feeling nostalgic for the East coast and the fall flavors I so love.
One of the many things we get in California year round are gorgeous, deep orange colored sweet potatoes. I buy them at our local farmers' market and they make the most divine french fries. They are so flavorful I usually serve them up plain, but for this recipe I jazzed them up by letting the kids sprinkle them with cinnamon and salt, making this great side dish taste almost like dessert.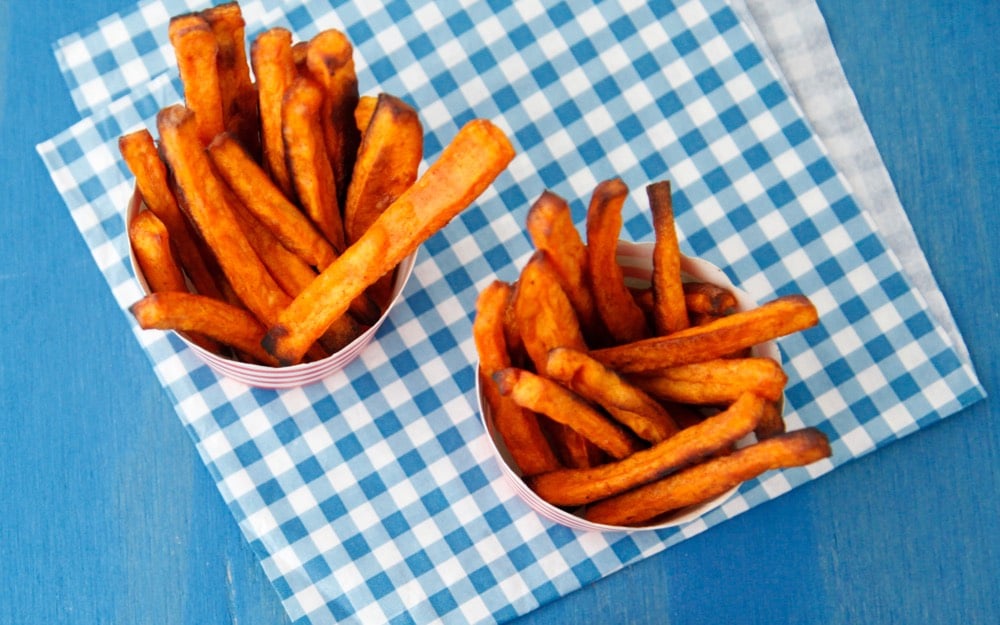 Pin
This recipe is one of our families favorite side dishes. They're a perfect accompaniment to No Work Chicken, Salmon Burgers or Herb Brined Pork Chops. Not only are sweet potatoes unbelievably nutritious, a superfood packed with calcium, potassium, Vitamin A and C, but also incredibly kid friendly. With just the addition of a little spice, these Cinnamon Sweet Potato Fries are elevated to a spectacularly addictive recipe!
The best part is that they only take minutes to prepare, but the tips in this video will help you even more.
Cinnamon Sweet Potato Fries
Ingredients
1

large

sweet potato

1

tablespoon

olive oil

1/2

teaspoon

ground cinnamon

1/4

teaspoon

kosher salt
Instructions
Preheat oven to 425 degrees.

Cut sweet potato into 2 inch long by 1/4 inch sticks

Place them on a cookie sheet, drizzle with oil, sprinkle with cinnamon and salt, and toss to thoroughly coat.

Bake for 15 minutes, toss, bake for an additional 15 minutes, or until golden brown and crisp.
Nutrition
Calories:
60
kcal
|
Carbohydrates:
7
g
|
Protein:
1
g
|
Fat:
3
g
|
Sodium:
160
mg
|
Fiber:
1
g
|
Sugar:
1
g