I don't receive negative email very often, but last week I received a doozy. A mom who is new to weelicious and has a child with severe nut allergies said she was disappointed with weelicious' over reliance on nut butters in school lunch. I don't feel that I've ever aggressively promoted nut butters (in fact I go to great lengths to try and offer substitution ideas and even dedicated a section of the website to nut, dairy, and egg-free recipes), but because they're inexpensive, have a long shelf life, are a great source of protein, and loved by most kids, they can be a life saver for parents.
Coincidentally, the very same day I received the email from the concerned mother, I was informed that there was a child in one of my children's classes with a severe peanut allergy. In light of these two events I wanted to understand more about the subject of nut allergies. The first thing I learned was the difference between airborne and non-airborne nut allergies. Children with an airborne nut allergy can get extremely sick from just being in the proximity of a peanut. Children with non-airborne nut allergies are generally OK to sit next to a child with nuts in their lunch, but could have an averse reaction if they ingest them. Non-airborne allergies get even trickier since nut butters can easily smear on a table or spread to common classroom objects via sticky fingers and if a child with a nut allergy accidentally ingests nuts by touching something contaminated and putting their fingers in their mouth, they could become ill or worse. What you realize very quickly, is that whether airborne or not, the risk of a child getting sick is almost equal.
The good news for parents of children with nut allergies (as well as parents of non-allergic children in nut-free schools) is that many seeds — sunflower, pumpkin, sesame, and flax among them — are fantastic, high in protein substitutions for nut-free classrooms and can be used in most recipes calling for nut butters. I've used sunflower butter for years in recipes like World's Greatest PB&J, PB&J yogurt and Banana Dog Bites.
These Sunflower Butter Bran Muffins are packed with tons of fiber and are protein-rich to keep kids sated during the day. And since sunflower butter tastes very similar to peanut butter, most kids won't be able to tell the difference. That's good news for everyone in the classroom!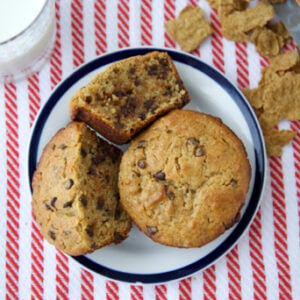 Sunflower Butter Bran Muffins
Instructions
Preheat the oven to 400 degrees.

In a bowl, combine the bran flakes and milk and let sit for 5 minutes. Whisk in the egg, oil and sunflower butter.

In a separate bowl, mix together the flour, sugar, baking powder and salt.

Mix the dry ingredients into the wet ingredients until just combined. Fold in the mini chocolate chips, if desired.

Bake for 20 minutes, or until a wooden toothpick inserted in the center comes out clean.
Nutrition
Calories:
380
kcal
|
Carbohydrates:
32
g
|
Protein:
6
g
|
Fat:
27
g
|
Cholesterol:
5
mg
|
Sodium:
340
mg
|
Fiber:
2
g
|
Sugar:
15
g