Friday night is pizza night in our house! It's such a fun way to say goodbye to the week, and hello to the weekend. I swear if I even utter the word pizza my kids start bouncing off the walls in excitement. I like to switch it up sometimes and make all different kinds of of pizza incarnations. From pizza muffins to pizza lollipops or even bagels – there's a pizza style for everyone. These 18 homemade pizza recipes are sure to hit the spot!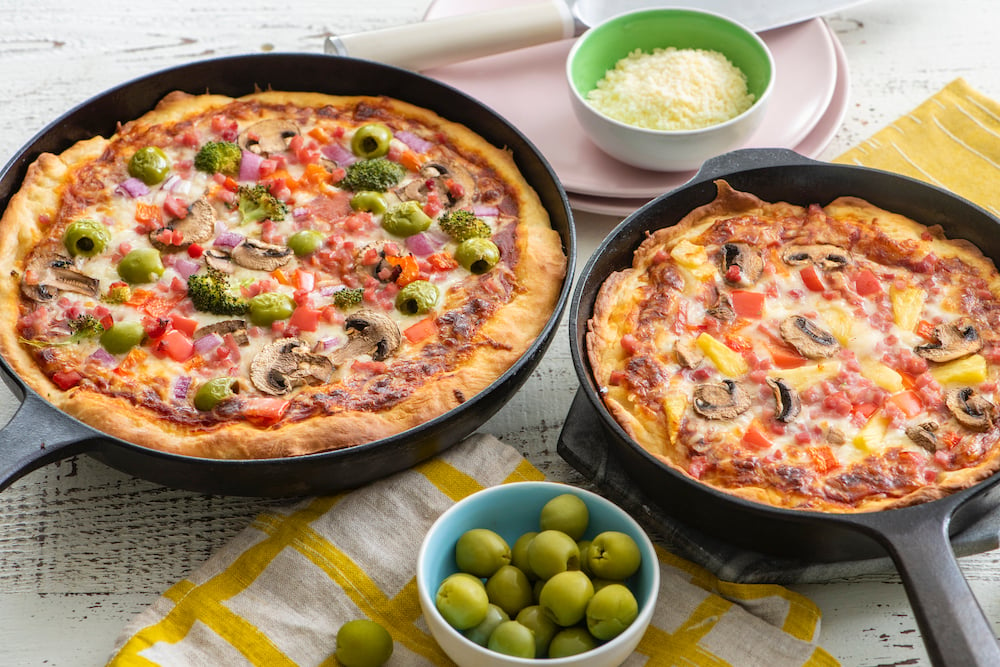 Why Make Pizza at Home?
You can customize it: One of the best things about making pizza at home is that you can customize it to your liking. You can experiment with different toppings, cheeses, and sauces until you find the perfect combination. Plus, if you have any dietary restrictions, you can make a pizza that fits your needs.
It's cost-effective: Making pizza at home is a more affordable way to enjoy this delicious food. A store-bought or restaurant pizza can be expensive, especially if you want to add extra toppings. By making pizza at home, you can save money and still enjoy a delicious meal!
It's a fun activity to do with friends and family: Making pizza at home is a super fun activity – especially for kids. It's a great way to bond over a shared love of food and get creative in the kitchen. You can even turn it into a pizza-making competition to see who can create the best pizza!
You can control the quality of the ingredients: When you make pizza at home, you have control over the quality of the ingredients you use. You have the option to choose high-quality ingredients like fresh vegetables, locally sourced meats, and artisanal cheeses to make a truly delicious pizza.
It's a great way to learn a new skill: Making pizza at home can be a great way to learn a new skill in the kitchen. From making your own pizza dough to perfecting your sauce recipe, there are plenty of opportunities to learn and improve your cooking skills.
Check out these 17 homemade pizza recipes and tell me in the comments below what your favorite pizza toppings are!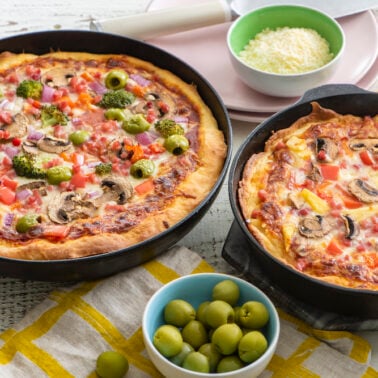 Deep Dish Cast Iron Pizza
This is my take on a deep dish Chicago style pizza. Fluffy and delicious with tons of cheese and toppings!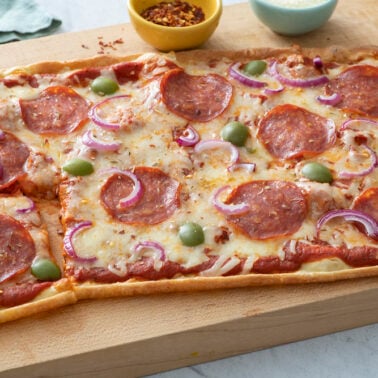 Sheet Pan Pizza with No-Yeast Crust
This Sheet Pan Pizza with No Yeast Crust is like magic! When you want homemade pizza in a pinch, this recipe is for you.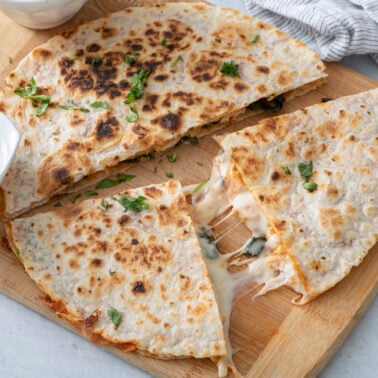 Pizza Quesadillas
Hmm.. what to make for dinner? Pizza? Quesadilla? Why not have both and make Pizza Quesadillas!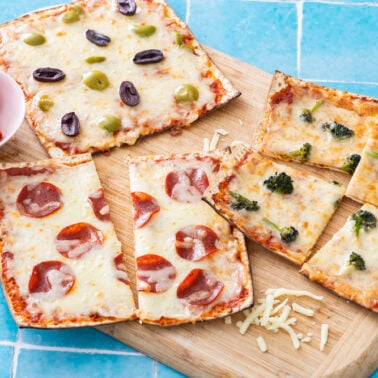 Matzah Pizzas
If you've got extra matzah, go for these matzah pizzas! They couldn't be easier to make and are super delicious.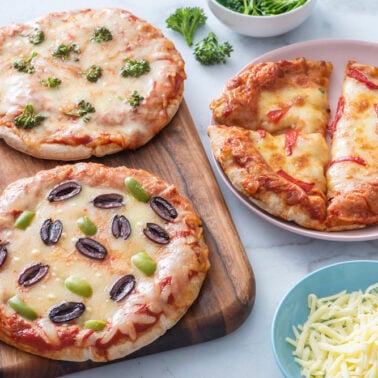 Pita Pizzas
Pita Pizzas are a super easy, healthy way to enjoy a hot slice of pizza! Everyone in the family is always down for Pita Pizza night!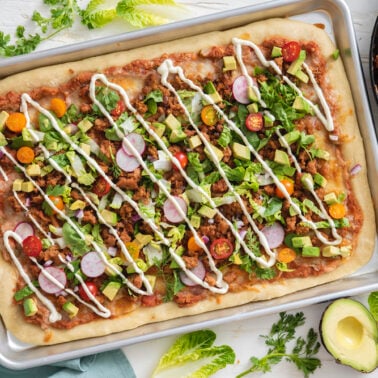 Taco Salad Pizza
Taco Salad on a pizza! Yes please! All your favorite taco toppings layered on a delicious pizza crust.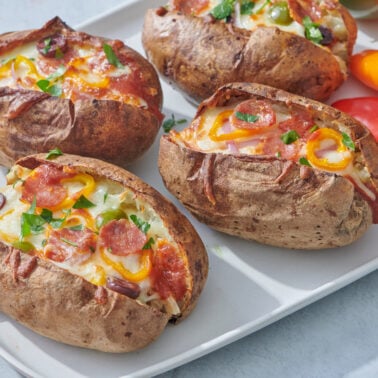 Pizza Stuffed Potatoes
Who doesn't love pizza and baked potatoes? When combined, they create a mouth-watering dish that is both easy to make and delicious – Pizza Stuffed Potatoes!
Grilled Pizza Roll Ups
What happens when you take grilled cheese and pizza and jazz it up a bit? You get these monstrously delectable Grilled Pizza Roll Ups.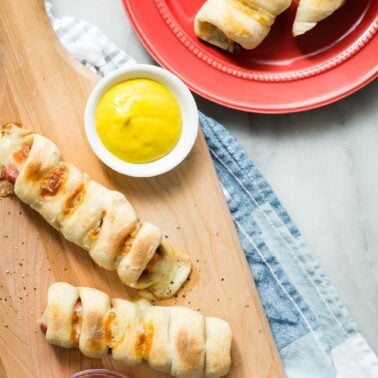 Cheesy Pizza Hot Dogs
If your family likes pizza and hot dogs (duh, who doesn't?!) then you need to make these Cheesy Pizza Hot Dogs STAT!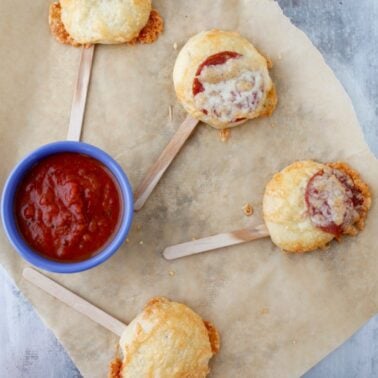 Friday Night Pizza Party Lollipops
Everything tastes better on a stick… pizza included! This recipe is super fun to make and even more fun to eat!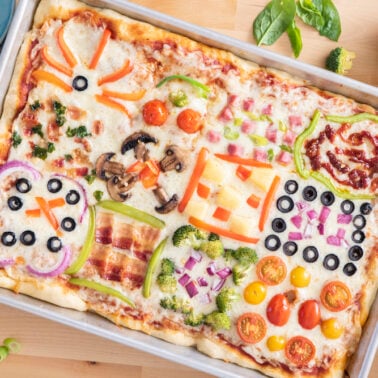 Quilt Pizza
When no one can agree on what kind of pizza to get, make this Quilt Pizza! Everyone gets to choose what toppings they want for their slices.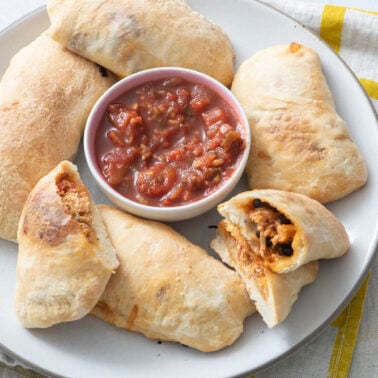 Mexican Pizza Pockets
Mexican Pizza Pockets combine two kid-friendly favorites to make one delicious recipe!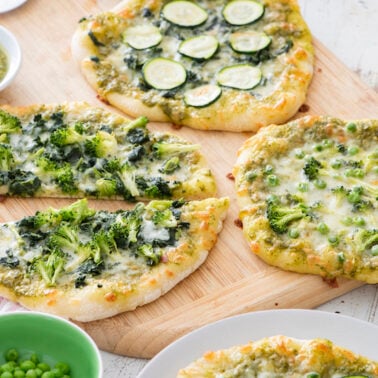 Green Machine Pizza
Green Machine Pizza is my favorite way to get the kids to eat their green veggies! This recipe uses pesto instead of pizza sauce to switch things up.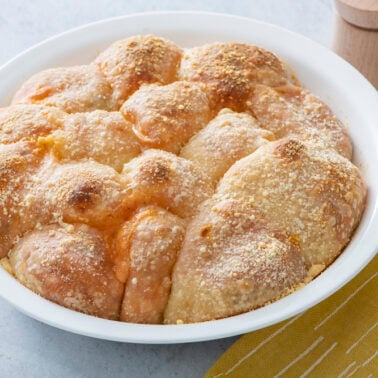 Pizza Balls
Feel like you've tried every type of pizza imaginable? I bet you haven't had a Pizza Ball!? They're such an easy weeknight meal and a ton of fun.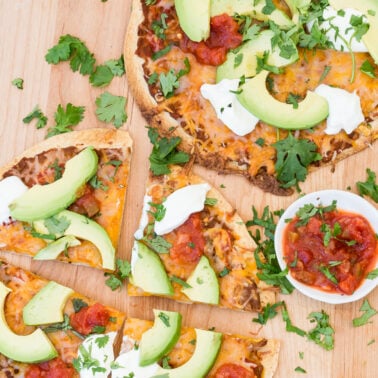 Mexican Tortilla Pizza
Swap out pizza dough for a tortilla and you've got this fun Mexican Tortilla Pizza!
Pizza Pinwheels
These pinwheels are really like a pizza "sandwich" because the filling is savory, kind of like a ham and cheese sandwich, but much cooler looking.
Pizza Muffins
Individual bite-sized Pizza Muffins are kid-friendly and just as fun to make are they are to eat!
Whole Wheat Pizza Bagels
Pizza bagels are less hassle than making pizza from scratch and come out just as gooey and delicious!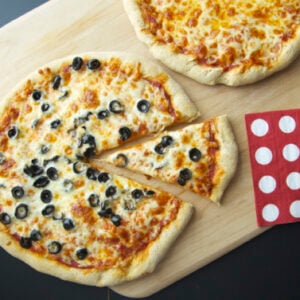 Pizzeria Pizza Dough
Ingredients
1

(1/4 ounce) package

active dry yeast

lukewarm water

3-4

cups

white whole wheat flour

1

tablespoon

olive oil, plus extra for greasing bowl and brushing on pizza crust

1

tablespoon

honey

1

1/2 teaspoons

kosher salt
Instructions
Combine the yeast and water in a bowl and allow to stand until foamy, about 5 minutes. (Make sure to check the expiration date on the yeast. If it doesn't foam, your yeast may be old and you will need to buy fresh yeast.)

Stir 3 cups of the flour and salt into a bowl (or the bowl of a standing mixer, using a dough hook attachment).

Add the olive oil and honey to the yeast mixture and stir to combine.

Add the liquid mixture to the dry ingredient mixture on the low setting for 3 minutes or until smooth and elastic (you can also combine the liquid with the flours in a bowl and knead the dough by hand on a clean surface for 10 minutes until smooth and elastic). You want the dough to be smooth and bounce back when you press it. If your dough is too wet and sticky, add more flour, 1/4 cup at a time, until you reach a soft and elastic consistency.

Transfer ball of dough to an oiled bowl, cover the top of the bowl with a dish towel and let rise for 1 hour. The dough will double in size.

Turn dough out onto a lightly floured surface and knead for 15 seconds. Cut into 4 equal balls, form each into rounds and flatten with your hands into a disk. Let the disks rest for 5 minutes.

Take a disk and, holding the dough at the edges, pinch and pull the dough to 9 inches across. Periodically switch from pulling and pinching the dough to stretching it out using your knuckles. If you\'re feeling adventurous, form your hands into fists, rest the dough on top of them and stretch outwards. Don't be scared to throw the dough up in the air! It actually helps form an even circle. (This last bit was recommended to me by my friend who used to work in a famous pizza kitchen!)

Spread sauce on your dough and top with desired toppings. Bake 10-15 minutes, or until crust is golden brown.

To Freeze: After step 7, place one round disk on a parchment lined plate or cookie sheet and layer the rest of the disks on top, laying parchment in between each disk. Freeze for one hour and then transfer the stack of frozen pizza disks to a freezer bag. Disks can be stored in the freezer for up to 3 months. When ready to use: remove the disk(s) from the freezer and let them defrost in the refrigerator for 24 hours. Then, let them come to room temperature and continue following steps 8 and 9.