Christmas morning should be for enjoying time with your family not stressing about what to make for breakfast or brunch. I'm taking the guesswork out of it for you and rounding up 12 of my favorite Christmas Brunch Recipes!
Christmas Morning Breakfast Strata
This is one you can make the night before and then toss in the oven in the morning. It makes Christmas Day brunch super simple. 
Gingerbread Pancakes
Gingerbread Pancakes are festive and delicious! Make them using gingerbread man shaped cookie cutters for extra cuteness.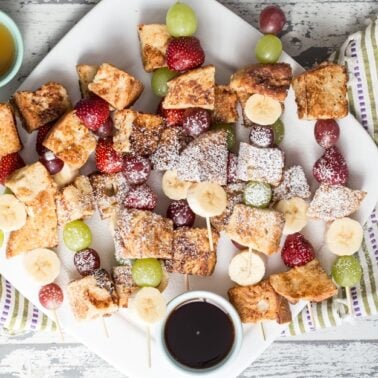 French Toast on a Stick
Put any food "on a stick" and my kids are obsessed. These little bite sized french toasts stacked with seasonal fruit are fun to make and even more fun to eat!
Christmas Bagel Wreaths
Nothing says holiday spirit quite like these Christmas Bagel Wreath Sandwiches. They're super simple to make (not to mention the added bonus of getting a little green in)!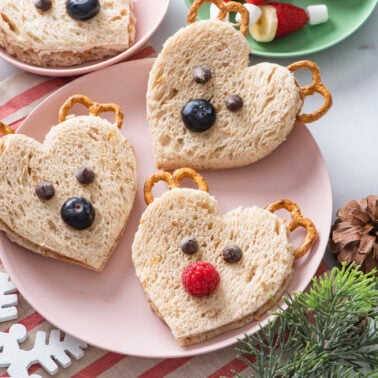 Reindeer Sandwiches
Play all the reindeer games you want with these Reindeer Sandwiches. Pick your favorite spread and grab your heart shaped cookie cutters! Don't forget to use a raspberry for Rudolphs nose!
Crispy Orange Stuffed French Toast Sticks
These Stuffed French Toast Sticks are out-of-this-world delicious. You'll find yourself wanting this every day, not just Christmas morning!
Pumpkin Waffles
We make Pumpkin Waffles all the time during the fall and winter, but they're a perfect Christmas morning breakfast choice!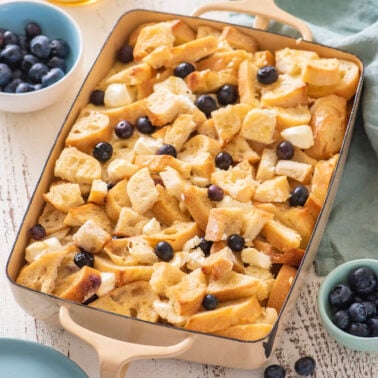 Blueberry Cream Cheese French Toast
Can you tell we love every kind of French Toast in our house? This blueberry one is Chloe's favorite and is super simple to put together and toss in the oven. 
Breakfast Bread Pudding
Sounds complicated, but Breakfast Bread Pudding actually couldn't be easier! Plus you can prepare it the night before to even further simplify your Christmas morning.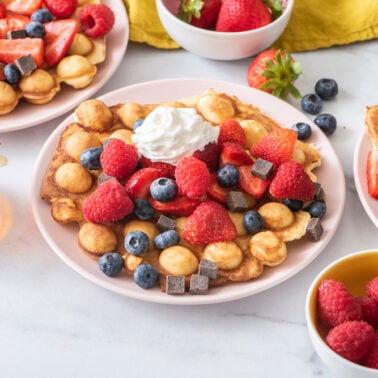 Bubble Waffles
My kids' eyes lit up when I made Bubble Waffles for the first time. They're gorgeous yet simple to make.
Smoked Salmon Scramble
Smoked Salmon Scramble is a classic brunch recipe that would be great for your holiday morning.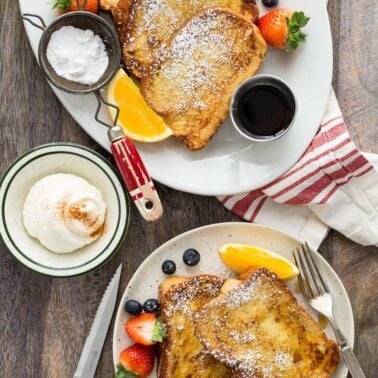 Holiday Challah French Toast
French Toast using Challah Bread takes it to the next level. You'll find yourself trying to track down every loaf to make this recipe year round. 
What are you making for brunch Christmas morning?