These 20 Quick and Easy Back-to-School Breakfasts help ensure you're sending your kids off to school well nourished so that they can perform at their best.
Let's face it… summer is over (WAH!) and school is back in session. While I'm looking forward to a more regular schedule during the week, I have to admit that I'm going to really miss the summer mornings of long leisurely brunches. Sleeping in, playing a board game or two and then making our way to the kitchen to cook crepes, french toast or, of course, whiz up some smoothies. Days of a more leisurely rhythm can make the abrupt shift back to "get up!…clothes on!…bags packed!…let's go, go, go!" hard on everyone!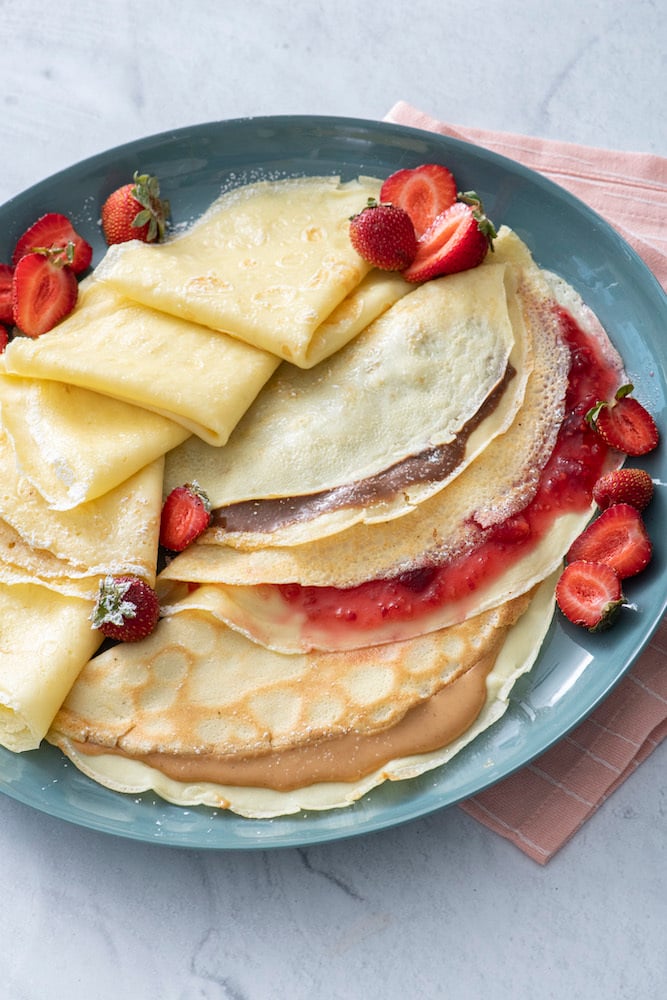 As summer winds down and the school year approaches, the morning rush becomes a familiar routine for families. But before you dive headfirst into the chaos, it's essential to start the day right with a nutritious breakfast. I've compiled 20 easy back-to-school breakfast recipes that are not only delicious but also quick to prepare. Whether you're a parent or a student, these recipes will help you kickstart your day with energy and enthusiasm. Plus, I'll share some meal prep tips and time-saving hacks for those busy mornings.
Hacks to Get Breakfast on the Table STAT!
Here are some quick breakfast hacks to help you get a delicious meal on the table in no time, especially during busy school mornings: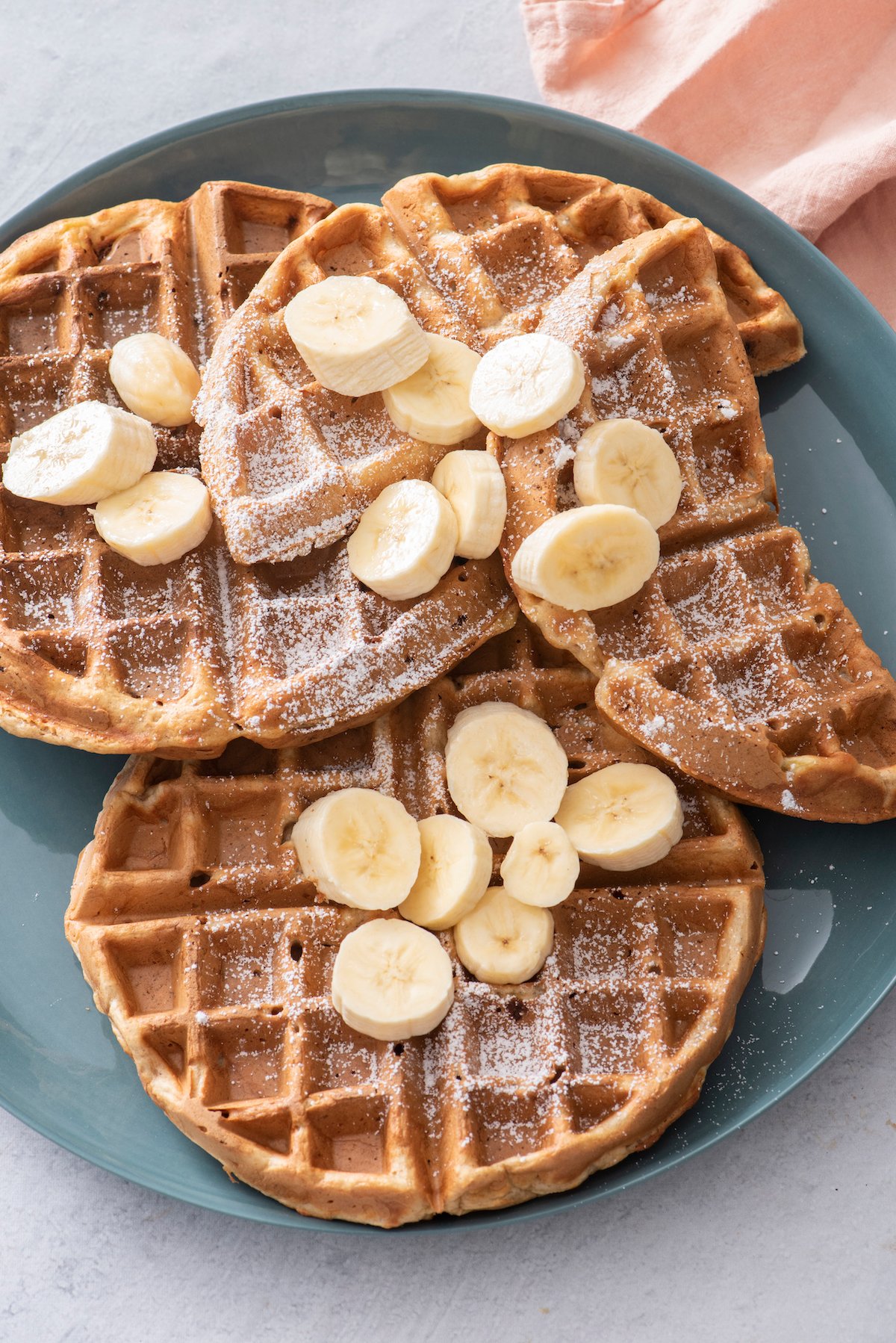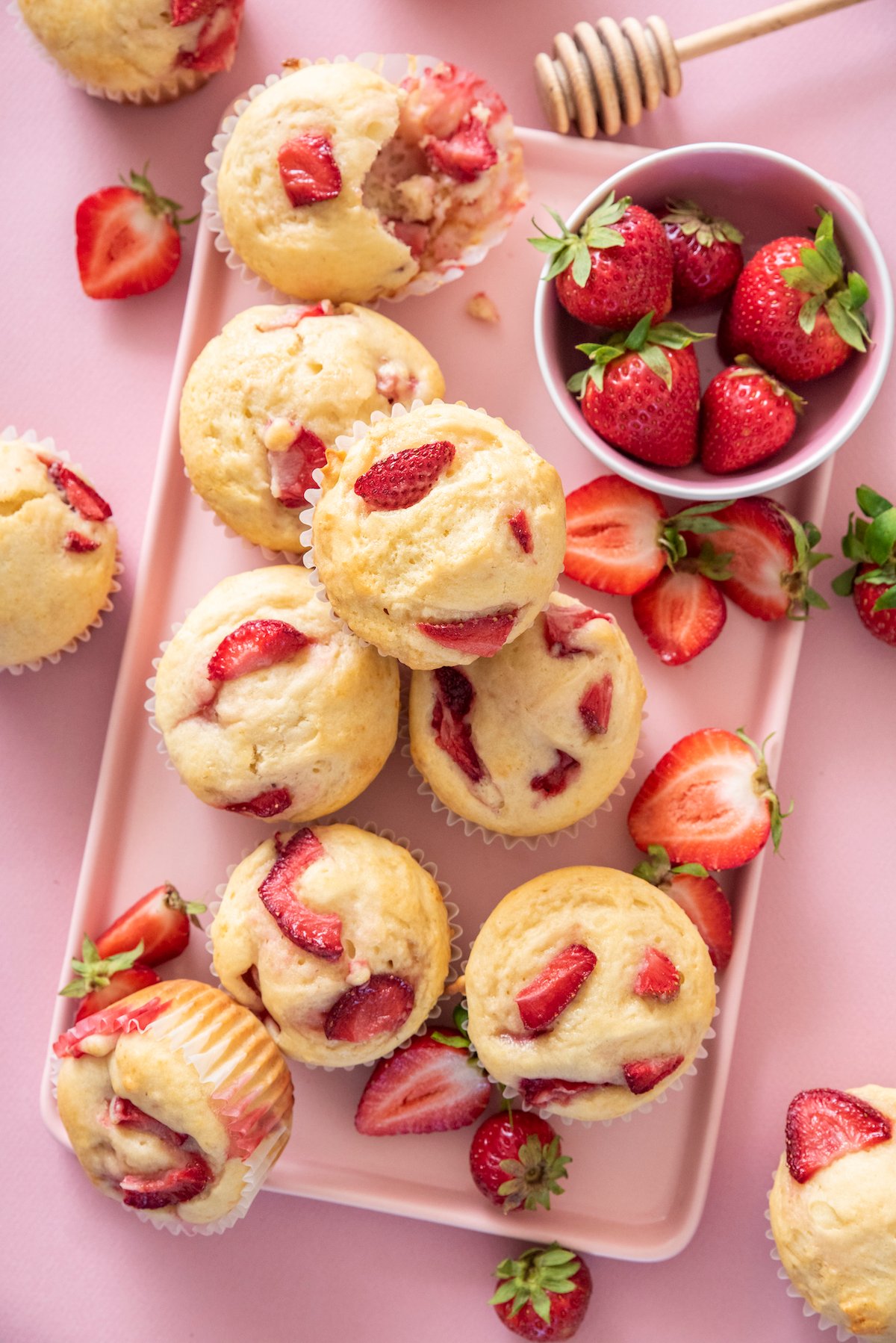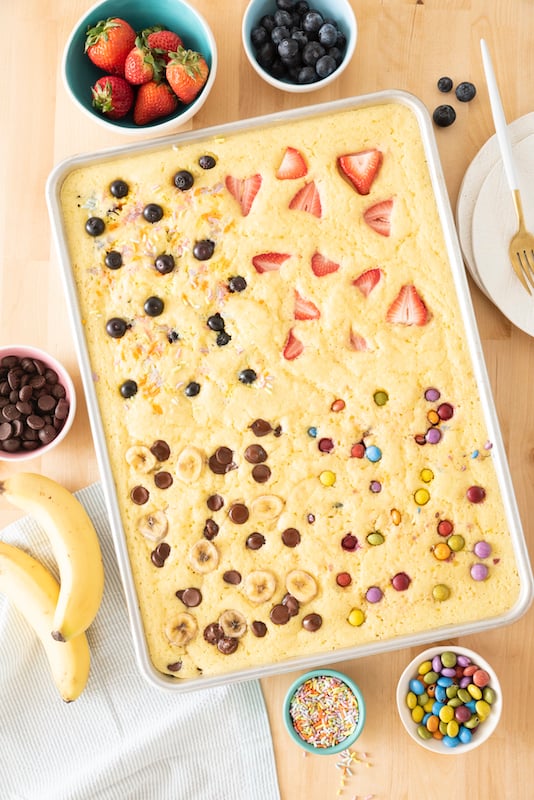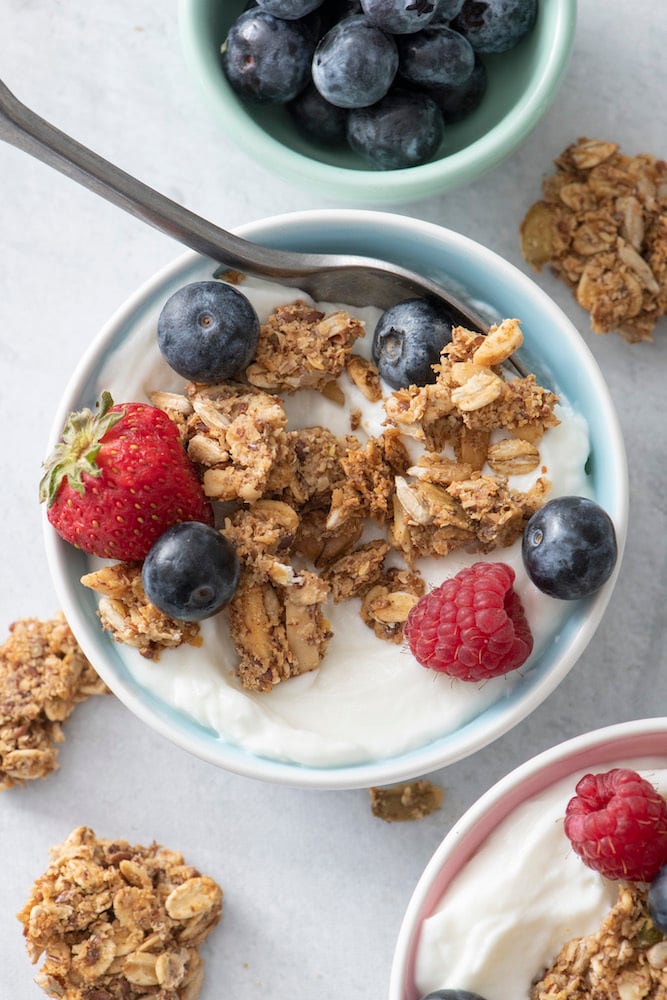 Remember, the key to a quick breakfast is preparation and planning. Find a routine that works for you and your family, and don't be afraid to mix and match these hacks to create a breakfast routine that saves you time and stress on busy mornings
Easy Breakfasts for Busy Mornings
Now that you've got some tips and tricks for getting breakfast ready quickly and easily, here are some recipes to try out your new skills with!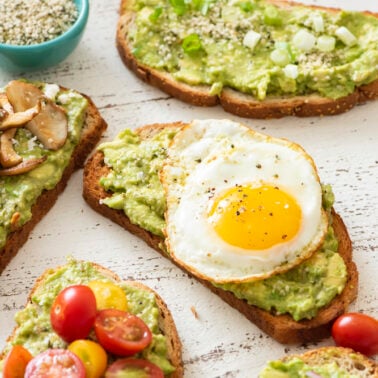 Avocado Toast
One of our busy morning go-to's is Avocado Toast. Top with a fried or poached egg or any vegetables of your choice!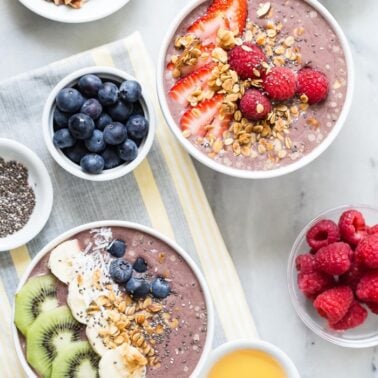 Acai Bowls
Acai Bowls are more simple to make at home than you might think. Plus they're super healthy, customizable to your tastes and 100% delicious!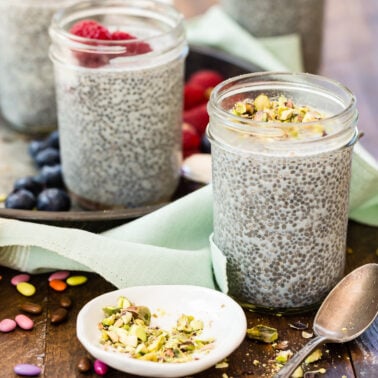 Chia Seed Pudding
I make tons of Chia Seed Pudding to have waiting in jars in the refrigerator so we can grab and go on crazy school mornings! It's filling, healthy and absolutely delicious.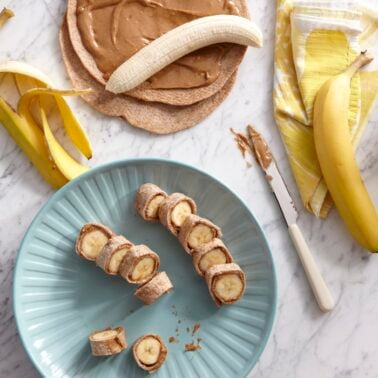 Banana Peanut Butter Roll Ups
These only require 3 ingredients that you most likely have on hand and make a great quick and healthy no-bake breakfast.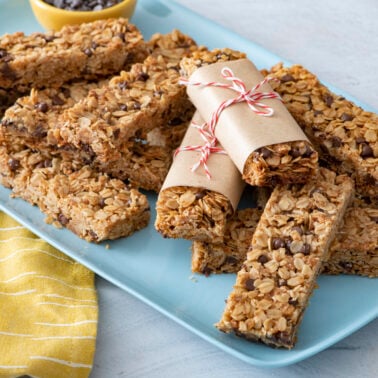 Chocolate Chip Granola Bars
Chocolate Chip Granola Bars are so easy to make, you'll wonder why you ever bought them in stores. Make a batch over the weekend to have ready during the week for breakfast or a snack!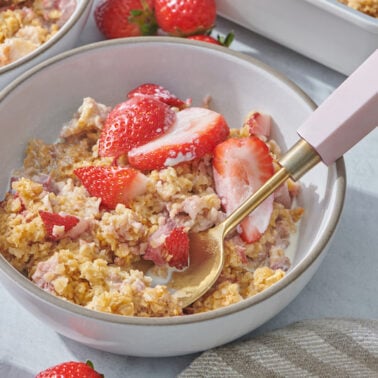 Strawberries and Cream Baked Oatmeal
Strawberries and Cream Baked Oatmeal is a delicious and easy breakfast treat that is perfect for any day of the week. Make it the night before and put in the the oven the morning of or bake it whenever and reheat it!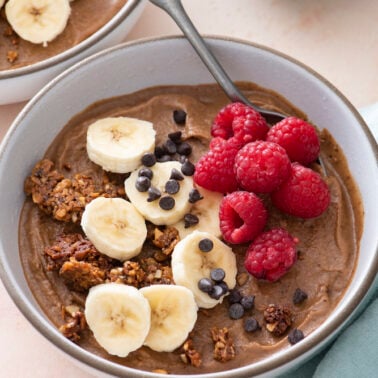 Double Chocolate Smoothie Bowl
This Double Chocolate Smoothie Bowl is a chocolate lovers dream! Would you believe me if I told you it was actually good for you too?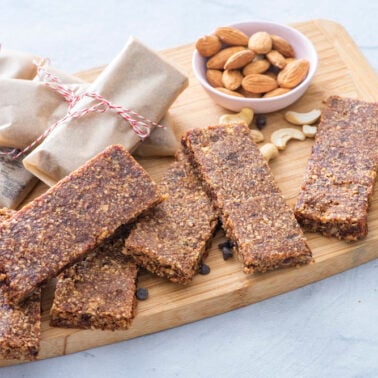 Protein Bars
If you want to make one of the easiest, most nutritious breakfast bars around, these Protein Bars are for you! Another great grab and go option when you're rushing to get everyone to school on time.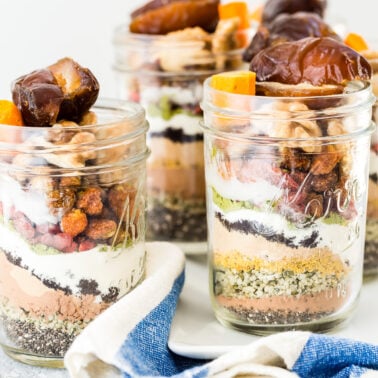 Smoothie Jars
Make your morning smoothie even easier with Smoothie Jars! Build a bunch for the week then add to your smoothies to streamline your mornings!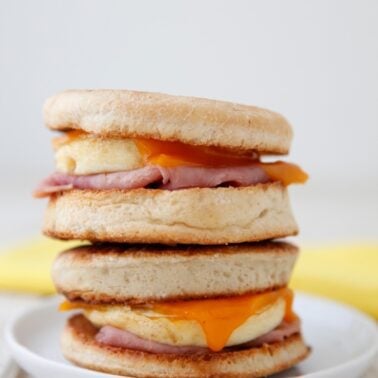 Egg McMuffin
Make them fresh in the morning or store several in the freezer! All you have to do is pop them in the toaster oven and voila – homemade Egg McMuffins!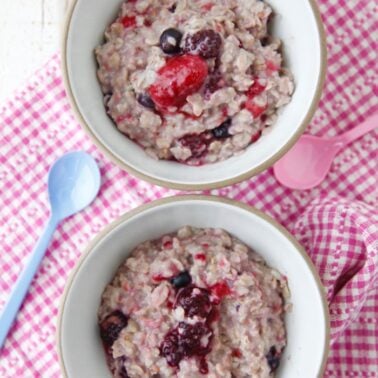 Berry Delicious Oatmeal
Oatmeal is always a quick and easy breakfast option. This recipe adds tons of delicious berries to take it up a notch!
Crazy Healthy Smoothie
A smoothie is another GREAT option for busy mornings. Make them even quicker by pre-portioning the ingredients and storing them in freezer bags. Then just dump in a blender with your milk of choice and whiz it up!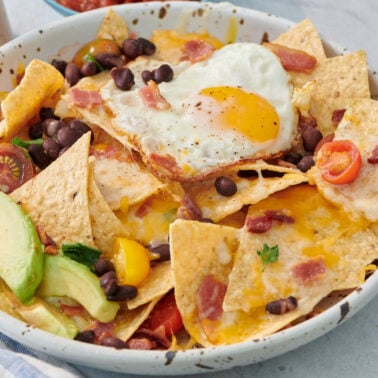 Breakfast Nachos
With crispy tortilla chips, melty cheese, eggs and all your favorite toppings, breakfast nachos are the perfect way to start your day with a hearty and flavorful meal.
Good Morning Protein Cookies
Cookies for breakfast that are healthy for you? Yep! These are filled with protein to get mornings started off on the right foot. A really good to-go breakfast option too!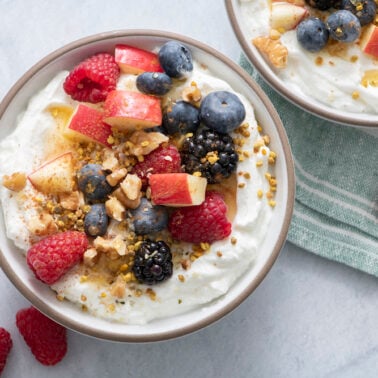 Brainy Breakfast
Filled with nuts, berries, cinnamon and Greek yogurt, this Brainy Breakfast recipe packs a big protein punch to keep your brain performing in tip top shape!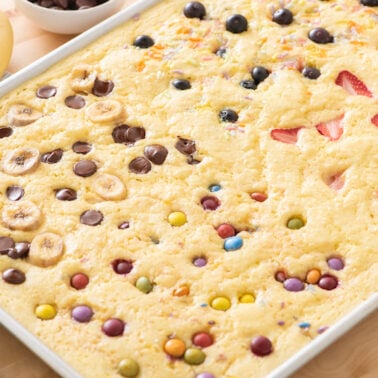 Sheet Pan Pancake
A Sheet Pan Pancake is the best way to make pancakes for everyone at once. And less time hovered over the stove top trying to cook them to perfection.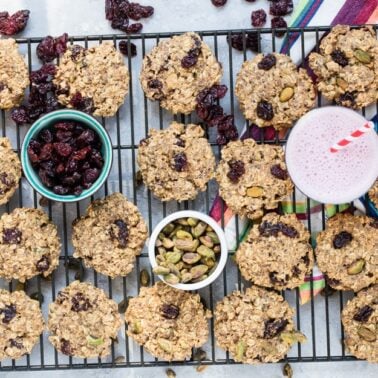 Breakfast Cookies
Another breakfast cookie that is filled with good for you ingredients. A great grab and go option for breakfast or pack for a mid morning snack.
Refrigerator Oatmeal
I have jars of refrigerator oatmeal ready to go pretty much at all times. As much as I would love to get a nice hot breakfast on the table every morning, sometimes grabbing a jar of overnight oats is the best we can do!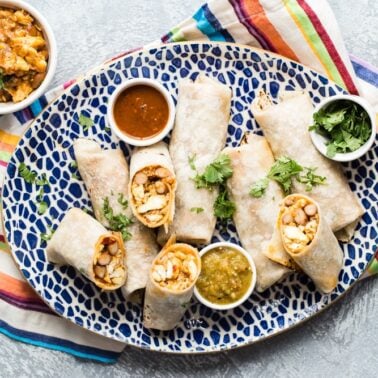 Breakfast Burritos
Make a batch of breakfast burritos and store them in your freezer to have throughout the week. Just reheat them in the toaster oven for a perfectly satisfying breakfast.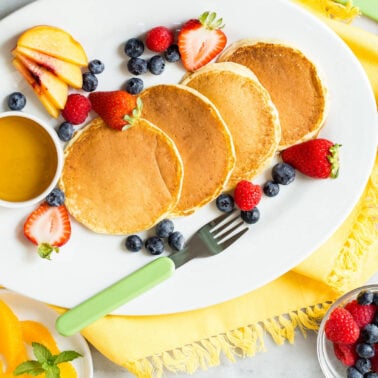 Cottage Cheese Pancakes
Cottage Cheese Pancakes are packed with protein and a family favorite — they may just become your favorite pancake ever. 
With these 10 easy back-to-school breakfast ideas and meal prep tips, you can conquer busy mornings and ensure your family starts the day with a nutritious meal. Whether you prefer sweet, savory, or on-the-go options, these recipes have you covered.
Make mornings a breeze by planning ahead and enjoying delicious breakfasts together as you tackle the day ahead. If you make any of these recipes I would LOVE to see them! Just tag me @weelicious or use #weelicious so I can see your creations.