Week 11 Meal Plan is jam packed with some of my favorites! St. Patrick's Day is on Wednesday so we're making lots of fun naturally green recipes. Take a peek and let me know what you think!
BREAKFAST:
Smoothies! This week we're making Berry Green Smoothies, Golden Milk, Pregnancy Smoothie and the Bright Green Smoothie for St. Patrick's Day! Then we've got a plan for Green Vegan Pancakes too. SO GOOD!
SNACKS:

Protein Cereal Bars help us stay full for longer because they're packed with protein heavy chia seeds. We're also making festive naturally green recipes for St. Patrick's Day like Spinach Cake Muffins and Cheesy Green Hummus.
LUNCH:
The kids love these Corn Dog Muffin Bites. Then we're making Acai Bowls, Green Veggie Pancakes, and an evergreen member of our meal plan — Avocado Toast with Poached Eggs.
DINNER:

Sunday: This Pretzel Fried Chicken is next level crispy and perfect for a Sunday dinner. We're pairing is with Mascarpone Mashed Potatoes and Air Fryer Veggies.
Monday: Corn and Black Bean Taquitos with Spanish Rice and Cucumber Avocado Salsa from One Potato Box for an easy #meatlessmonday meal. I linked the weelicious version of all the recipes so you can make this one whether you're a One Potato customer or not!
Tuesday: Juicy Chicken Burgers with Sweet Potato Fries from One Potato Box. They make it so easy to get dinner on the table every week!
Wednesday: Can't wait to make Wild Mushroom Pasta again. It's so so simple and fresh. We're pairing the pasta with Grilled Lemon Asparagus and also having a Spinach Smash Cake for a St. Patty's Day Dessert!
Thursday: Towards the end of the I'm tired of cooking (who isn't?!) so we're making One Sheet Pan Shrimp and Vegetable Dinner and Brown Rice Cakes. Couldn't be easier to make (or clean up)!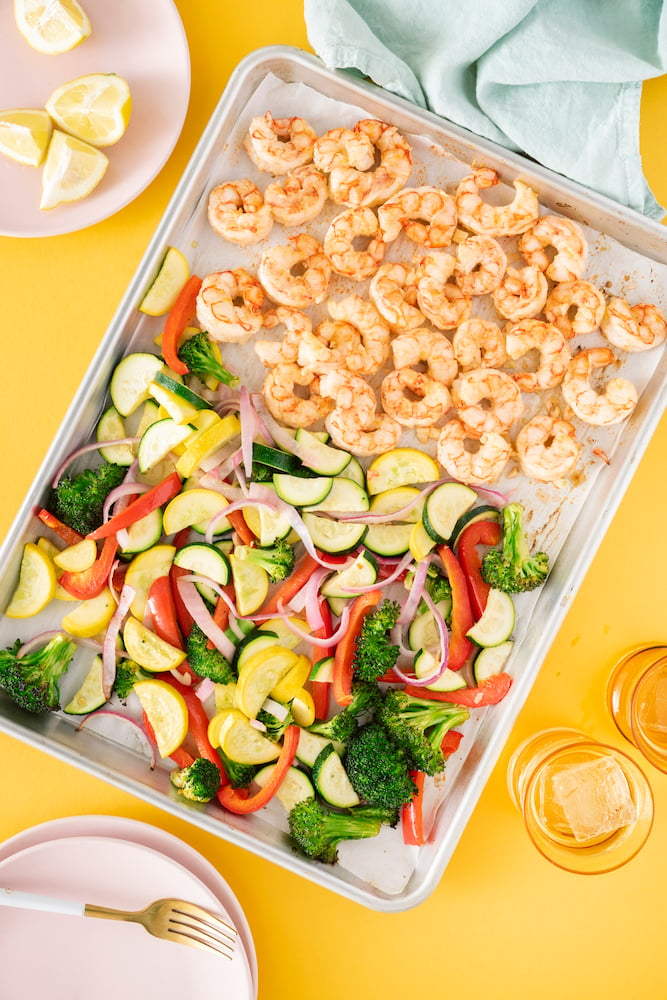 Pin
Friday: Friday night is pizza night! Thanks to One Potato box we're having Pizza with Greek Salad.
Saturday: Order in from a local restaurant.
I hope this meal plan is helpful! Let me know what you guys make!